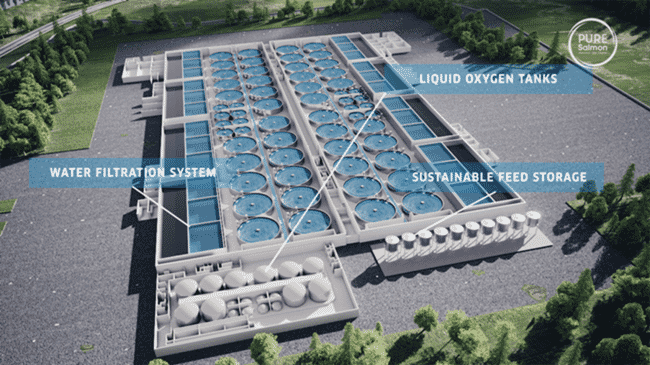 So argued Martin Fothergill, director of Pure Salmon, during a discussion on the future of the sector that took place during the virtual RAStech 2020 conference this week.
Fothergill was taking part in a discussion that also featured Nordic AquaFarms' president Erik Heim, Ohad Maiman, CEO of The Kingfish Company and Thue Holm, CTO of Atlantic Sapphire.
"There's a lot of people sat on the sidelines watching and waiting, particularly the big incumbent [salmon farming] players, and the responsibility really lies with the four of us on this panel to downstream to everyone that land-based farming works and is profitable. There are going to be bumps in the road, but that's what we need to do and then I think there's going to be a real change in the industry and we're going to see land-based taking its position right there in the mainstream," he argued.
His sentiments were closely echoed by those of Heim, who also admitted to the weight of responsibility resting on the shoulders of the high profile companies seeking to blaze a trail in the land-based sector.
"The industry is still on a learning curve – some of the companies sitting here now have a key role in clearing the path as we move along the proof of concept curve. So, it comes down to all of us creating realistic expectations to market, maturing this responsibly and making sure that we develop a skilled workforce, as that's a key ingredient in making this successful. It's responsible management of the learning curve that will bring success. There will be some bumps in the road – that happens in every emerging industry, but as long as these things are managed professionally and communicated transparently, I think this sector has a bright future," he argued.
Another common theme to emerge in the course of the discussion was the limited number of trained personnel to fill the key roles a seemingly exponentially expanding number of projects.
"Getting good people who understand the technology and the science of growing the fish in these conditions is really what's going to limit the growth of the industry. There's a lot of people doing a lot of [RAS] projects all over the world at the same time and having the right people to do these is really what's going to limit the growth of RAS going forward," Holm reflected.
Maiman noted the need to ensure that RAS producers were able to fulfill their sustainability claims – both from a social and environmental perspectives.
"It's important to keep improving the commercial viability of this technology, but to some extent, when I look at other sectors, I think it's also important to focus on social and environmental licence as well. There's a claim we make, and I think is very import we live up to, that RAS is one of the most sustainable methods or technologies to raise fish, and I think we will be evaluated on that front as well," he concluded.