Published in the Journal of the World Aquaculture Society, the study was conducted by a team from the Instituto de Ciências do Mar, Brazil (Labomar) in conjunction with krill oil and meal specialist Aker BioMarine.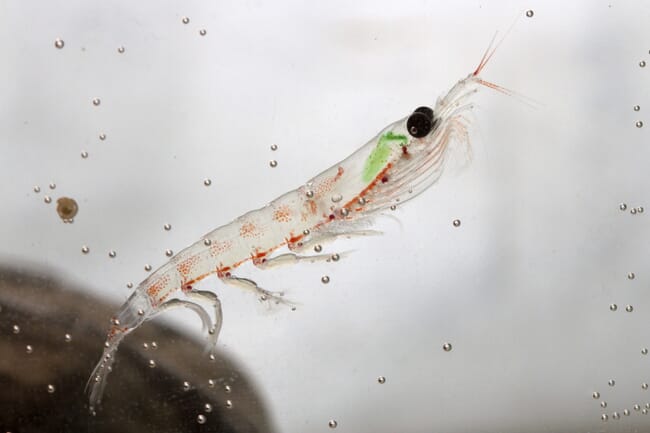 Assessing the feed preference and the growth response of juvenile whiteleg shrimp (Litopenaeus vannamei) to various different marine chemoattractants, a diet with 3 percent fishmeal was supplemented with either 3 percent krill meal, squid meal, shrimp head meal, shrimp meal, squid liver meal, salmon meal, soy protein concentrate or 5 percent liquid sardine hydrolysate.
With under 100 animals/m2 in 56 1-m3 tanks, shrimp were fed 10 times daily for 74 days. At harvest, the shrimp were counted, weighed, and their growth performance and feed efficiency determined. In order to evaluate feed preference, two-by-two comparisons were carried out, with diets with different chemoattractants delivered simultaneously in two separate feeding trays allocated in each tank.
The results showed that krill meal was the most effective growth enhancer in fishmeal-challenged diets for whiteleg shrimp. With the final body weight highest for shrimp fed with krill-meal supplemented diet (11.97 ± 0.93 g), followed by salmon meal (11.11 ± 0.77 g), and squid meal (11.01 ± 1.17 g).
Study author, Dr Alberto JP Nunes from Instituto de Ciências do Mar, Brazil (Labomar) says: "The research clearly illustrates that a dietary supplementation with 3 percent krill meal is more effective than the same dose of squid meal, salmon meal, squid liver meal, shrimp head meal, and sun-dried shrimp meal or 5 percent liquid sardine hydrolysate".
He added: "While we found that some of these other chemoattractants also had the ability to promote a stimulatory effect on shrimp feed intake and feed preference, this didn't actually result in enhanced shrimp growth performance. Indeed, the very clear positive growth effects observed in the shrimp fed krill meal, reflects the unique balance of higher feed attractiveness and stimulation, along with the steady supply of key dietary nutrients, delivered by krill, and krill alone".
Entitled 'Feed Preference and Growth Response of Juvenile Litopenaeus vannamei to Supplementation of Marine Chemoattractants in a Fishmeal-Challenged Diet' the study was authored by Dr Alberto JP Nunes, Dr Hassan Sabry-Neto and Severino Oliveira-Neto from Instituto de Ciências do Mar, Brazil (Labomar) along with Dr Lena Burri from Aker BioMarine.