Rabobank's latest report on the shrimp sector, which has been released today, predicts that a return to the era of high shrimp prices that followed on from the early mortality syndrome (EMS) epidemic could take some time – with production set to increase in most of the main whiteleg-producing regions for three reasons.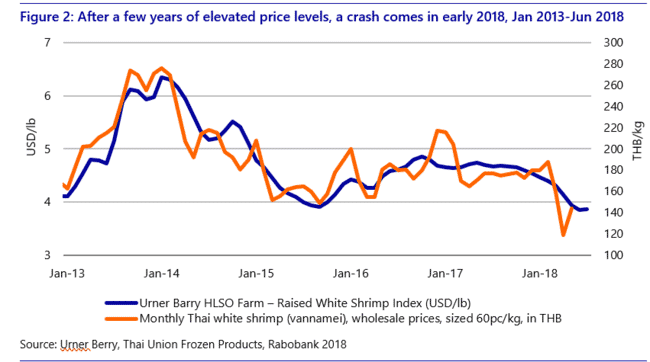 Firstly, the report's author Gorjan Nikolik argues, the huge investment in practical innovations has been vital in reducing mortality levels. These include the creation of nursery areas to ensure post-larvae (PL) are robust enough to resist EMS challenges before being transferred into grow-out ponds; the improved treatment of influent water; the increased creation of bio-flocks; and growing use of probiotics.
Secondly, the conversion of tiger prawn (Peneus monodon) farms into more intensive whiteleg shrimp (Litopenaeus vannamei) production has hugely increased shrimp supply in India in particular, while many rice fields and finfish farms have been converted to shrimp production - especially in India, Vietnam and Indonesia. Moreover, the report notes, a number of completely new sites are being planned and established, not least Sea Farms' ambitious plans to produce over 100,000 tonnes of monodon from a single site in Australia.
Thirdly, the report notes the rise of shrimp production in RAS systems is likely to have an impact. Although many of these new units will only produce 200-500 tonnes per year, Sino Agro Food aims to produce 250,000 tonnes of the freshwater species M. rosenbergii annually from RAS facilities in China.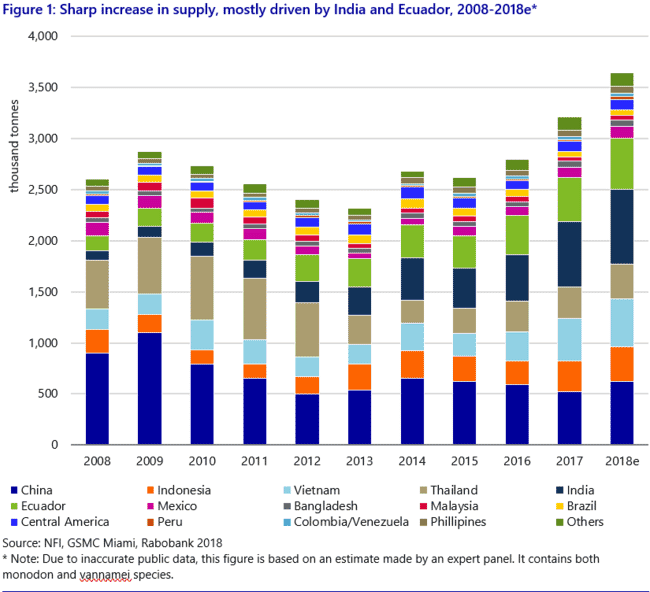 A combination of these factors has led to an increase in global production – the report points to "double digit" growth in India and Ecuador in the first half of 2018, as well as significant increases in Indonesia and Vietnam – which has caused prices to plummet and many farmers being forced to harvest at a loss.
As a result, the report notes, farmers are reacting by stocking fewer shrimp. This makes targets set by the main shrimp producing nations, which collectively would increase global production by more than 1 million tonnes in the next 3-4 years unrealistic and even a comparatively modest increase is "very unlikely" to be matched by a corresponding increase in global demand.
Consequently, the report predicts that vannamei production is likely to increase from 3.03 million tonnes in 2017 to 3.64 million tonnes in 2020, with India accounting for 150,000 tonnes of that growth, Vietnam 100,000, Indonesia 80,000, Ecuador 75,000, China 60,000 and Thailand 40,000.

Even to meet this relatively gentle increase, the report concludes: "Low shrimp price levels and consistent supply from multiple regions provide an opportunity to focus on demand creation, product innovation and decommoditisation of shrimp."
"Here a lesson can be learned from the 'pink gold' of the aquaculture industry: salmon industry… that demand creation is key for ensuring long-term growth and long-term increasing profit pool for the industry. In this respect shrimp has a huge opportunity for increasing the number of products on offer."
"A lower price alone is not enough to ensure long-term growth in demand, as we, for instance, have seen with pangasius in Europe."