Lumpfish are widely used by salmon producers as means to control sea lice numbers in marine net pens, but only recently have lumpfish-specific diets been developed to supplement the parasites that they pick off the salmon.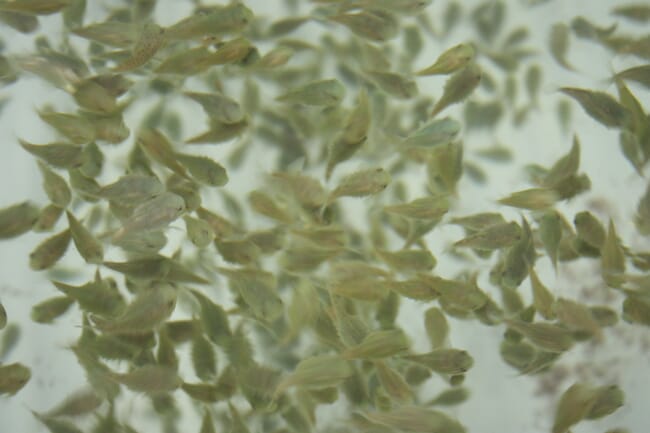 Individual efficacy as cleaner fish has, however, been shown to be affected by the development of cataracts, which are particularly prevalent in those lumpfish being deployed in marine sites where the water temperature is over 10 °C. One theory is that the prevalence of cataracts has been caused by the use of sub-optimal diets, while another hypothesis is that diets which lead to rapid growth are to blame.

Although most salmon producers have used pelleted diets for lumpfish, feed blocks – which were initially developed for feeding another group of cleaner fish species, wrasse – have recently been adapted for use in the sector, by adding grooves to them that help the lumpfish feed. And a team of researchers from Iceland, Norway and the UK therefore set up a study to see whether these feed blocks could present a viable alternative to pelleted feeds.
To achieve this they decided to compare the performance of lumpfish fed on either BioMar-formulated lumpfish pellets or World Feed-developed blocks over a period of 123 days. The aim was to evaluate and compare the effects of these feed types on growth, cataract development and gut health in order "to help develop an optimal feeding strategy to maintain healthy lumpfish populations in the hatchery as well as in commercial salmon cages".
The researchers noted "significant differences in growth rates between the groups", with those being fed pelleted feed having 52 percent higher growth rates on average. However, fish fed on pellets had a cataract prevalence of 87 percent at the end of the study period, while it was only 10 percent in those fish offered feed blocks.

Menawhile, less conclusively, only small differences were observed in histological terms: in "some individuals in groups receiving both diets, there was mild to moderate expansion of the lamina propria with tissue most likely to represent fibrous tissue with scattered leucocytes", they note.
"Overall, the findings of the present study show that lumpfish will readily graze from feed blocks and although growth is lower the prevalence of cataract is greatly reduced using feed blocks," they conclude.
As a result, and due the fact that the acclimation period required before the fish will utilise the blocks appears to relatively short, and that rapid growth rates are thought to be disadvantageous to the efficacy of lumpfish as cleaner fish, the researchers says that the blocks have considerable potential to be used in commercial aquaculture.
The full study, Comparison of diet composition, feeding, growth and health of lumpfish (Cyclopterus lumpus L.) fed either feed blocks or pelleted commercial feed, was published in Aquaculture Research and can be accessed here.