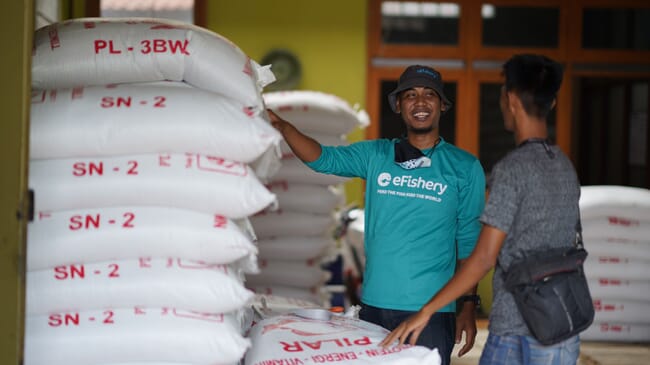 The round was led by Abu Dhabi-based global fund manager 42XFund and also attracted investment from numbers of leading investors, including KWAP and responsAbility, in conjunction with existing investors like Northstar, Temasek, Softbank and 500 Global.
The funds raised will be used to expand the eFishery* farming community, with a goal of engaging more than 1 million aquaculture ponds in Indonesia by 2025, while increasing the feed input and fresh output volumes transacted through the eFishery platform. Building on its farming community base, eFishery has additional plans to expand globally and scale a chemical and antibiotic-free shrimp export business that is fully traceable to source, which will help strengthen the connection between end consumers and farmers.
From humble beginnings
eFishery started as an IoT smart feeder device company in 2013, using sensors to measure water movement for fish and acoustics for shrimp to optimise feeding, fish health, and water quality whilst reducing waste, one of the biggest challenges in aquaculture, where feed makes up 70 percent of carbon emissions. eFishery uses data and technology from its IoT smart feeder device to improve the farming operations of smallholder fish and shrimp farmers through better data-driven insights into farm-level productivity, improved access to local and global fresh and feed markets for better pricing and visibility over farm inputs and outputs, financing, all of which contribute to such farmers improving their farming practices, production volumes, profitability, and livelihoods.
"When I started eFishery fresh out of college, I wanted to improve livelihoods for smallholder fish farmers and earn a living. I never imagined eFishery would create such significant opportunities for these smallholder farmers," said Gibran Huzaifah, co-founder and CEO of eFishery, in a press release.
"Aquaculture is the fastest growing part of the global fisheries sector, which is facing rapidly increasing demand. With the support of our investors, we look forward to transforming the entire industry and bringing together smallholder fish and shrimp farmers into an eFishery-organised collective that integrates across the entire aquaculture value chain," he added.
"We are very excited to partner with eFishery and its management team, who are pioneers in the aquatech landscape," commented Iman Adiwibowo, Principal at 42XFund.
"We believe strongly in eFishery's vision and are very much looking forward to being a value-add partner that will accelerate the company's growth plans. eFishery's technology and end-to-end aquaculture solution have transformed the aquatech industry, improving small farmers' livelihood in Indonesia and we are optimistic that eFishery's mission will further promote a sustainable and inclusive economy, as well as environmental preservation goals for Indonesia and beyond," Adiwibowo continued.

Aqua-Spark, one of the first investors in eFishery, points to the company's strong performance - in.2022 alone, eFishery recorded 62 million fish sold, 14 million shrimps sold, and 179 million kilograms of feed sold. eFishery also managed 12,000 ponds in partnership with fish and shrimp farming communities.
"When we met eFishery in 2014, there was very little technology in aquaculture, and none of it was affordable for small-scale farmers, who make up over 90 percent of employment in the sector. Now, less than a decade later, eFishery is showing us what transformation looks like. Hundreds of thousands of ponds in Indonesia are using eFishery's technology and growing the demand from farmers to be a part of a digitalised movement that brings them access to fair capital and healthy inputs, improved performance, increased profitability, and is even changing how markets source and value sustainable production," stated Amy Novogratz, co-founder of Aqua-Spark.
Mike Velings, the other co-founder of Aqua-Spark, commented, "eFishery demonstrates that with scale, moving an entire industry in the right direction for our population and planetary health through technology and cooperation is possible and even happening. It is a privilege to be an investor from their very early days and to know how much growth and impact they still have ahead of them."
*eFishery, like Hatch, is part of Aqua-Spark's investment portfolio, but The Fish Site remains editorially independent.