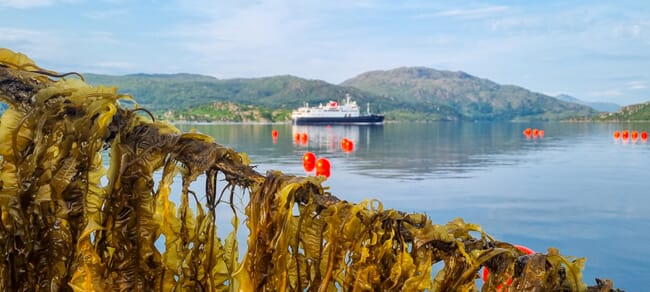 Atlantic Mariculture, a UK based seaweed producer, has been awarded £43,102 by Salmon Scotland to deploy specially designed 'kelp shelters' for wild salmon and sea trout at five sites on the West coast of Scotland. The shelters will consist of inshore forests created with seaweed grown on ropes along the west coast near the Rivers Shiel and Moidart - important ecosystems for wild salmon and sea trout.
Kelp forests are known to provide food and security for many fish species, and it's hoped that Atlantic Mariculture's planned 'shelters' will offer crucial rest stops for migrating sea trout, benefiting the wider marine ecosystem.
They will deploy five 100-meter-long shelters, growing sustainable brown kelp species native to the area, providing a dense environment for sea trout, and repurposing historical salmon netting stations where possible.
Whilst once abundant, increasing environmental pressures - including rising water temperatures and habitat loss - have impacted wild salmon and sea trout populations throughout the UK and all over the Scottish coastline.
Through their 'wild fisheries fund', which has already granted £118,000 this year, Salmon Scotland aim to play their part in finding solutions, engaging constructively with the wild fish sector and taking meaningful action to save wild salmon.
Tavish Scott, chief executive of Salmon Scotland, said "Salmon farmers are determined to address the ongoing decline in wild salmon populations, which are one of Scotland's most iconic species".
"Wild salmon numbers worldwide have been decreasing for the past century, and it is crucial to rely on scientific knowledge to understand the real challenges impacting them".
"We actively contribute to reversing this decline by supporting community-led projects to restore our rivers and lochs, making a positive global impact," he added.
Amabel Hamilton, chief executive of Atlantic Mariculture, said "Atlantic Mariculture is delighted to have been awarded a research grant to examine how kelp shelters can enhance habitats for sea trout in the coastal waters around Moidart".
"Sea trout have endured a difficult few decades, and thanks to the Salmon Scotland wild fisheries fund, we can now explore how to support this native and sensitive indicator species using cultivated Scottish kelp," she added.