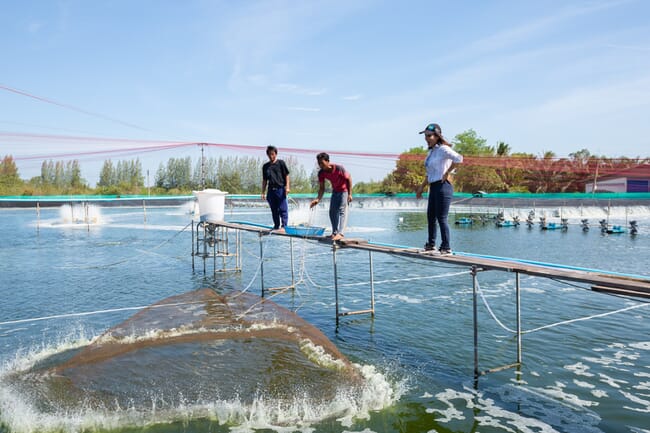 Water quality management is one of the most important things for shrimp farmers to undertake during the cultivation cycle, as almost every water parameter – whether physical, chemical or biological – is dynamic and can influence others. Key parameters include temperature, dissolved oxygen (DO), salinity, ammonia, nitrite and alkalinity, as well as the concentrations of plankton and bacteria.
Ideally, farmers should be able to monitor all these parameters daily to ensure any fluctuations are still within a tolerable range. If there is a data anomaly they need to take appropriate action swiftly. However, most farmers rarely measure all these complex parameters, as it requires investment in a proper laboratory unit.
On the other hand, waiting for results from off-site laboratories can take a week or more. Consequently, many farmers just measure a few key parameters – such as DO, pH, salinity and temperature – using different tools for each parameter. Based on their experience, they then associate those values with other parameters but don't check them with proper procedures.
Although not all farmers can check all parameters, Indonesian shrimp farmers are very concerned about the dynamics of water quality. While parameters often fluctuate naturally, they are also affected by the environment. Most shrimp ponds in Indonesia are semi-open, relying on the sea as their main source of water, and water quality tends to decrease over the course of the production cycle
New measurement techniques and technologies
In the last five years, water quality management in shrimp ponds has moved to the next level. Startups have realised that it's a big problem for farmers, and therefore a significant business opportunity. They have been developing more practical and cheaper measurement tools and apps for recording, processing and analysing data, as well as providing treatment suggestions.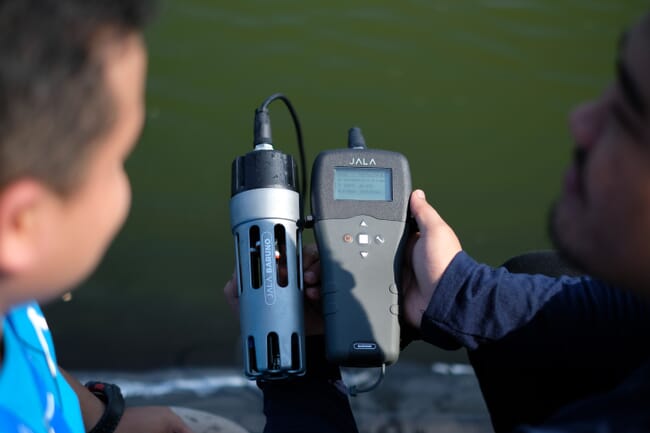 One of the pioneering startups in this field is Jala*. Established in 2015, it offers devices that can simultaneously measure temperature, DO, pH and salinity. More recently AquaEasy, by multinational company Bosch, has emerged. Both have three main strengths: sensors, software and analytics using algorithms.

Sensors are the key to check water quality accurately; then the application or website program stores the measurement data. In this process, the internet of things (IoT) helps to transfer data from the device to the cloud or server quickly. This makes the data easily recorded.
The last part involves processing and analysing data, and then providing treatment recommendations according to the results. This involves algorithms which generate accurate analysis and recommendations if there are anomalies or abnormal fluctuations. These tend to be the focus of startups.
Liris Maduningtyas, CEO of Jala, says the algorithm is 85 - 95 percent accurate in providing predictions for several parameters – a figure that will improve as more data are processed.
"But we only provide the basic recommendations, because we know that farmers have their own best way of treatment which sometimes becomes their secret," she clarifies.
She adds that over 10,000 users now use Jala's mobile apps, while still only one percent of them use IoT devices. But Maduningtyas says this indicates that many farmers are getting used to recording data, regardless of how they retrieve it.
Although this technology conceptually looks ideal for encouraging smart farming, startups still face many challenges. One of them is introducing their tools to the right customers.
"Sometimes the owner is more enthusiastic about using Jala, but the technical team, who already have a large workload, find it difficult to input the data, so there is a gap. So, its most important to onboard the technician or farm assistant. The other important thing is to focus on the right area or geography," Maduningtyas explains.
Farm owners are enthusiastic about using this water quality analysis application because it's an efficient way to monitor their farm conditions in real time – using their smartphones from their homes if they like.
Meanwhile the challenge in the development section tends to relate to business validation – different farmers need different features. Therefore, the product development team must establish exactly which products are technically and business compatible. This challenge is doubled by the very diverse and different needs of farmers in Indonesia.
Regarding the issue of price, Maduningtyas claims that the application is actually free. Farmers can install and register by entering some general data about their farm. Meanwhile, the water quality monitoring hardware is only around IDR 100-200 per kg of shrimp produced. Less than one percent of the total cost of production.
Another challenge is the device reliability, which is especially difficult as they are often used in warm, salty ponds. Maduningtyas says is difficult to have good quality devices produced domestically, so the company is relying on foreign manufacturers to produce their tools.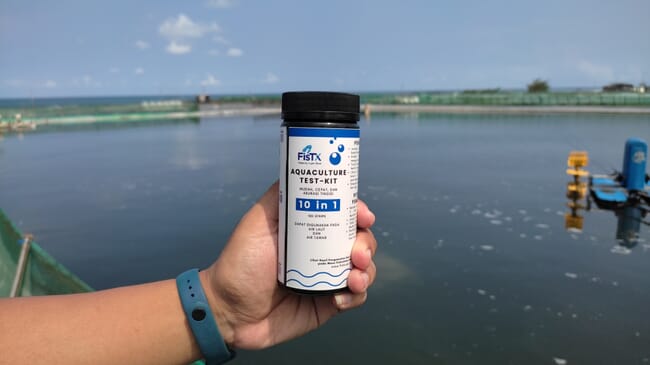 Testkit for transition period
Startup FisTx took a different approach. Instead of developing an IoT and sensor-based device, FisTx actually made an old-style water checking test kit. A test kit was considered easier to be accepted and used by farmers, while still simplifying the process of water quality measurement.
One of FisTx's products can measure ten chemical parameters (total alkalinity, pH, total hardness, nitrate, nitrite, calcium, kalium, carbonate root, hydrogen carbonate, sulphuretted hydrogen, and magnesium) at once. In addition, there is also an additional kit for ammonia and phosphate.
COO of FisTx, Rico Wibisono, focuses on measuring chemical parameters. After a decade of experience in shrimp farming, he believes that chemical parameters can be a guide to other conditions. For example, a high phosphate level can be an indication of an increase in blue-green algae and fluctuations in pH.
He also argues that, apart from the cost, there is still a gap between the modernity of the device and the ability of farmers to use it. Not all farmers have been ready to follow this new trend. But according to him, every farmer can see and compare the colour changes of the test kit to the control. However, he certainly believes that digitisation in measuring and recording data is a necessity.
To adjust with the trend, FisTx also designed an application to analyse the interaction between parameters checked. FisTx has a calculator feature on its web and android apps which can give the status of pond water quality and recommend treatments. In this feature, Wibisono uses an algorithm based on the principle of calculation of a water quality expert, Claude E Boyd.
One stop solution
With so many water quality parameters to consider, it takes a variety of measures to minimise their fluctuation.
Wibisono argues that, in the future, the recommendations given by the application should be able to directly mention the name of the material and its dosage, so that farmers can make decisions efficiently.
This is an opportunity for startups to create other products and Jala has produced a microbubble machine to keep oxygen at the optimal level, while FisTx offers probiotics and nano-disinfectants to treat the pond water as needed.
Wibisono says that changing farmers' mindsets about water quality management in Indonesia will be a long process, due to the diverse character of farmers and their varied levels of acceptance of new technologies. Nevertheless, sophisticated water quality management will undoubtedly be a necessity for profitable and productive shrimp production in the future. A quick and precise water quality measurement and recommendation can give confidence to pond managers in their day-to-day decisions.
* Jala is part of Hatch's investment portfolio, but The Fish Site retains editorial independence.