It's the pièce de résistance on your sushi, the quirky addition to your brioche, the secret ingredient in your sauce. Sea urchin roe is a firm favourite in Japan, and is now growing in popularity in western countries. Though as I peered at it in an unmarked glass bowl served with…nothing…I think I can be forgiven for asking why. If this was a restaurant I'd be questioning the presentation skills, but I am not. This is a tasting trial – and there are four different roes to ruminate on.
A part of Urchinomics, the tasting come at the end of an 8-week experiment headed by Dr Pat Gagnon (Memorial University, NewfoundlandCanada) in partnership with aquaculture company Green Seafoods Ltd and NSERC Engage. The goal is to see how quality of Green Urchins roe changes when fed a specially formulated diet in different cold-water temperatures.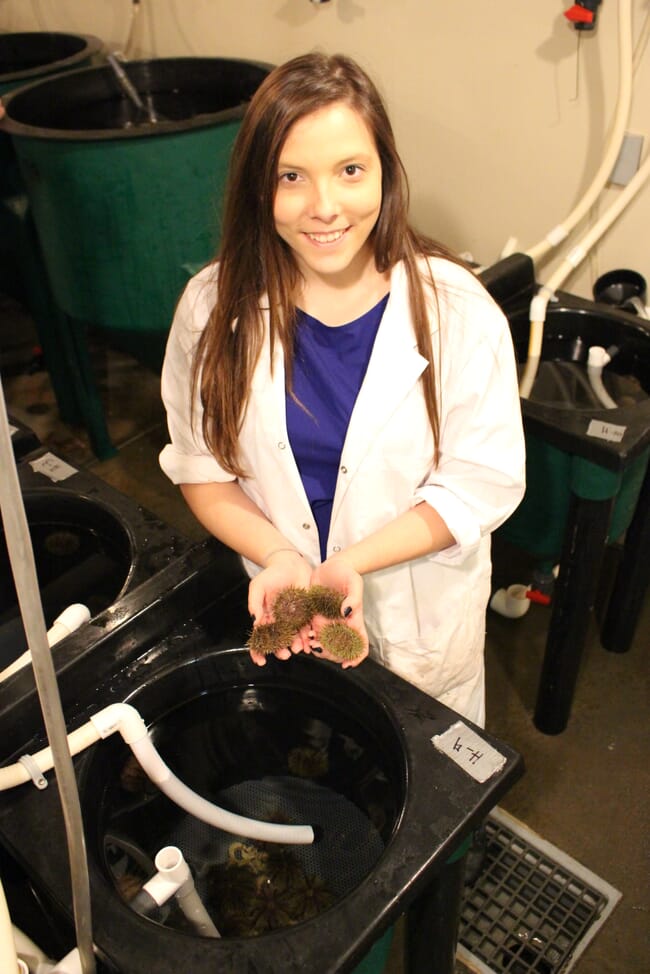 Some 200 green urchins were gathered from Newfoundland waters and separated into groups. One group was placed in ambient sea temperature conditions – around 1 Celsius. The second group was treated to 'warmer' waters – near 3 Celsius, and a third group to a balmy 6 Celsius.
"With increased temperature they are eating more, so you expect to have a higher gonad index at the end," Samantha Trueman, an MSc student at Memorial University who is involved in the project, explained. With the experiment only just finishing, the data still need to be analysed fully before making any firm conclusions, but so far the results look good. After just 4 weeks all the urchins showed higher roe production than their ocean counterparts, and warmer waters did indeed result in more roe. 8 weeks-worth of feed looks to offer even better roe.
In the roe world however, quantity comes second to quality. "Formula feeds are great at bulking up sea urchins, but they can taste really bad. So are you really gaining something, because there is that market quality issue," Trueman explained.
Gagnon echoed these sentiments, highlighting that creating the right feed for the conditions is imperative. "By playing with a few things they can change the taste, the texture, the colour," he observed.
Back in the tasting room, we are only told to rank our like/dislike and how bitter/sweet we find each roe. Four bowls to sample – one from each temperature treatment, and one from urchins gathered from the ocean sit in front of each of us. Each has its own look – particularly one which I suspect was from the ocean-gathered urchins. As for the taste of them all…there is no mistaking that taste of the ocean. Not that they taste overwhelming, but more like scallops – soft, gentle, and quite frankly leaving you with the desire to try more. Each also tasted quite different. The one which I now think came from the ocean tasted most bland. I found none terribly bitter, but there was one which was definitely much sweeter, and tastier than the others. Which treatment did it come from? We'll have to wait for the results.