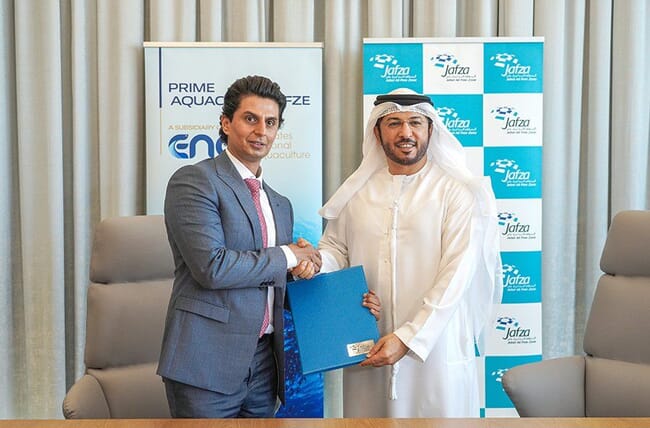 The farm, which its operators claim would be the region's first shrimp RAS, would quadruple the UAE's current shrimp production.

The farm is due to be built and operated by Prime Aquaculture, a subsidiary of Emirates National Aquaculture, which signed a memorandum of understanding with Jebel Ali Free Zone (Jafza) this week. The farm is due to be completed in the first quarter of 2023.
The UAE currently imports 51,000 tonnes of shrimp per year - part of a wider food and drink deficit for the region, a problem which the authorities are keen to address.
"The UAE's food trade exceeds Dhs100bn annually, and food and beverage investments in the nation stand at a total of Dhs62bn. This is proof that the food and beverage sector is one of the most lucrative industries driving the UAE's economy. One key driver of this vital industry's growth is its aquaculture sector. We believe that strategic partnerships and technological investments in this sector are critical to enhance production efficiency and ensure its security over the longer term," said Abdulla Bin Damithan, CEO and MD, DP World UAE and Jafza, in a press release.
"Taking these factors into consideration, through our partnership with Prime Aquaculture, we look forward to boosting shrimp production and ensuring quality produce with advanced technologies such as RAS. The shrimp farms will maintain high-intensity culture systems ensuring absolute biosecurity," he added.
Imtiyaz Abdul Razak Kalsekar, MD of Prime Aquaculture, said, "The UAE consumes about 220,000 tonnes of seafood annually, with imports covering 70 per cent of this figure. One of the key pillars for the UAE's National Food Security Strategy is to achieve self-sufficiency.
"During the pandemic, when travel restrictions were imposed, the importance of local production was highlighted. We, at the Emirates National Aquaculture, plan to enhance the UAE's food security by doubling the current aquaculture production over the next three years. Emirates National Aquaculture along with Prime Aquaculture will add 3,400 MT/year to the UAE's aquaculture production, which stood at approximately 3,200 MT/year in 2021. Establishing our shrimp farm in Jafza is a massive step towards achieving this objective."