Sponsor message
Are you trying to break into aquaculture industry or already working in the field and looking to gain additional expertise for career development?
Tobacco firm shows a taste for smoked catfish
A two-week capacity building workshop on the breeding, on-growing, processing and marketing of catfish has just finished in Lagos.
The annual "Fingerlings to Fork" project was sponsored by the British American Tobacco Nigeria Foundation (BATNF) in partnership with the Lagos State Agricultural Development Authority (LSADA). Over the last three years it has supported 600 smallholder fish farmers across all zones in Lagos State and also provided three cooperatives with 250 kg capacity smoking kilns.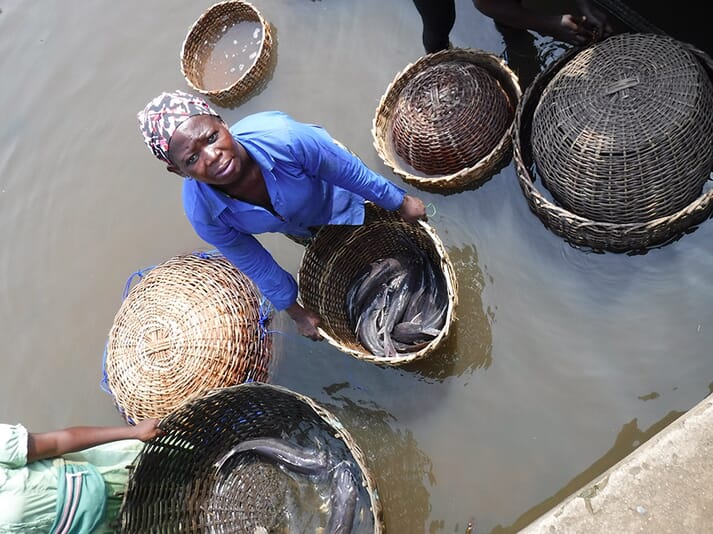 Dr Olamilekan Pereira-Sheteolu, project manager of Lagos State Agricultural Development Authority (LSADA), described the completion of the workshop as a huge achievement for LSADA and the Lagos State Government, while thanking the BATN Foundation for its involvement, according to The Daily Independent.

Hakeem Adeniji permanent secretary in the ministry, added that the collaboration works towards the goal of ensuring food security, agricultural sustainability and female empowerment.
"Lagos State government produces only 20 percent of its food demand leaving 80 percent to be imported from other states of the Federation. The government is making concerted efforts to boost food production from 20 percent to 40 percent.
"As an aquatic state, the state is particularly interested in the fish subsector as it generates income for artisanal fishermen and has potential for business opportunities. This includes breeding of fingerlings, and juveniles, processing and packaging of fish for exports, input supply, among others," he added, according to The Daily Independent.
Sponsor message
UMass Sustainable Aquaculture Online Courses Aquaculture is an increasingly important source of safe, nutritious, and sustainable seafood for people worldwide. Globally, aquaculture production must double by 2030 to keep pace with demand. These increases in demand for aquaculture products, food security considerations, and job creation have generated an increased need for skilled workers.
Discover how you can be part of this rapidly expanding industry.
A significant feature of this year's workshop was the participation of disabled people, many of whom were hard of hearing.