Ghana's 1,600 or so small-scale tilapia farmers should be reaping the rewards of high consumer demand for their product at the moment. Yet despite their numbers, they account for less than 10 percent of national aquaculture production, which is dominated by a handful of cage farmers, most of them operating along Lake Volta. Many of the country's pond producers, meanwhile, point to the high cost of feed, which consumes over 70 percent of their average operating budget, as the main reason for small-scale aquaculture's poor performance.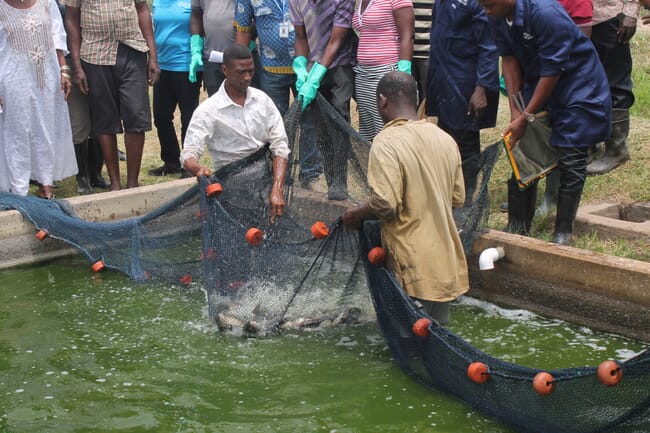 However, many of Ghana's aquaculture experts believe that a major, long-standing stock-management problem among the country's pond farms is also to blame. Too many pond farmers are unable to deal with uncontrolled spawning, which results in stunted growth and low productivity. As a result, some experts are calling for a shift of emphasis towards other methods of tilapia culture.
Best practice in pond culture
To ensure that tilapia stocks in ponds are optimally bred, it should be standard practice to drain and treat ponds after each harvest to remove any residual fish or disease carrying organisms before restocking. The Akosombo strain of fingerlings, developed by the Water Research Institute's Aquaculture Research and Development Centre (ARDEC) and known for their quality, are used by the majority of fish farmers in Ghana. The culture of all-male stock is the recommended method for ponds, in order to deal with the uncontrolled reproduction of fingerlings and stunted growth in mixed-sex populations. Male stocks are also preferred because of their larger point-of-sale sizes.
Dual-sex stocks are only recommended when a predator species (usually catfish in Ghana) is introduced to feed on fry and fingerlings and thereby keep tilapia numbers down. Unfortunately, even though most pond farmers have benefitted from government-backed training programmes and farm visits by aquaculture experts, few have the ability to carry out effective draining and treating after harvests, and many farmers persist with dual-sex stocking, with predictably disappointing results.
Fresh recommendations
Due to the importance of aquaculture in bridging Ghana's 600,000 tonne annual fish deficit, some radical recommendations are being made. Kwasi Addae, an entrepreneurship consultant, believes that in its current state, farming tilapia in ponds is not profitable; he recommends the switch to cage culture on reservoirs as the best way of producing tilapia, especially in view of the well-resourced public and private interventions that are currently in progress. For instance, a major pillar of the current government's agricultural policy is the One Village, One Dam project, which should see the building of dams across Ghana, creating a favourable platform for promoting aquaculture.
Ghana's president, Nana Akufo-Addo, announced on 1 December 2017 that, in line with this programme, a total of 320 dams and dugouts will be constructed across 64 districts, 192 of which will be built next year. At stakeholder consultations involved in planning this project, aquaculture experts stressed the need for these dams to be "aquaculture-friendly", especially to facilitate the construction of cages for tilapia production. Cage production, some experts believe, is particularly suited to tilapia culture, because fry produced by stocked fish escape through the cage nets, leaving room for optimum tilapia numbers so as to achieve good fish growth.
Prof Joseph Aggrey Fynn, a fisheries scientist and Dean of the Faculty of Biological Sciences of the University of Cape Coast, supports the One Village, One Dam Policy. He believes that the building of more dams will not only support fish farming and other agricultural activities, but will help protect Ghana from the effects of climate change, which are clearly visible, especially in the north. In the last few years, there have been significant increases in temperature and increased incidents of both flooding and droughts, while a recent army worm infestation affected substantial acreages of maize, especially in the north, which is bound to affect the availability of maize for feeding humans and livestock.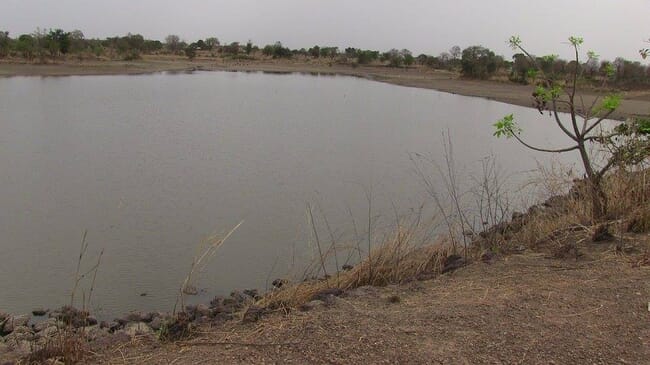 The government is also restocking more than 100 dams and dugouts across the country, as part of a $53 million World Bank-funded project. The Association of Church-based Development NGOs (ACDEP) and Canadian Feed the Children, in a $19 million project aimed at improving living standards in the country's two most drought-prone regions, have established five cage tilapia farms in seven districts, with more to follow. Their performance was celebrated at the Soe Yidongo Fish Festival on 12 October, where fish farmers proudly displayed their sizeable harvests. Peter Akpaglo, ACDEP's aquaculture consultant, believes that the "very decent" production volumes so far registered show that cage-based production of tilapia will contribute substantially to improving income levels and living standards in that part of Ghana.
Hope for pond-based producers?
Dr Francis Anani, a research scientist at ARDEC, recognises that pond farmers have stock-management issues. But he believes that these can be overcome if the farmers follow the advice of trainers and technical experts.
"The ponds must be effectively drained, to remove any traces of left-over fish. And for better results farmers should restock with mono-sex, preferably male, fingerlings. Males generally grow to be a larger size," he says.
Anani believes that pond farmers still have a major role to play in addressing the country's fish deficit, although he believes that other types of producers should be encouraged to play complementary roles.
Dr EK Abban, a fisheries scientist at the Water Research Institute, believes that the concept of entrepreneurship must be ingrained into fish farmers. Without the ability to develop a planned vision for their enterprises, he says, the best training schemes and technical advice will not translate into productivity. It is time for the average tilapia farmer to develop a more holistic vision for his business. So far, the attitudes of fish farmers can be compared to that of the many subsistence farmers all over Ghana.
Gerrit Valkenburg, director of Cluster Farm Holdings, a company that is promoting the concept of cluster farming – by which a central hub provides good quality seed stock to surrounding satellite farms and also helps them sell their produce – among fish farmers in Ghana, echoes this idea.
"Fish farming is not a pastime, but a full-time business. You must plan before entering it. It takes effort and substance. For example, anyone who is entering the fish-farming business without 5,000 cedis investment must think again. Fish farming is a serious business, and only serious people will benefit from it," he concludes.