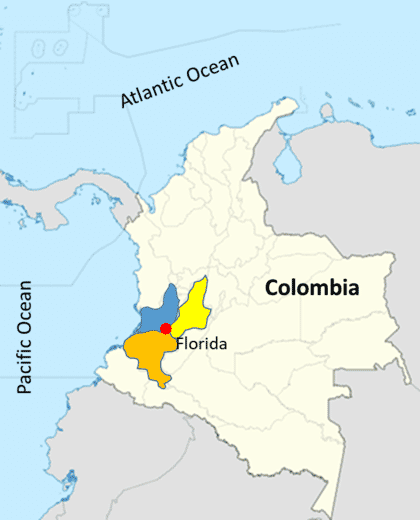 Background
Aquaculture in Colombia started around 1930 using non-native species such as tilapia. Since then it has increased significantly, both in coastal ecosystems and inland. It now accounts for more than 50 percent of national fish production, up from only 25 percent in the 1990s. In some areas natural ecosystems have made it possible to advance the cultivation of different species – providing different forms of employment and food security (SENA, 2005).
It is estimated that 400,000 people work direct or indirectly in the fishing or aquaculture industries, which is a relatively low figure in comparison with other similar countries. However, an increase in the consumption of fish in the last 15 years has been evident, reaching 8 kg per person, per year. This has generated a new culture around the commercialisation and consumption of seafood products.
Aquaculture in Florida
The department of Valle del Cauca is seen as one of the most favourable places to develop fish farming, especially of tilapia and carp. Not only does it contain the ideal hydrographic and climatic conditions for fish farming, but also a strong agro-industry (El País, 2017). In general, the altitude where the aquaculture is carried out does not exceed 1500 m, with air temperature ranging from 20 – 30 °C. However, it is first necessary to obtain more technical-scientific information about this activity.
Despite fishing's traditional contribution to the region's economy, the sector has been in decline since 2000. In consequence, aquaculture is seen as a means to reduce the rates of unemployment and violence in a place where socio-political problems have arisen for decades.

Florida is a municipality located toward the southeast of the Valle del Cauca Department of the Andes, between the Cordillera Occidental and Central, with 57,961 inhabitants. The municipality is located between three different departments (Valle del Cauca, Tolima and Cauca) and has had serious problems with violence. Years of abandonment by the government since the 1980s has led to production of illicit crops – such as coca, poppies and marijuana – in the mountainous area. Thus, the illicit economy has penetrated at all levels, contributing to social decomposition. In addition, the guerrilla army controlled the production of these illicit crops, leading to violence and displacement in this zone.
In the 1990s a guerrilla incursion took place in the municipality, then the paramilitary army appeared towards the end of the decade. Both groups fought for the territory, leaving massacres, death and displacement that affected the whole municipality.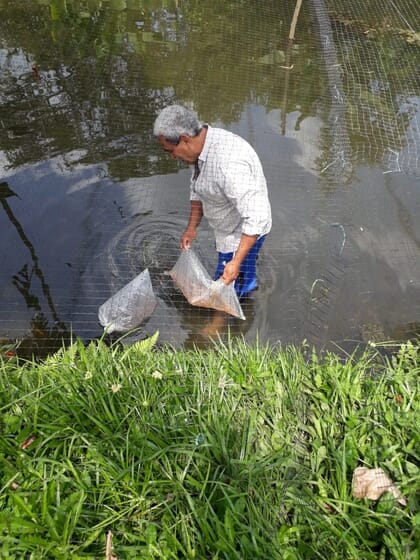 Location and methodology

At the beginning of the 2000s and with the peace processes and the demobilization of the paramilitaries (2005) and the FARC guerrillas (2017), new productive projects began to be implemented across the country.
In order to help alleviate the unemployment rate and create new productive chains a study financed by the fund for the development of higher education (FODESEP, call 01-2018) called, "Models of economic development and rural entrepreneurship in the post-conflict" was executed in Florida municipality between 2019 and 2020.
The first activity was to establish the main environmental variables to implement tilapia production in a pond of 19 x 8 x 0.5 m. 2,000 fry were stocked in the pond, which belongs to the "Tamboral" association. This association has approximately 10 beneficiary families including two demobilised combatants who joined the peace process.

In addition, a socio-economic study of fish farming was carried out, to establish the optimal process for the purchase, sale and commercialisation of fish. Between March and August 2019, 286 and 40 structured and close-ended interviews were undertaken, with 15 questions to Florida´s citizens and 13 to food establishments, respectively.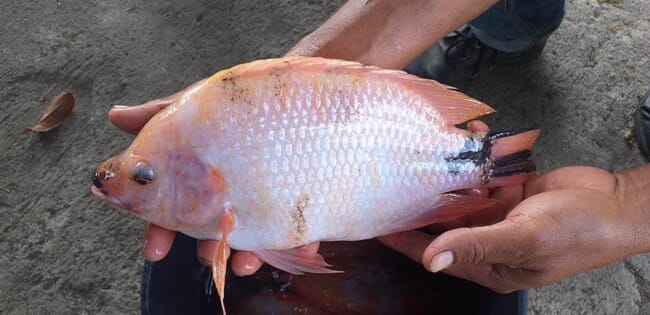 Results obtained in the interviews
The results showed that people consume mostly tilapia and trout (41 percent) although many don't eat fish because of its flavour and cost (25 percent). They like fried fish (67 percent). They consider that the levels of marketing and advertising of the fish product must be improved (40 percent). The restaurants mostly claimed not to sell fish (66 percent). The other restaurants sell various types of fish, tilapia being the most representative. 60 percent sell fish every day, more at lunch than dinner. The fish are bought both in the supermarket and the grocery store between US $0.6 to $1.2, while restaurants sold them for between $2.9 to $3.2. The cost for establishing the fish farm was estimated at US $735, rising by approximately US $151-$200 per month until the harvest was obtained between 7-10 months later.
Table 1. Weighing value (Vi) and quality (Ci) WQI index (Brown et al, 1970).
| | | | | |
| --- | --- | --- | --- | --- |
| Variable | Register | Vi | Ci | Ci* Vi |
| Percent sat.O2 dissolved | 109.6 | 0.17 | 80 | 13.6 |
| fecal Coliforms | 15000 | 0.16 | 10 | 1.6 |
| pH | 7.3 | 0.16 | 95 | 15.2 |
| (BOD5) | 3.5 | 0.11 | 60 | 6.6 |
| Temperature | 23.6 | 0.11 | 15 | 1.65 |
| Phosphate | 0 | 0.1 | 100 | 10 |
| Nitrate | 0 | 0.1 | 100 | 10 |
| Transparency | 60 | 0.1 | 30 | 3 |
| Total Solid | 84 | 0.08 | 88 | 7.04 |
| TOTAL | | | | 69 |
Conclusion
The project allowed participants to make a significant profit in the first harvest. This helped the association to buy a new cohort of juveniles, to continue farming. Also, the results of this study have encouraged another nearby tilapia farm to continue, having secured financing from the Ministerio de Agricultura of Colombia. These may be tentative steps, but it is hoped that they will lead to the establishment of a strong aquaculture cluster in this municipality and thus help to provide food security and to reduce both unemployment and violence.