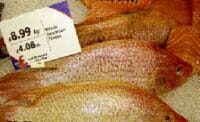 In 1993 farmed tilapia production overtook fishery production for the first time, since then it has been unstoppable. In 2003 it accounted for just over 500,00 metric tonnes, but by 2008 that figure had easily surpassed 2,500,000 metric tonnes.

The popularity of tilapia in the US rises year in year out. In 2000 it did not even rank inside the top 10 list of US seafoods, consisting of only 0.3lbs of the annual American diet. Just seven years later it was the fourth most consumed fish in America, with an average 1.14lbs of it being eaten by each American every year. Further analysis revealed that it was the second likeliest fish for consumers to take home and prepare for themselves. Rather than being detrimental to sales, the recent credit crunch is actually increasing tilapia sales, driving people away from restaurants and back into their kitchens.

The overwhelming majority of US tilapia is imported into the US -- over 450,000,000 kilogrammes in 2008 -- and the overwhelming majority of this comes from Asia. The value of these imports are now worth more than US$700,000,000, but the size of the market has not reached anywhere near its peak. Only recently has tilapia had much influence on the European market and early signals show that it is likely to be a big success there as well. But for tilapia to ensure that it reaches the full extent of this market, there are a couple of key challenges which must first be overcome.

One of the main things that Asian farmers must achieve is some form of non-governmental organisation (NGO) certification, which can provide authenticated approval of standards which many people expect of and demand from it. Such a move will provide labels and logos which consumers trust and ease the entry of tilapia into new markets. For products to be approved into this market they must ensure that the environment is protected during production, food safety is at a high standard, local workers are protected and societies are not harmed. But, whilst the many different certifications agree on the basic principles of aquaculture standards, they all differ slightly and many of the more highly regarded certifications are only offered at an extra cost to the farmer. Some farmers deem the extra expense of these certifications beyond the value of return.

However, certification is in many ways an essential for the future of tilapia as global markets demand ever greater food safety and quality. Today's consumer wants tilapia to be organic and green and this means reduced or eliminated use of hormones. It means no antibiotics and chemicals, reduced environmental repercussions and recycled water and waste products. Improved quality control in the US, Europe and Japan must also be overcome in the coming years. Fish samples are currently checked for bacterial and chemical contamination. HACCP procedures, ISO and EU guidelines follow.

Almost half of the world's tilapia is produced in China. Egypt is the second largest producer, with Philippines, Thailand and Viet Nam next, all producing similar amounts. Chinese production costs rose 20 per cent in 2008. Analysts expect the production costs to rise by at least another ten per cent in the coming years due to land and labour costs. Such increase will put pressure on an already straining Chinese sector. Last year's winter kill in China meant that it produced and exported much less than normal, as a result sales from Indonesia and Thailand increased.

Globally, the price of tilapia has remained steady over the last fifteen years. Fresh fillets have risen slightly from US$5 per kilogramme to over $6, but frozen fillets (US$3.5/kg), live (US$5/kg) and whole (US$5/kg) tilapia prices have barely moved. There seems to be little chance of a significant price rise over the coming years and the relative value of tilapia is expected to fall as inflation out-paces it. However, the value of the overall industry continues to rise as demand rises, and this is where farmers can succeed. According to Food and Agriculture Organisation Fish Stats, global tilapia sales in 2000 amounted to US$1.74 billion, by 2005 that figure had risen to $US2.45 billion. The FAO now predicts that by 2010 the global tilapia industry will be worth US$5 billion, totalling 3 million tonnes.

The rise of demand can be partly attributed to improved packaging processes adopted by many Asian companies. Fillets can now be bought in re-sealable packages, they come in a variety of different forms and languages, with extra information including recipes and nutrition. Microwaveable, open-ready tilapia can also be found on many supermarket shelves. Tilapia is also used in orange juice, in the form of an omega3 additive, whilst some markets even sell tilapia leather, a by-product used to make clothes, belts and wallets.

The tilapia industry is unrestricted by certain trends that affect other fish. There are no religious taboos and environmental affects are minimal by comparison with other fish farms. Tilapia can be fed on all plant diets which makes future competition over fish meal and fish oils obsolete. There is also plenty of room for hybridisation to make this fish tastier and faster growing. Demand will remain for tilapia, but it does not come without some demands itself. Production systems need to be improved, sustainabilty must be increased, food quality needs to be enhanced and food safety needs to be ensured. All of this needs to be guaranteed through reliable accreditation. The future is there for tilapia's taking, but first farmers must step into the 21st century themselves.
May 2009