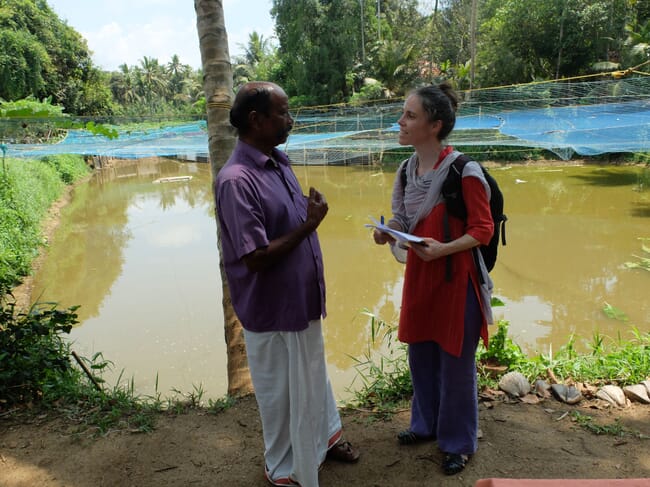 This point was raised by Dr Cecile Brugere, one of four panellists of today's State of World Aquaculture review, which marked the finale of the FAO's week-long series of aquaculture webinars.
"We are starting to realise that aquaculture can contribute more than just tonnes or dollars. So, who do you think will be the champions of triggering such a transformation in the sector?" Dr Brugere asked Dr Devin Bartley, who had presented an overview of the global aquaculture sector earlier in the event.
"I fully agree that we have to modify the trajectory of the sector, but bearing in mind that the sector is growing and we can't change that trajectory too much. I do think that NACA and FAO and other inter-governmental organisations such as WorldFish, that works much more closely on the ground… I think that these will be the champions of this new look and this new way to monitor aquaculture. I do think we have to look beyond tonnes and dollars. FAO produces food balance sheets, aggregated at a national level and they don't often look closely enough at the local conditions," Dr Bartley replied.
The question followed on from presentations that included an insight into the nutritional benefits of fish from Dr Shakuntala Thilsted, from WorldFish, and Dr Brugere's own talk on the need to promote greater gender equality in the aquaculture sector.
"I think that your work on gender analysis and Shakuntala's work on nutrition – I think those will be extremely important in this new analysis. I do think that FAO and NACA have some work to do, in regards to developing new markers that they can incorporate into FishStatJ that do look at some of these measures of One Health, local benefits and nutritional benefits," said Dr Bartley.
He did, however, caution that it might – currently – not be possible for all countries to assess the impacts of these measures, which are less tangible and harder to quantify.
"I think developed countries will have the resources to look into this way of analysis. In developing countries or countries where fish are already a popular food, I think that it would be relatively easy to incorporate these new measures. I think in some places like in Latin America, where fish is not a big part of the diet, there will be more work needed to move aquaculture forward in those areas – it's certainly a good area to go into deeper analysis on," he concluded.