They include a company that grows seafood using cellular biology, one that helps shrimp farmers source top quality seed and one that aims to improve the treatment, management and prevention of sea lice outbreaks in the salmon industry.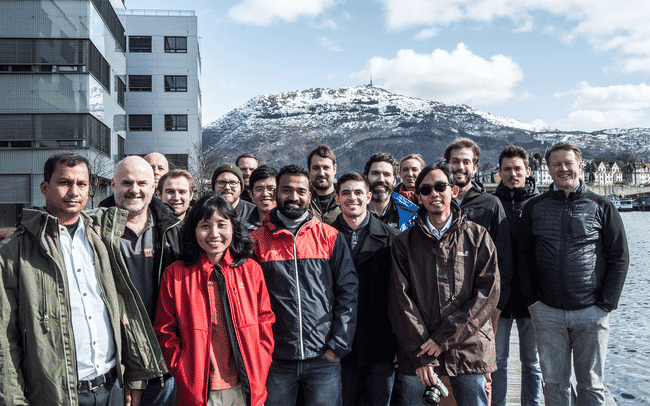 The initiative, launched by Alimentos Ventures, an early-stage aquaculture investment firm, bridges the gap between innovative ideas and their commercialisation by helping start-ups become investment and market ready via the rapid development of their aquaculture market entry. And the first eight companies to take part in the programme come from seven different countries – India Thailand, Indonesia, Norway, Portugal, the US and the UK.
In announcing the details of the first cohort, Carsten Krome, HATCH CEO, said: "We are so excited to be working with these eight exceptionally talented teams, all seeking to deliver on their global ambitions. For some, their technologies are complimentary too, so we are anticipating significant synergies being achieved between the cohort companies"
HATCH aims to inspire the aquaculture industry to grow sustainably to meet global demand by connecting top teams and their ground-breaking aquaculture innovations with expertise and funding in order to reduce the costs and risks inherent to aquaculture growth and development. They also provide and foster a global go-to community for entrepreneurs, commercial players, researchers, and investors alike.
The first HATCH Programme is delivered in Bergen, Norway, from April - June 2018, in partnership with Bergen Teknologioverføring AS (BTO), where the accelerator space is located, and the Seafood Innovation Cluster.
"We have an ambitious schedule to get through over the next three months with the teams. Over that time we will welcome many of the world's leading aquaculture experts, successful entrepreneurs and investors to Bergen in order to add significant value and accelerate the development of the teams by providing technical expertise, focus and incredible business experience," says Wayne Murphy HATCH COO.
The first cohort
The following companies make up the first cohort.
AlgaePro – based in the Bergen region, it promotes industrial production of microalgae and sales of the algal biomass for end products, such as nutritional supplements, animal feed, cosmetics, feedstock, bio-plastic and fertiliser.
Aquaconnect – the Indian firm provides market access to Indian aqua-farmers to enable increased access to quality hatcheries, export markets & allied farm input products. Currently, about 3000 Vannamei shrimp farmers are working with Aquaconnect to connect with the marketplace.
Finless Foods – the US company produces high-quality seafood without mercury, plastic, antibiotics, or added growth hormones via the use of cellular biology, creating a fresh and clean supply of previously expensive and unhealthy seafood products.
Jala – an Indonesian firm that provides shrimp farmers with assistance by combining monitoring device and a software platform where farmers can manage their farm, based on data driven to boost yield and create a sustainable business.
Manolin – the US company is developing a digital solution to accelerate the sharing of resources between companies to better treat, manage, and prevent sea lice outbreaks in the salmon industry.
Sensaway – will allow aquaculture companies to add sensors to their current network, aiming to improve sensor data quality, reduce maintenance costs and empower the end-user with an easy to maintain solution.
Tradeit - an online seafood marketplace connecting the seafood industry by providing a full-end trading platform to allow importers and exporters to interact through a collaborative business model.
VerifiK8 – in Asia 80 percent of fish farmers are smallholders and do not have access to sustainable income streams. VerifiK8, based in Thailand, brings a transparency tool to connect all stakeholders of the supply chains to make sustainable sourcing efficient, affordable and credible.
Future plans
HATCH's next cohort will be based in Cork, Ireland in Q3/Q4 2018, while the programme will move to Southeast Asia in 2019.