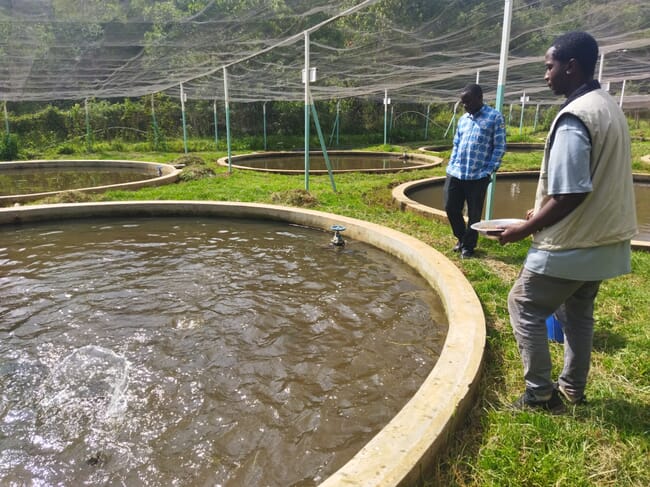 In Kenya, trout account for less than one percent of total fresh water aquaculture production and are normally farmed in the cold waters of the Mount Kenya region. Trout farming is dependent on a well-functioning hydrological system, which in turn depends on a healthy forest ecosystem, which makes the region particularly suitable for the venture.
There are currently six commercial trout farms in Kenya, mainly farming rainbow trout, using intensive raceway and pond systems, in which production ranges between 10 and 80 tonnes per hectare, per year. Most commercial aquaculture enterprises harvest the trout after two years or less, by which time they can reach up to 1.5 kg each.
This article focuses on two of the country's top trout producers: Kiganjo National Trout Hatchery and Trout Masters.
Kiganjo National Trout Hatchery
The Kiganjo National Trout Hatchery is a coldwater fisheries demonstration centre established in 1948 by the Ministry of Agriculture, Livestock, Fisheries and Irrigation at Mathira West Sub County. Initially, it grew both rainbow trout and brown trout to stock local rivers for sports fishing. The 10-acre facility has over 30 raceways and ponds, with a production capacity of 12 tonnes per year, according to Erick Opallo, the principal fisheries officer.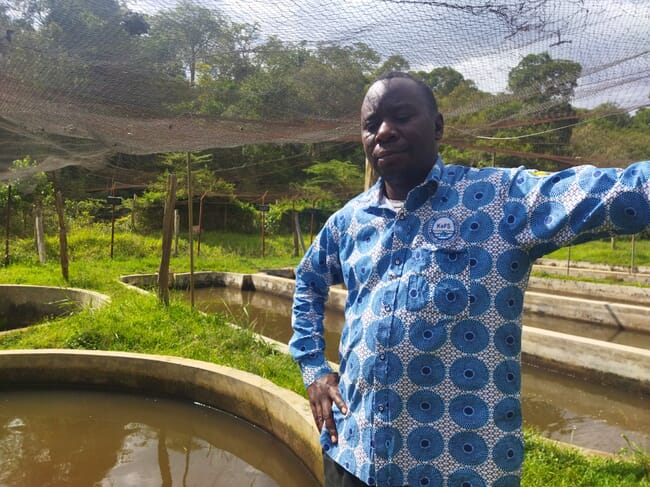 The main activities at the hatchery include:
Producing 200,000 eggs and 70,000 fingerlings which are transferred from the hatchery to raceways and later to grow-out ponds, where they produce 8 tonnes of table size trout per year.
Supplying trout farmers with fingerlings at KES 12 per inch ($ 0.1) and table size fish at KES 700/kg ($6).
Offering training to farmers and students.
Selling table-sized trout.
"Our market outlets include tourist hotels and we also sell to individual customers," says Opallo.
According to Opallo, the farm's goal for the next five years is, "to satisfy trout demand requirements in the region, as there is currently a five-tonne shortage of supply each month."

However, climate change and deforestation have negatively impacted trout farming in Kenya, which is one of the major challenges they face.
"Climate change has meant that we face water shortages most of the time, because we share the river water with the communities upstream," he notes.
Environmental conservation goes hand-in-hand with trout farming in Kenya, as the farms around Mount Kenya rely on the rivers to supply continuous water. The trout farmers are therefore vocal about the conservation of the forest, as it plays an important role in conserving water.
"Inadequate funding to improve our production, the challenges of sourcing high quality feeds, limited funding for research, predators, lack of capacity building and disease are some of the other challenges we face," says Opallo.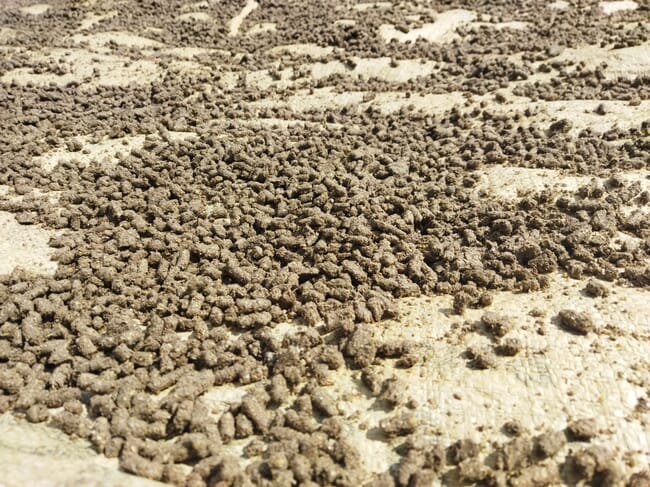 His advice to those seeking to venture into trout farming is that there is strong potential for it to provide jobs, food security and promotion of the blue economy. He mentions that the initial capital requirement for this type of aquaculture depends on the specific number of culture units, for instance building two to four ponds costs about KES 500,000 ($4,292)
Trout Masters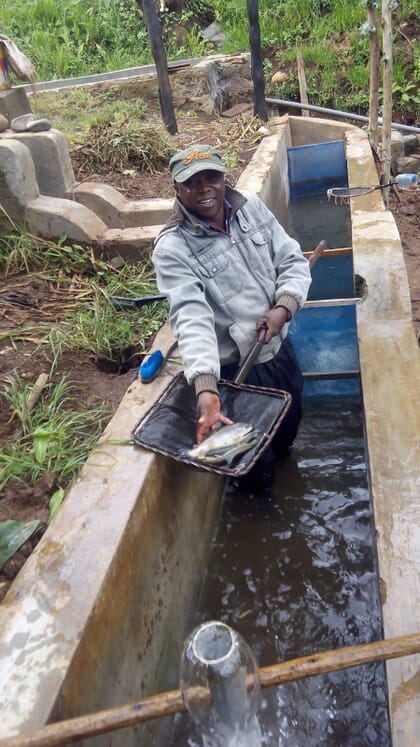 John N Kamau has been involved in trout farming since his youth and is currently the manager at Trout Masters. Located in Chania, it was established in 2016 and has a production capacity of 50 tonnes per year. Currently, the farm has 13 ponds on one acre of land. Out of the 13, six ponds have the capacity for 15,000 to 20,000 table-sized fish and four can hold 40,000 to 50,000.
"I was brought up in a trout farm, called Ken Trout, where my father was a manager. That's where I got the passion. After high school I went to college and would join my father on the farm on a regular basis," Kamau recalls.
Before moving to Chania, they had a small farm in Nyandarua, where they experienced water challenges.
"When we got here, I had to design a farm where I can maximise the water availability, that's why with our set-up we can produce around 50 to 100 tonnes, if well managed," Kamau explains.
The farm uses ponds and raceways, which can both be farmed intensively or super-intensively.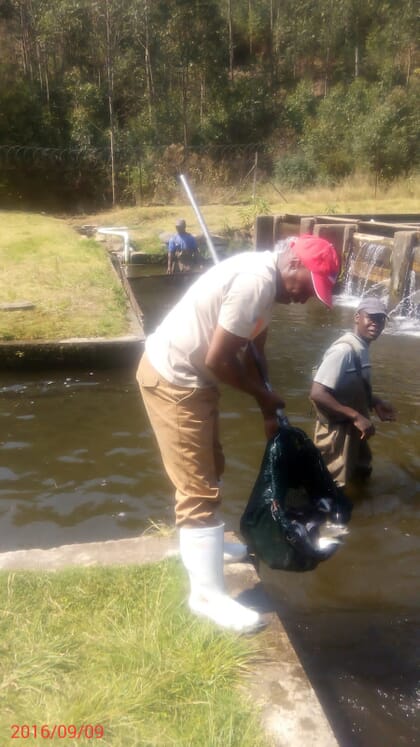 "We can pump enough water and put as many fish as we can, because of the design," he says.
They did not opt for circular ponds, which – according to Kamau – are better suited to producing juvenile fish.
"For large quantities of big fish, the rectangular ponds are much better because you can manage and clean the ponds and do the seining [netting for harvesting] easily," he notes.
In Kenya, most of the trout farmers import eggs from abroad and Trout Masters imports about 100,000 to 200,000 eggs annually from the US, Denmark or South Africa.
"We import 50,000 eggs every quarter to sustain the system, so that we have a supply throughout the year," Kamau explains.
The hatchery produces around 100,000 fingerlings. They keep between 20,000 to 30,000 of these and sell 70,000 at KES 15 ($ 0.13) per inch to farmers as well as an organisation that stocks rivers.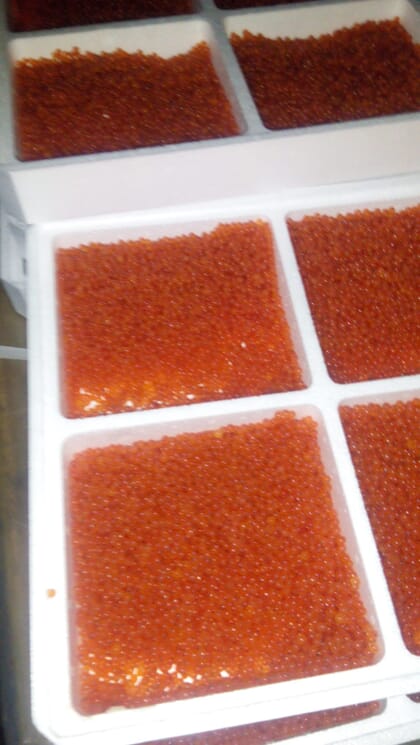 For the table-sized trout, they produce between 10 to 25 tonnes per year and sell these at KES 1,000 ($8.60) per kg. Their major market outlets are hotels and malls. At hotels the minimum price per kg is 1,000 KES ($8.60).
"However, because of the challenges of feed etc, we now sell at KES 1,200 ($10) per kg and our customers are happy, most of them insist on the size, for instance the hotels want fish above 300 g," Kamau says.
Despite many positives, Kamau echoes Opallo's concerns over the growing threat of water shortages.
"The biggest challenge we face is climate change, because the facility must have water throughout the year," he says.
In order to stay on top of the problem, he mentions that it's important to measure oxygen and pH concentrations regularly, as well as measuring water quality on a monthly basis.
"When it's dry, oxygen levels can plummet, which means we have to open all the pipes to increase the water inflow, depending on the number of fish in the pond," he explains.

The other main challenge relates to access to quality feeds.
"You can get quality feed from one company, but then after five or six months, you discover that they don't have the supply and you have to wait," notes Kamau.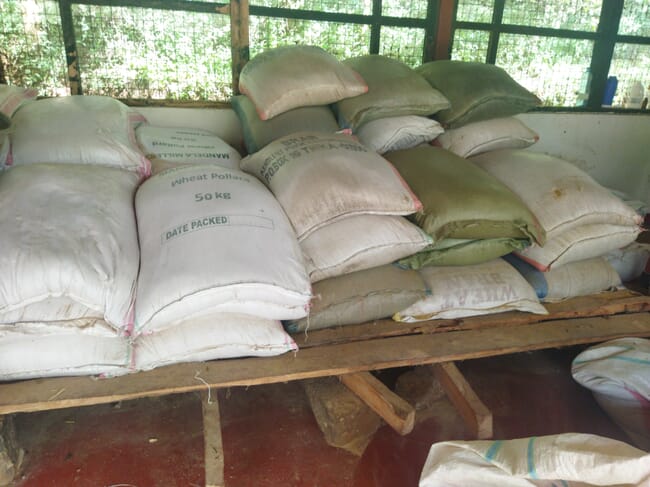 The company used to import all its feeds, until Covid-19 disrupted their supply lines.
"That's when we came up with a small factory and bought our own machines to make our own feeds," Kamau explains.
They recently went to China and obtained a small machine that can produce floating pellets, because these are the best type, according to Kamau. Despite now being more self-sufficient, they still find it challenging to source key raw materials in Kenya.
"When we have a lot of fish, we have to import feeds, there is no shortcut. But of late some companies in Kenya are able to make good feeds – such as UNGA," he reflects.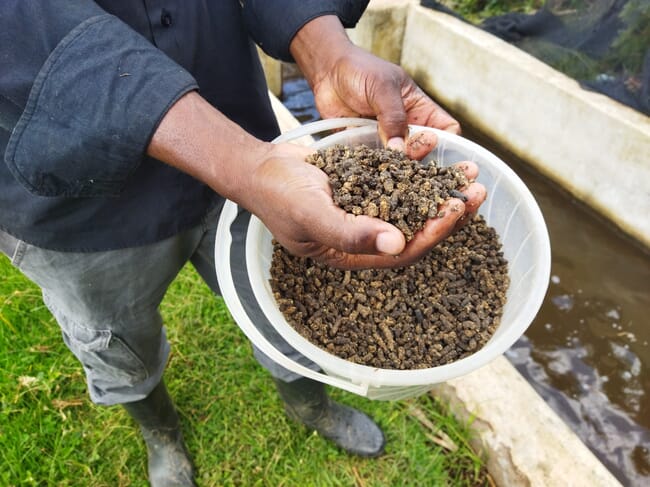 Kamau laments that the formula they came up with to make their own feeds cannot compare in quality with the imported feeds, because accessing suitable raw materials in Kenya is a challenge, as they are expensive, sometimes not available and – when you do get them – the quality can already be compromised.
Kamau now wants to improve their own feed production and has plans to import another machine to make better feeds for their farm, for other farmers around Mount Kenya… and eventually for farmers around Kenya as a whole. At the moment they produce 200 kg of feeds per week, depending on the stock they have, and also supply other farms with feeds.
Kamau says that trout farming can be a good business, but that you need sound advice before you start.

"Trout is a high-end product, so if you manage it well, it has good returns. But don't go for theory, you might get frustrated. You have to go to someone with good experience," he warns.
In Kenya, the cost of a kilo of trout ranges between $3 to $12 USD, depending on the market outlet, thus fetching a relatively high return compared to other farmed species. Currently, the national demand for trout is around 10 tonnes per month, while the supply is less than 1 percent of this demand, thus creating a huge deficit.
In the next five years Kamau's goal is to become the biggest producer of trout in Kenya and to export to other countries.
Conclusion
Trout farming in Kenya has the potential to provide lucrative returns and healthy nutrition. The high demand and limited supply presents opportunities for investments in different areas – including, but not limited to, the supply of raw materials for feed production, the supply of high-quality feeds, running a hatchery, and supplying additional table-sized trout for the market.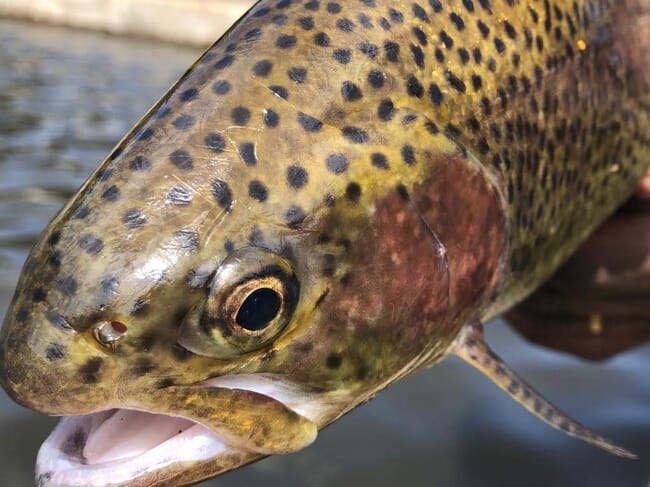 The limited available information poses a challenge for potential investors. More research should therefore be conducted on the sector's opportunities and challenges. Further studies and research should focus on feed production, hatcheries and innovative techniques to culture trout in controlled environments where they are less prone to the effects of climate change. These should go hand-in-hand with measures to conserve water, forests and the environment in general – and it's been encouraging to see some initiatives involved in planting more trees in the Mount Kenya region as well as fighting deforestation, but more needs to be done in the long-run.
Financial constraints and technical know-how are other challenges. These can be addressed by equipping farmers with the necessary skills to conduct their business through training and provision of seed funding.