The algal oil that's on target to disrupt the aquafeed sector
Now that its new production facility is up and running, Veramaris is reliant on its innovative solution combined with a disruptive marketing strategy to achieve its ambitious goals.
Ian Carr, global business development director for the algal oil producer, outlines the company's philosophy and its progress to date.
What species are you looking to introduce your algal oil to?
In the aquaculture sector we will concentrate on salmonids, shrimp and high value marine finfish, but we're also looking at launching into pet foods and terrestrial livestock, such as pigs and chickens.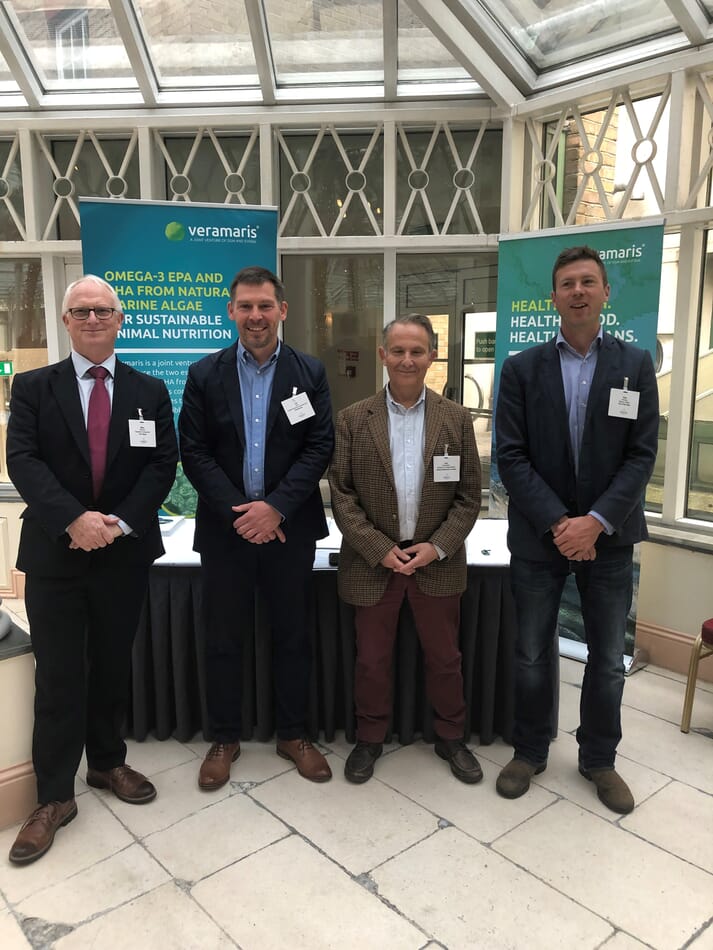 How close are you to achieving your goal to produce enough DHA and EPA to account for 15 percent of the salmon sector's long chain omega-3 needs?

We originally set out to do this in two years, but it's now looking like it might happen sooner. The new facility in Nebraska opened in July and is successfully ramping up production. We've already delivered from that facility to customers and we're on track to be able to deliver our goal.
The bottleneck is not our capability of producing the oil, we now need to help all the players in the value chain to understand the opportunity.
How do you plan to build the market?
It's about having a value chain marketing approach. It's not going to be a success by taking a traditional approach and speaking to the next player in the chain – ie the feed producer – it's essential to engage the retailers, the food service sector, the feed manufacturers and the farmers in a collaborative way and explain the advantages of using our algal oil.
What are the main advantages of the oil?
Health is a big one – high levels of omega-3 EPA and DHA are beneficial to the health of the fish and to the health of the consumer. There's also a safety and purity element of using a raw material that's produced under controlled conditions. And there's the sustainability aspect of enabling the growth of aquaculture while simultaneously reducing dependency on the world's oceans.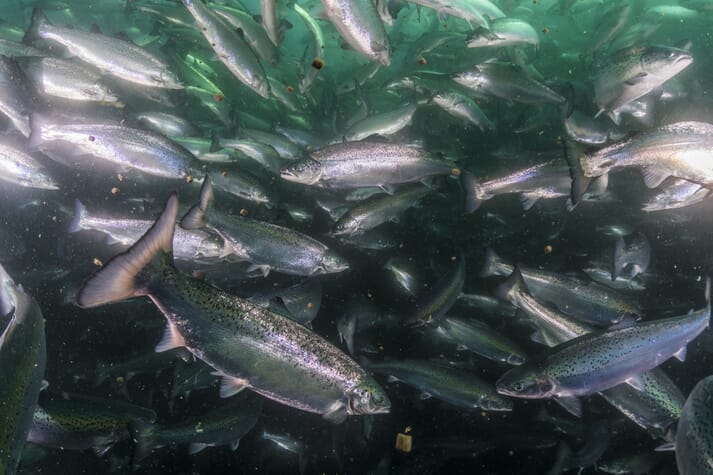 Who have been the early adopters?

Retailers include Tescoin the UK and Supermarché Match in France. Skretting has been particularly enthusiastic as far as feed manufacturers are concerned. Farmers include Lingalaks in Norway. Nearly everyone's been receptive, right the way through the chain – but they need to figure out how it fits within their strategy and how they can capture the opportunity.
When it comes to adopting a new technology it's all about capturing the value that we add to their product. That requires careful change management and that's what we're really working through with them.
What are the financial implications for early adopters?
Breakthrough innovations will invariably cost more than the next best alternative and the aquaculture industry has grown up relying on fishmeal and fish oil – it takes energy, commitment and courage to break that habit and to look at viable sustainable alternatives.
What's more, each of the stakeholders need to believe that we're in this for the long term, that we have the capability to produce 24/7 and we need to and can deliver that reassurance that we're able to meet their long-term needs. Our technology is being delivered at scale and we plan to continually increase production volumes within the next months.
How does your oil compare with fish oil from a nutritional perspective?
Fish oils used in aquafeeds typically contain about 18-22 percent of the long chain fatty acids EPA and DHA, whereas the Veramaris algal oil contains more than 50 percent. Unlike other algal oils, which tend to contain only DHA, Veramaris algal oil contains EPA too. This is critical because animals, including humans, can't synthesise these oils in an efficient way.
How do you differ from other plant-based oil producers?
We don't rely on genetic modification of our algae, while many of the plant-based producers do require GM to get plants, such as canola, to produce long chain omega-3s by modifying their genome. Moreover, the levels of EPA and DHA are still much lower in plant-based genetically modified seed oils. Ours is a richer, natural, more concentrated and sustainable source of EPA and DHA and it has a better long-chain omega-3. fatty acid profile compared to other plant-based oils.
How have you managed to achieve such high levels of both these fatty acids?
The first-generation of algal biomass products were only rich in DHA but since then our researchers have developed the capability to efficiently screen the algae that's in our library. They can now screen thousands of strains of algae and look for the right characteristics in terms of the expression of oil and the balance of fatty acids.
Do you think you will ever be able to reach price parity with fish oils?
It's possible, and depends on the development of fish oil prices. We're guessing fish oil will become more expensive as the volumes trend downwards ever since the mid-80s. On our end, as you bring any innovation rapidly to scale you're going to achieve efficiencies – we are likely to further improve the oil yield from the algae we're working with, we are likely to achieve productivity efficiencies from within the production process – these things help to make the ingredient more cost-effective in the long run. However, our algal oil is not to be compared to fish oil, we offer a credible value creation opportunity to the industry.
Some farmed salmon is more expensive than it was 10 years ago but has less nutritional value in terms of EPA and DHA. Our research shows that people are willing to pay for fish that delivers their weekly intake of omega-3 in one serving a week, as recommended by national health authorities, and I think there's a value creation opportunity for the leaders of the industry to position a salmon that is both sustainable and healthy.
What would the increase in costs for a typical salmon producer if they were to use Veramaris oils in their feeds?
Farmers can choose different strategies for applying our algal oil. For example, they can replace fish oil or they can add algal on top of the existing fish oil. Each strategy has its own cost implications, but typically if you substitute a few percent of the fish oil currently used in salmon diets with our algal oil that would lead to a cost increase at the end of the salmon value chain of less than 5 percent for a head on gutted salmon. If you put that into the context of the existing variability of salmon prices that's not a significant figure and that's why we've seen so many retailers being willing to stand up and support the idea as a means of moving the aquaculture industry to become more sustainable. You also have an exciting story to tell when it comes to ensuring both the healthiness and sustainability of the seafood produced.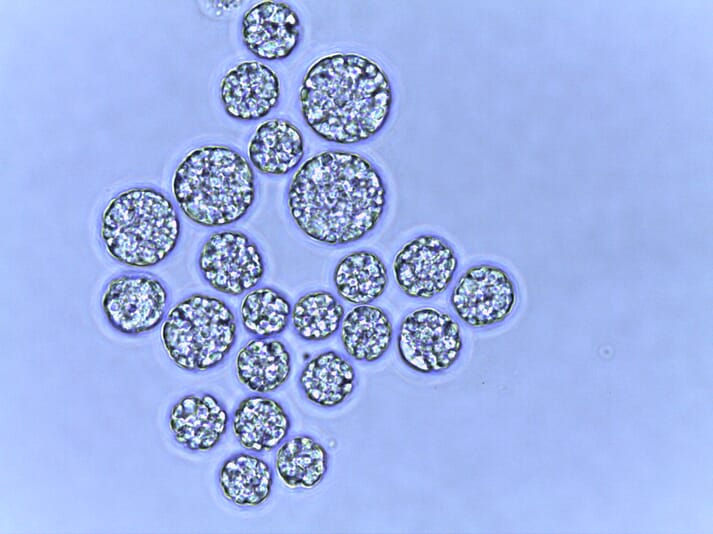 How do initiatives such as the F3 Challenge and Feed-X help to increase the appeal of your product?
I think that any initiative that builds awareness of the product and the market readiness for it is only a good thing.
Do you have studies to back up the nutritional value of your products?
Absolutely. We first tested it was both safe and acceptable for a range of species. We also measured their performance and finally we conducted sensory trials to ensure that it has no negative impact on taste.
What do the two owners – DSM & Evonik – bring to the table respectively?
It's quite complementary. DSM has extensive algae strains of which one strain is capable of producing EPA and DHA together. It is also a world leader in aquaculture has a fantastic emphasis on innovation and going to market.
Evonik meanwhile brings large scale fermentation capabilities, having already developed a process for amino acid production. In addition, Evonik also has leading biotechnologies, R&D and capabilities to complement those of DSM.
The other key ingredients are their shared vision on sustainability and their resources to bring transformational innovation to the market at scale.
How do you see Veramaris developing?
In time we may be able to tailor our formulae and use different algae for different purposes and for different species, but for now we're focusing on gaining market acceptance for our current offering.