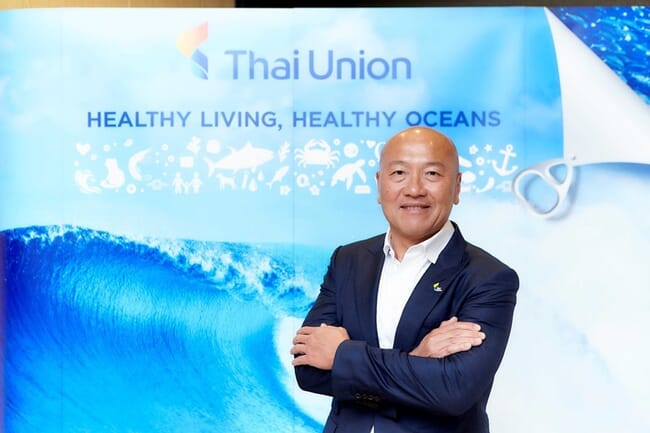 The report includes information on the company's sustainability strategy, which is backed by THB 7.2 billion ($200 million) of funding and is setting aggressive new goals to impact the seafood value chain on a global scale.

"Thai Union is a company with great ambition, and our global sustainability strategy is an integral part of our goal to become the world's most trusted seafood leader," said Thiraphong Chansiri, CEO of Thai Union Group.
"To achieve that goal, we must continue to be an industry leader, and this report demonstrates how Thai Union has continued to develop and implement initiatives and programs that deliver the positive change that will help transform the seafood industry. We recognise that there continue to be enormous challenges, but we have the ambition to tackle them, as evidenced by our new SeaChange 2030 strategy, which was announced last month."
The company states wide-ranging goals within aquaculture
The first is "To drive improvement of the aquaculture sector at scale, there is a growing need to create a standardized Aquaculture Improvement Project (AIP) Framework to provide clarity for how multi-stakeholder efforts can improve environmental and social performance, while sharing risks associated with seafood farming. As part of SeaChange 2030, we will develop an AIP Framework by working with industry partners and will ensure verification of our performance so that we drive industry best practices".

Thai Union also says it is "committed to working in partnership on alternative methods of minimizing or combating disease
outbreaks, while also developing new feed formulations and novel ingredients".

Moreover it aims "to establish traceability to farm and feed across the global supply chain, source products from certified
sources or those in an AIP, ensure marine feed ingredients originate from responsibly managed fisheries, ensure
agricultural feed ingredients originate from deforestation- and conversion-free sources, and drive the reduction of critical
antibiotic usage".
Other points highlighted by Thai Union which are relevant to aquaculture, include:

Beginning the full implementation of the Employer Pays Principle to ensure that no worker pays for a job.
Submitting short-term and long-term climate change targets to the Science Based Targets Initiative for verification and approval.
Entering a partnership with Sustainable Fisheries Partnership to further improve transparency across Thai Union's supply chains.
Publishing the company's first task force on climate-related financial disclosures (TCFD) report.
Reducing greenhouse gases for Scope 1 & 2 by 7 percent in absolute terms in 2022 compared to 2021.
"We're proud of the progress Thai Union continued to make in 2022, and our new sustainability report details the company's performance against key performance indicators and targets," said Adam Brennan, chief sustainability officer. "We're also excited as we look ahead, and the release of SeaChange 2030 and its 11 interconnected goals provides us with enormous momentum as we continue to drive positive change for both people and planet."
The 2022 Sustainability Report can be downloaded here.