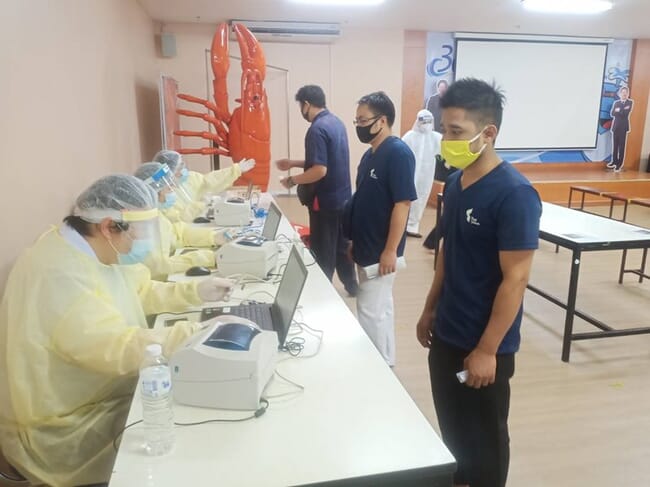 The company is implementing a comprehensive programme of Covid-19 testing at its own cost. As of 5 January, more than 85 percent of its 27,552 employees in the region had been tested – with just 69 (0.29 percent) being confirmed as positive by PCR testing. The remaining employees are expected to be tested by next week.
Those infected employees have been quarantined and if they show any symptoms, they will be treated as appropriate by the authorities.
"Each and every one of our employees in Samut Sakhon will receive a Covid-19 test. This is to ensure the health and safety of our people, regardless of age, sex and nationality, while ensuring the continuity of our operations," said Thiraphong Chansiri, CEO of Thai Union Group, in a press release.
The company emphasises that it continues to follow all Health Ministry guidelines and protocols, with impacted employees placed in quarantine and contact tracing underway by the authorities. It continues to closely monitor the situation and work with authorities in this regard.
"We have comprehensive protocols in place in case of positive test results; these protocols include ensuring taking care of the affected employees while isolating them according to government guidelines, identifying and testing close contacts and deep cleaning of visited work areas," added Chansiri. "It is very important to note that, due to the extremely small number of impacted employees, all Thai Union's factories currently remain open and operational at capacity."
The company limits employee movement among working locations within factories and manages support functions to work from home. Regular sanitization process both for workplace and work force is in place. The preparedness includes drills and business continuity plans. All measures are to ensure the highest health and safety standard of our people, products and production.
According to the World Health Organization (WHO) as well as the US Centers for Disease Control and Prevention and the Food and Drug Administration, there is virtually no risk of infection spread via food products or food packaging, the company notes.
"I have full confidence in the extremely strict safety and health policies in place at all our facilities to protect against any contamination, including contamination from virus and infection," Chansiri said.
Thai Union also stresses that it remains committed to helping the communities where it operates.
"A large number of people are being negatively impacted by the current Covid-19 outbreak in the Samut Sakhon area. We are also supporting the local authorities, who are putting all their efforts and resources into fighting this pandemic, and we remain confident that, together, we will soon be able to overcome this challenging situation," Chansiri concluded.