The initiative, whose members account for roughly 55 percent of global farmed salmon production, also includes eight associate members, having expanded by more than 40 percent in just seven months.
"We have been watching the GSI for some time now, and have been impressed by the progress the group has been making in uniting the industry," said Mark Ryan, Managing Director and CEO of Tassal. "We at Tassal want to be a part of this global movement as we share the same level of ambition and passion for working with other like-minded companies, and while some of our local challenges may differ from those of other members, we see a great opportunity in being part of a group like the GSI and working collaboratively towards a more sustainable future for the sector."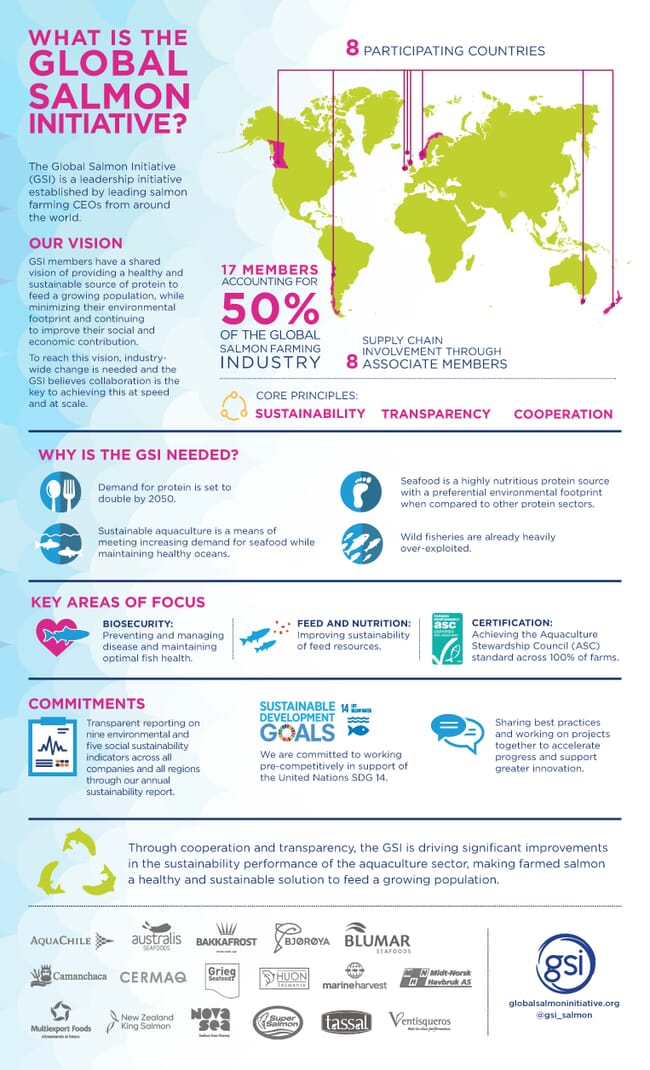 "We are pleased to be able to welcome Tassal to the growing GSI family and expand our presence in Oceania, in addition to our long-standing members Huon and New Zealand King Salmon," said Per Grieg, GSI Co-Chair and Chairman of Grieg Seafoods. "It's a clear indication that the GSI is on the right track, and as more companies and people get involved, our collective efforts will have even greater impact."
In joining the GSI, Tassal has made a solid committment to embrace the GSI's core principles of sustainability, transparency and cooperation and — when it comes to making sustainable improvements to the environment — to put collaboration before competition. Additionally, as a member, Tassal will be contributing to the GSI's core areas of focus, which include improving the management of biosecurity challenges, ensuring sustainable sources of feed, and working with companies to reach 100 percent farm certification by the Aquaculture Stewardship Council (ASC) by 2020.
GSI members
Current member companies of GSI are: Australis Seafoods SA, Bakkafrost, Blumar, Bjørøya, Cermaq, Compañía Pesquera Camanchaca, Empresas AquaChile, Grieg Seafood ASA, Huon Aquaculture, Los Fiordos, Marine Harvest, Midt-Norsk Havbruk AS, Multiexport Foods SA, New Zealand King Salmon, Nova Sea AS, Tassal and Ventisqueros.
The GSI also has a number of associate members in both the pharmaceutical and feed industries, including Benchmark Holdings plc, BioMar, Cargill, Elanco, Merck, Sharpe and Dohme (MSD) Animal Health, Pharmaq, Salmofood and Skretting.