Fifteen women who were relatively new to the sector, or considering joining it, were each paired with an aquaculture professional with at least five years' experience in the sector. Following a structure established by Coach Mentoring, each pair was then encouraged to meet up – largely remotely given the geographical spread of the participants – on a regular basis, so that the mentors – both male and female – could pass on advice and encouragement to their mentees. The following demonstrates that concrete benefits, for both parties can be achieved through such an initiative.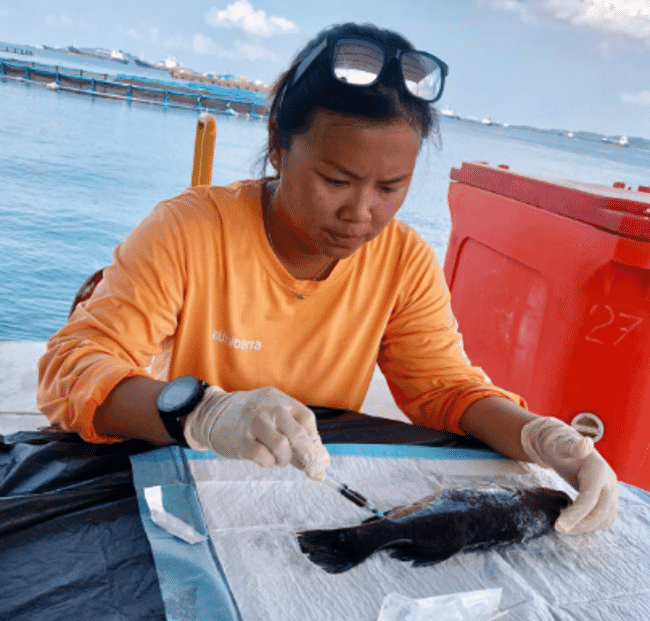 Giana Bastos Gomes, assistant professor of aquatic animal health at the City University of Hong Kong vet school, discusses the programme with her mentee, Marie Tan – who recently left her job at Barramundi Asia to take up a lecturer's role in the Diploma for Marine Science and Aquaculture at Republic Polytechnic in Singapore.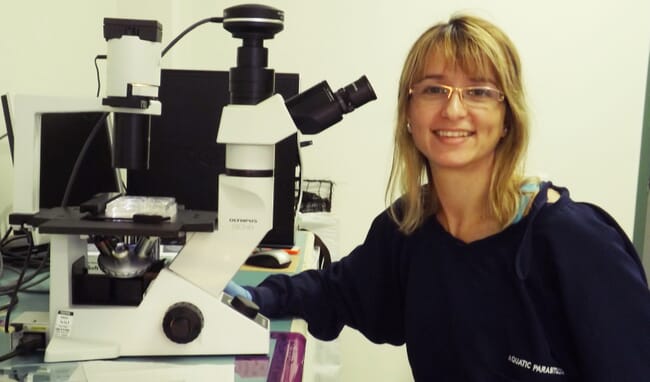 What inspired you to sign up to The Fish Site's pilot mentoring programme?

GBG: While completing my PhD in Australia at James Cook University I was lucky to meet Dr Peter Riddles in a conference. Dr Riddles was previously a researcher with CSIRO [Commonwealth Scientific and Industrial Research Organisation] in Australia and was then a board member and on the advisory boards for multiple companies and institutes globally. During the conference Dr Riddles offered to act as my mentor. It was my first real experience of mentoring and I found it very useful – my mentor never told me what to do, but made me think more and ask more questions. His life and professional experience and passion for mentoring the younger generation was inspiring. When I heard about The Fish Site's mentoring programme I was very excited about the possibility of also being able to have a positive impact on other women's careers and life choices.

MT: I was an avid reader of The Fish Site's Women in Aquaculture series, as it helped me to realise the opportunities and challenges faced by other women who were involved in the sector, and I was also really pleased to be interviewed as part of the series. When the opportunity to apply for the programme came up I thought it seemed like a good opportunity to broaden my network and to communicate with other women who have experience of the industry.
Do you think you were matched with someone suitable?
GBG: I was pleasantly surprised to find that I'd been paired with Marie, as – coincidentally – I already knew her. We both studied at James Cook University in Australia at the same time and I'd already given her lots of advice on both her studies and her career before The Fish Site's mentoring programme kicked off. The organisers tell me that we were paired as we both had an interest in barramundi farming, which is true, but we also have many other interests in common, so it's been a good match.
MT: It's been great to be paired with Giana. She's been very helpful in the past and it's good to have a mentor who I know and trust so well. During my previous job, Giana asked me to help her with practical dissection classes. It was my first experience of teaching and I really enjoyed it.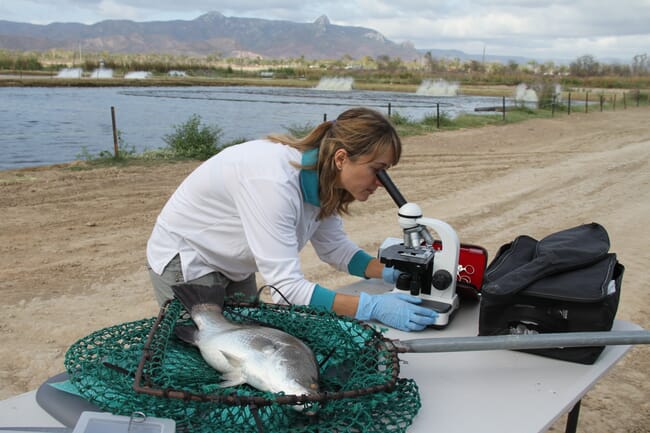 I'm also very lucky that Giana has actually worked on a fish farm/shrimp hatchery, so she understood the problems faced by farmers, which isn't always the case with academics. My parents and friends aren't familiar with farm work, so it's been great to be able to talk to someone who has the experience and has worked in the field before.

What's been Marie's biggest achievement since the programme started?
GBG: Marie was interested in furthering her career choices and was considering going back to university to take a master's degree. While this was a great option looking at her future, the financial constrains were considerable. However, I also knew Marie had a keen interest in teaching and when I saw that an aquaculture lecturer's position was advertised in Singapore, I had to let her know about it. I was thrilled to find out she was given the job.
MT: Giana encouraged me to apply for the job. And, on a more general level, she has also passed on plenty of valuable advice based on her own experience – she's a few years ahead of me and has been through so many of the challenges that I'm experiencing now.
Have you noticed any changes since the programme started?
GBG: As a Brazilian, I've noticed that Marie – who's from Singapore – has a very different attitude, as she comes from a society which is very hierarchical, in which people don't question their seniors. I've sometimes felt that women's opinions can be ignored, particularly in Asia, and Marie was no different.
She would sometimes share with me privately that she finds it hard to speak up in a male-dominated environment as she felt she might not contribute with a good idea. However, she now seems to be overcoming this and is becoming more outspoken, confident and direct without losing her kindness.
MT: Giana has helped me to consider new options which I never knew I could do – I thought fish farming was the only thing I could do, but my new job offers more opportunities for career growth and professional development and it will also allow me to start teaching in earnest. I've really enjoyed interacting with students who were my interns, in my previous job. The programme has also helped to strengthen this professional friendship between Giana and I – there's a bond developing and we keep in contact more regularly, often by text, whenever I need to seek an advice from her.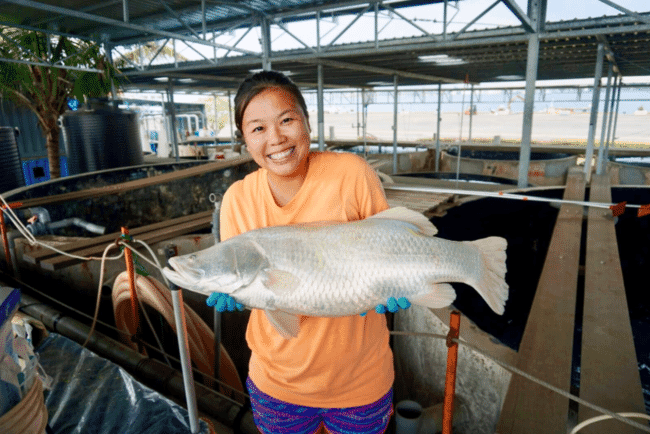 What form does your mentoring relationship take?
MT: Being part of a more formal mentoring programme has helped to give us both a bit more drive and I'm setting personal goals I wish to see myself fulfilling. Giana has started asking me questions like "What do you see yourself doing in five years' time?" She also passes on links to resources on fish health when I have questions, and even sends me meditation videos to help me relax and concentrate – it's a combination of practical aquaculture advice and life coaching!
GBG: Marie and I communicate on a regular basis via WhatsApp and email but with the mentorship programme we have taken our conversations more seriously. I generally try to focus on her needs and how my own experiences can bring some value to her career and life choices. It is quite interesting to see how my own experiences (be they difficult situations, disappointments or causes for celebration) can now help Marie in her life. It has been a great and rewarding experience.
What would you like to achieve over the course of the programme?
GBG: Looking ahead I think Marie needs to be more confident in herself. She has so much potential – she just needs someone to help her to see it. I hope that, over the course of the programme, I can help her achieve this, as well as help to increase her network within the aquaculture industry. I can't tell her what to do but I can help her to become empowered and be happy.
MT: Moving forward, as I have benefited so much from this mentoring programme, I would definitely like to mentor other women in Singapore who are like me: who have a keen interest in working in the aquaculture industry but are too shy to ask for advice. I hope that in my current job as an aquaculture lecturer I will be able to be a friend and a mentor to my students.
What do you think of the value of initiatives such as The Fish Site's Women in Aquaculture programme, and do you think more can be done to improve diversity in the aquaculture sector?
GBG: I think it's a very, very important programme and similar initiatives are needed in many sectors. We need more programmes that promote women in so many areas, such as in academia and science, where not many women reach leadership roles. There is a need for programmes that celebrate and embrace diversity. This includes all kind of diversity: including race, sex and age. Understanding that diversity benefits everyone is a step forward in our society. Diversity is sign of innovation and progress. Embracing diversity can help us to be more kind and compassionate.
MT: I first became aware of The Fish Site's Women in Aquaculture series when Giana was interviewed for it and wrote to the editor to say how inspiring the series was; I ended up being part of the series myself later in the year. I think the series is the start of a very good initiative: it recognises women as part of the aquaculture industry and lets the world know the huge contribution they make, and that aquaculture is not only for men.
Further information
The next Women in Aquaculture seminar, organised by The Fish Site and the European Aquaculture Society is taking place at 16.30-17.30 on 9 October, at AE2019 in Berlin.