The Arctic char is closely related to salmon and trout, with which it shares many characteristics, including high levels of Omega 3. However, Arctic char has not been farmed as abundantly as salmon due to lack of suitable infrastructure to increase production, meaning supply is currently very limited.
But, Icelandic fish farming company Matorka has pioneered a sustainable approach to farming Arctic char at its innovative farm located a short drive from Iceland's capital, Reykjavik.
By taking advantage of Iceland's natural geothermal energy in combination with the country´s clean fresh water, Matorka has been able to grow into a world leading environmentally friendly and sustainable aquaculture company.
"The aim of Matorka is to produce the healthiest fish possible and our mission has been to build a state of the art farm and raise Arctic Char without harm to the surrounding environment," said CEO of Matorka, Árni Páll Einarsson.
So why Arctic char? As previously mentioned, Arctic char shares many similarities with salmon, such as its red flesh and similar palatability, although it is less oily and has a milder taste. It is also known as a sustainable species that the Monterey Bay Aquarium lists as a "Best Choice" for consumption.
Arctic char grows at a similar rate to salmon, but unlike salmon it needs to be harvested by 20 months post hatchery, due to sexual maturity. This makes it smaller (around 1.5 kg w/r) than other salmonids and consequently its fillet size is also smaller.
Despite the smaller size, Matorka has found production to be cost-effective and this is mainly due to its sustainable farming techniques.
Taking Advantage of Iceland's Natural Resources
Matorka's farm itself is projected to be one of the most sustainable, cost-efficient, land-based salmonid farming operation in the world.
The Matorka arctic char is grown on land in flow-through tanks in waters around 9-10?c, explained Mr Einarsson.
Thanks to an automated oxygen system, oxygen is added to the water when needed. Feed is also automated and Mr Einarsson added that the farm's feed ingredients come from sustainable sources.
"We are actively working on developing ever more sustainable feeds for our production," he continued.
The farm is carbon neutral and has been designed to limit electricity use. Instead it uses natural sustainable geothermal energy to power its operations.
"Water temperature is manipulated by using the effluent from a local geothermal power plant, which allows the farm to have the optimal farming temperature all year round," Mr Einarsson explained.
The farm makes use of other natural processes too, including water being drawn into the flow-through system by means of gravity and the pristine water being naturally filtered by lava.
The farm also produces the fish without using any antibiotics or chemicals thanks to its water being from ground water sources.
New Investment to Increase Production
The Matorka farm has also recently benefitted from a $2.5 million investment from Aqua-Spark, a company which invests in firms that are working towards sustainable aquaculture production.
The investment will be used to start building a new state of the art farming facility in Grindavik, Iceland, that will allow the company to increase its production capacity by 1500 million tonnes (MT) to 3200 MT.
The new facilities will farm Arctic char and Atlantic salmon in big circular tanks, which are based on a new design of partially recirculating water by gravity between production tanks while controlling water temperatures by using geothermal effluent water from the local geothermal power station.
Since 2015, Aqua-Spark has invested in five complementary companies including: a Norwegian halibut farm, a fish feed monitoring company, a tilapia farm in Mozambique and a biotechnology company that is making fish feed healthier and more environmentally sound.
Speaking about the investment, Aqua-Spark co-founder Amy Novogratz, explained: "We have been interested in an Arctic Char investment since we launched, as we want to offer a sustainable alternative to salmon."
"Matorka stood out as a partner we wanted to work with because of their ecological practices, their overall vision for healthy char grown without antibiotics or chemicals and their use of, and respect for, Iceland's natural resources, enabling them to produce Arctic char at a competitive cost.
"Additionally, we were excited to bring char into our portfolio - a delicious fish that offers a sustainable alternative to salmon."
Mike Velings, Aqua-Spark co-founder, added: "The Matorka farm uses no antibiotics or chemicals, is powered by renewable energy, and makes a deliberate effort to protect the surrounding environment – all while producing a coveted fish. They should undoubtedly be seen as a standard-bearer for how to get fish farming right."
Mr Einarsson welcomed Aqua-Spark's investment: "Aqua-Spark goes to great lengths to improve and transform the aquaculture industry, and an investment from them is also a sustainability stamp of approval. We couldn't be more honored or excited to grow with them – and set a new standard for fish farming."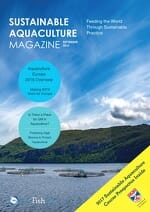 This article was taken from the September 2016 Sustainable Aquaculture Magazine.