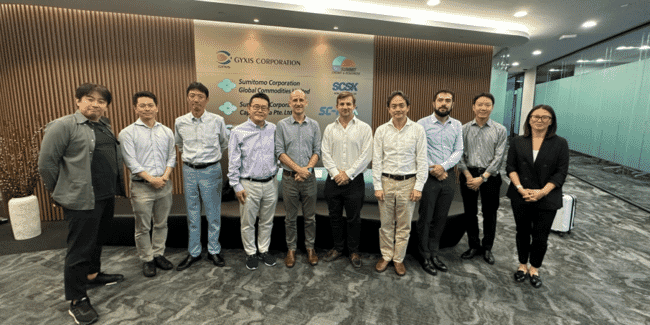 Sumitomo Corporation, which consists of over 900 companies, is an existing investor of Nutrition Technologies and says that the startup's low-energy, tropical production technique gives it an advantage over other manufacturers of insect-based products. With the growing demand for food and increasing pressure on protein supply, Sumitomo Corporation sees the need for more sustainable products and the opportunity presented by Nutrition Technologies products, which are made from black soldier fly larvae (BSFL).

Meanwhile Nutrition Technologies notes that the MoU will enable them to extend their commercial reach in Japan, thanks to Sumitomo Corporation's extensive distribution network and aligned companies within their group.
"This extensive market network and in-depth consumer insight will facilitate the Japanese market to access sustainably manufactured insect-based products, creating a more sustainable and equitable food system in the process," they say in a press release.
"This distribution agreement not only secures supply for our existing customers and the strength of demand we have for future production, but emphasises our commitment to the success of Nutrition Technologies, and underlines the strategic alignment between the two companies. We envisage a bright future where the two businesses can grow together," said Masahito Uno, general manager life sciences division Sumitomo Corporation.
Nutrition Technologies manufacture and supply insect protein meal, oil and frass (insect manure) to help feed the growing agriculture and feed industries around the world. The company uses a combination of beneficial microbes and BSF larvae in a low-energy, zero-waste production model, in which the larvae are reared on clean and traceable agro-industrial by-products.
The company currently ships industrial volumes of material throughout Europe, Asia and South America, from a two hectare factory in Malaysia that it completed in 2021. It plans to build several similar size facilities across Southeast Asia in the next five years.
"We have been working with Sumitomo for a number of years, and this is another rewarding step forward in our shared journey towards a more sustainable future. Japan represents a very exciting market for us, and as we already work together, Sumitomo are the perfect partners to continue this development," said Nick Piggott and Tom Berry, co-CEOs and co-founders of Nutrition Technologies.