Sinai the times: large-scale aquaculture comes to the Suez Canal
Professor Ahmed Hassan discusses the scope, scale and ambition of the Suez Canal Fish Farming and Aquaculture Company, which is well on its way to achieving one of the most ambitious outdoor aquaculture projects ever seen.
The Suez Canal Fish Farming and Aquaculture Company has developed 4,541 aquaculture ponds across an area of 7,500 acres of sedimentation basins along the eastern bank of the Suez Canal, on the Sinai Peninsula. In time these will be stocked by local hatcheries that are being developed with the aim of producing up to 80 million fingerlings of species including sea bass, sea bream and meagre, as well as up to 500 million shrimp larvae annually.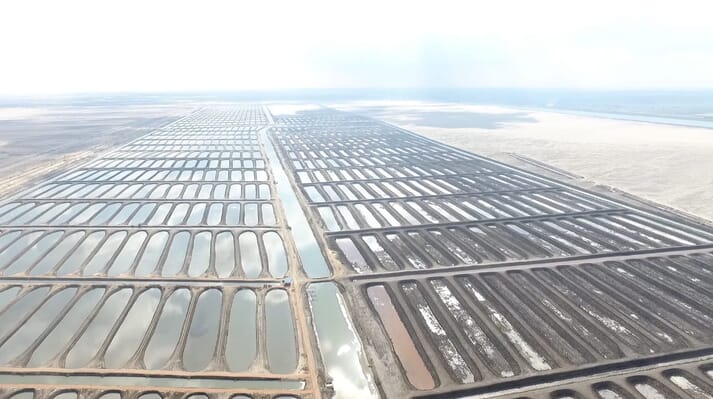 Now that the first fish produced in the system have been harvested, Prof Hassan – from the Suez Canal University's college of veterinary medicine and Suez Canal project consultant for water quality and fish management – explains the project and how it fits into the context of Egypt's aquaculture sector.
Egypt is best known as a tilapia producer, but what other species are now being farmed?
The culture of Nile tilapia dates back to ancient Egypt, and Egyptians prefer tilapia compared to other fish species because of its taste and affordability; [producers like its] fast growth rate and low feed cost compared to other fish species, as well as higher disease resistance.
However, recently Egypt has also started to raise marine species, and the production of other native species, such as sea bream, sea bass, meagre, eel and shrimp, has been adopted by the government as part of the Suez Canal project.
Who came up with the Suez Canal Authority's aquaculture initiative?
Our president, Abdel Fattah el-Sisi, recommended using the sedimentation basins along the bank of the canal to develop the marine aquaculture sector, in order to help develop the economy of the Sinai Peninsula. His objectives were to establish a project that generated rapid economic returns and help to fill the gap between fish production and consumption in Egypt.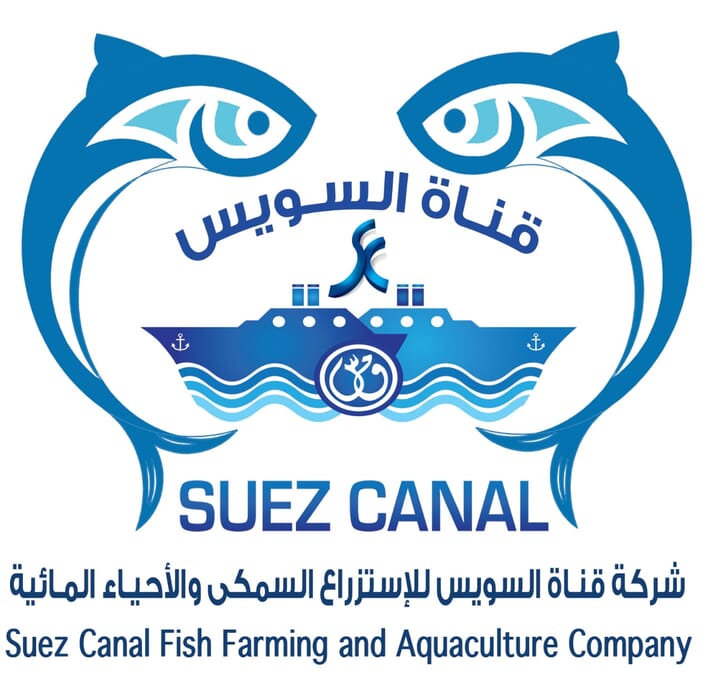 Did you need to install much extra infrastructure to make the sedimentation basins suitable for farming in?
These basins have been there since the inauguration of the Suez Canal. However, to make them suitable for aquaculture, the Suez Canal Fish Farming and Aquaculture Company [which is owned by the Suez Canal Authority] started in 2015 to dig fish ponds and supply them with all required infrastructure, this included the construction of irrigation and drainage gates; main and branch drains; water inlets and outlets from/to the canal; irrigation water lifting stations; and diesel power stations. Currently, there are more than 4,541 fish ponds.
Why did you opt to produce such a wide range of species?
These different kinds are produced to fulfil different people's requirements as per price and taste, and the requirements of restaurants and hotels.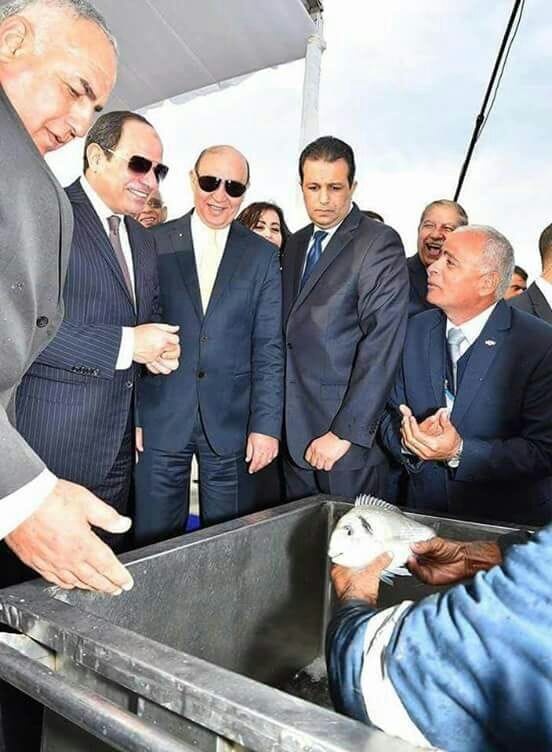 Are they mainly for domestic consumption or for export?
The main purpose of establishing the project was for domestic consumption. Then, if there is an excess of any kind of cultured fishes, the company is open for export.
Can some of the species be co-cultured in the same ponds?
Yes, as we culture different kinds with same average body weight – for example sea bream with seabass and flathead grey mullet.
What are the major challenges facing the Suez project?
The main challenge will be competing with traditional net-pen production of the same species; this is mainly because of the initial cost of infrastructure needed to create and operate earthen fish ponds – and the cost of rearing and feeding will increase the cost of production.
What are the main opportunities?
The plan is to create up to 10,000 jobs, and to close the gap between Egypt's annual production (1.4 million tonnes) and consumption (2.1 million tonnes) of seafood.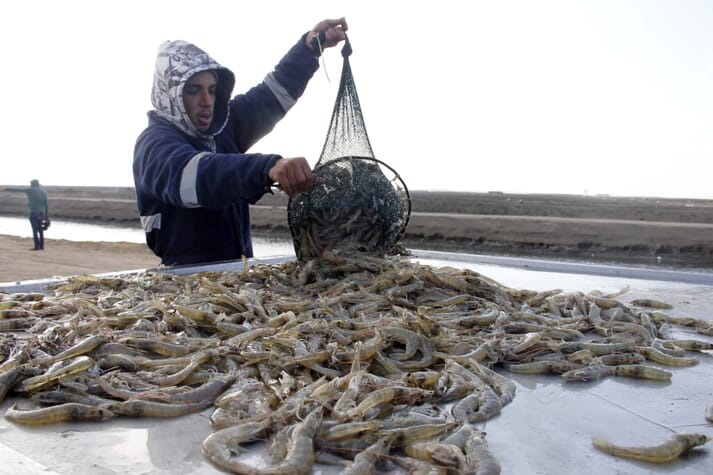 How many of the project's initial goals have you met?
We've started selling our product to the market, which is healthy with high quality standards. Also, one of the most important goals achieved has been creating livelihoods in the Sinai Peninsula.
Are you looking to achieve full vertical integration?
In the near future we will have our own feed mill – which will be capable of producing up to 100,000 tonnes of feed a year – and our own hatchery, which will mean that we're self-sufficient in both feed and in terms of seed stock. We also have plans to establish our own fish processing plant as well as establishing and equipping a veterinary unit, analysis and research laboratories (we currently rely on a field laboratory for analysing microbiology and some water parameters).
Can you explain plans to collaborate with the University of Veterinary Medicine in Vienna, in order to train people to operate the farms?
In the initiative "Egypt Can", which was launched under the auspices of president el-Sisi, Dr Mansour El-Matbouli, an Egyptian scientist specialising in fish diseases and management at Austria's University of Veterinary Medicine, was invited to the meeting. After this meeting, Dr El-Matbouli visited our project and we agreed to collaborate to establish a professional academy for training up marine finfish farmers.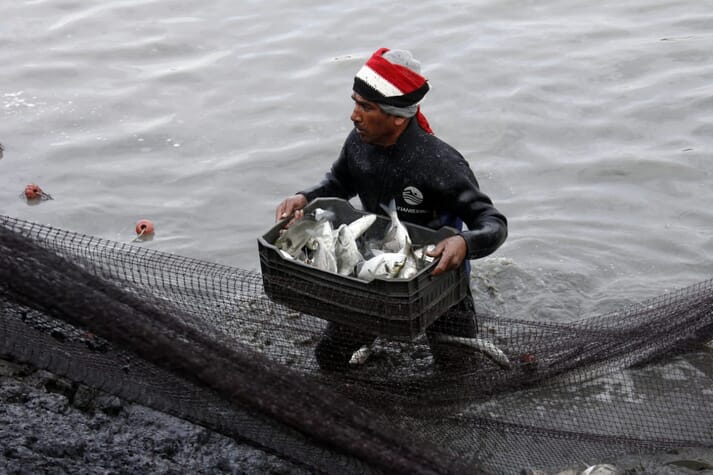 What's your own involvement in the Suez project?
My specialist area is researching the mitigation of stress and the effects of water quality on animal performance. From this angle, I mainly focus on following water-quality parameters, which is the most important consideration in aquaculture, as aquatic animals in aquaculture spend most or all their lifespan in the same water environment. Also, the increasing immunity of aquatic animals to disease is an angle I focus on with this project.
What other projects are you involved in?
Being a consultant for this big project, currently all my research with graduate students is focused on aquaculture in its different aspects. Some parts of their research are being conducted in collaboration with the Suez Canal fish project. As a result the project is fulfilling both R&D as well as community-service roles.
Why is Egypt so far ahead of the rest of Africa and the Middle East in terms of aquaculture development?
Egypt is a leading country in Africa because of its location – we have access to the Nile and its tributaries as well as coastal areas on both the Mediterranean and Red sea.
We've also been helped by government, who see aquaculture as a means of covering the shortage of protein from red meat, because it's challenging to produce enough meat to feed 100 million Egyptians due to the dwindling area available for agriculture. As a result the government has started establishing mega projects for aquaculture.