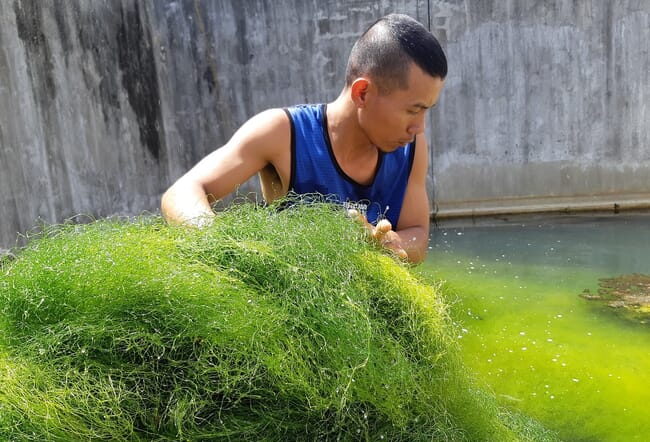 Chaetomorpha linum, also known as spaghetti algae or "green hair algae", derives its name from its wiry and rigid strands, forming a loosely entangled mass resembling cooked pasta noodles. It has a protein content of up to 17 percent and contains various health-promoting bioactive compounds.
It grows year-round in the Philippines and can tolerate a wide range of environmental conditions. It also absorbs excess nutrients from aquaculture wastewater, thereby helping to reduce pollution while the biggest appeal is, according to researchers, the fact that it's cheaper that ingredients such as fishmeal and soy protein concentrate.
"The ultimate aim of using spaghetti algae, or any other alternative ingredient, in aquafeed is to bring down the feed cost in aquaculture," said Joseph Biñas, associate researcher and feed mill supervisor at the Southeast Asian Fisheries Development Center Aquaculture Department (SEAFDEC/AQD).
"The use of alternative ingredients, especially if these are locally available and sustainably produced, may considerably reduce the cost of formulated feeds," he added.
In his SEAFDEC/AQD-funded research, which is scheduled to be completed this year, Biñas and his colleagues have included various amounts of the algae into aquafeeds, partially replacing the SPC and fishmeal.

Successful trials
The feeds, containing between zero and 18 percent processed spaghetti algae, were then tested for 90 days on juveniles of tiger shrimp, also locally known as "lukon" or "sugpo".
The results were promising, as shrimp survival and growth were normal with up to 12 percent spaghetti algae in their diet. Biñas, however, said the sweet spot seemed to be at around 6 percent.
He also said that they continue to improve the quality of the spaghetti algae by using lactic acid bacteria, yeast, and fungi to ferment it before including it in feeds. Fermentation can improves the nutritional quality of alternative protein sources.
"Once the fermentation protocol is optimized, fermented spaghetti algae can then be produced in large scale quantities," he remarked.
Biñas added that the algae would later be tested as a potential feed source for tilapia and milkfish.