Using satellite images, Dynaspace* collects and analyses data to provide insights and forecasts on shrimp production to support efficient decision making processes for all stakeholders across the value chain. It has already been successfully deployed in Ecuador.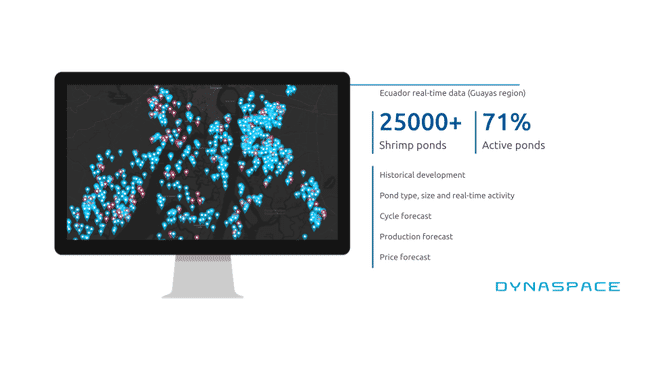 As Hogne Andersen, CEO of Dynaspace, explains: "We provide downstream space technology services in an international scalable platform that has the potential to organise information about food production in the same way Google Maps organises information about roads."

"We are delighted to start 2022 by receiving this grant. Like Innovation Norway, Dynaspace believes in sustainable growth and it connects with our mission to drive the blue revolution by using space technology from Norway. The shrimp industry is rapidly growing, but unfortunately, it is not sustainable. However, our in-depth data can advance the way that the industry is producing food by getting updated and validated information to make timely and sustainable decisions, based on up-to-date and historical data and facts."
Dynaspace plans to use the grant to develop its cloud-based platform. "The grant supports our plan to improve how our customers access our data and forecasts to make it accessible for everyone," says Mats Heigre, CTO of Dynaspace.
In 2022, Dynaspace will open a new fundraising round and let new key investors join the journey to launch aquaculture into orbit. The company aims to rapidly grow this year and to continue mapping new areas and transforming global shrimp production into a sustainable protein source.
"Our team seeks key talent in both technology development and commercialisation to keep expanding our solutions globally," says Andersen.
*Dynaspace is part of Hatch's investment portfolio, but The Fish Site retains editorial independence.