Danny Faure, President of the Republic of Seychelles, this week confirmed the 410,000 sq km zones – a milestone that delivers on the world's first debt refinancing for ocean conservation, co-designed by The Nature Conservancy and the Government of Seychelles.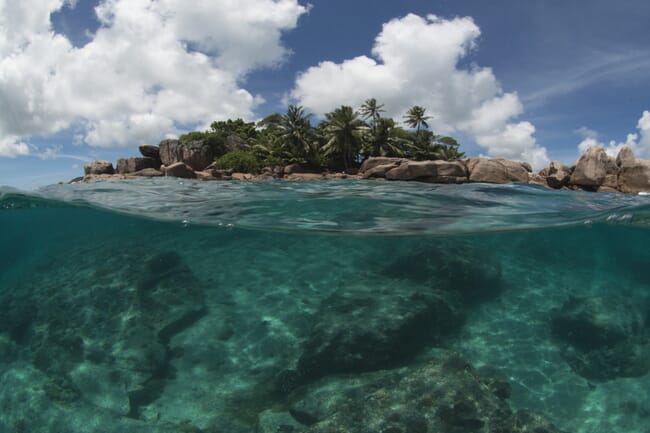 Corals in cooler waters are now better protected and could recolonise reefs affected by future bleaching events. Species including the Indian Ocean's only dugongs, Southern Ocean humpback whales, manta rays, sharks, endangered turtles, and economically vital fish like tuna are now under increased protection.

Oceanic nations like Seychelles are among the most vulnerable to climate change because their economies are often almost totally reliant on marine resources. Failing to plan how to sustain those resources as waters warm or acidify could eventually be ecologically and economically disastrous.
President Danny Faure said: "Seychelles is ultimately an Oceanic State and our people are connected to the ocean. By protecting these large areas we are not only safeguarding our marine environment but balancing economic growth through the management of the resources that the sea provides. We realise we are not the only island nation that faces these challenges. We are proud of this accomplishment and hope that other nations will follow suit."
Seychelles' new marine protection areas cover more than 30 percent of its waters. A little under half are high biodiversity zones, where all extractive uses are either excluded or highly restricted – including the waters around the Aldabra Group that, like the Galapagos Islands, offer a window into evolutionary processes in a relatively untouched ecosystem.
The rest are 'medium biodiversity and sustainable use' zones where enterprises vital to Seychelles' economy will continue to operate, under new sustainability regulations. More than 200 consultations with Seychelles' citizens, scientists, and key businesses guided the process.
Matt Brown, The Nature Conservancy's Africa programme director, said: "Seychelles' economy is highly dependent on tourism revenue, as are many of its neighbours in Africa. The COVID-19 crisis is a stark reminder that when tourism dollars dry up, communities are left vulnerable, putting lives and livelihoods at risk.
"Crucial sources of income for conservation efforts are also at risk, and the damage to nature and natural resources that people need, such as fisheries, can be profound and long-lasting. TNC is working with partners and governments like Seychelles to diversify essential conservation funding sources to ensure a climate resilient future, even during tough times.
"Leveraging what we've learned from Seychelles, it is our hope that we will be able to scale up and bring this kind of debt conversion work to countries elsewhere in the world."
"Debt-for-conservation" deal
The announcement delivers on a "debt-for-conservation" deal that Seychelles signed with The Nature Conservancy in February 2016, the first for marine conservation and climate adaptation. The Seychelles Government bought back $21.6 million of its sovereign debt at a discount, using private philanthropic funding and loan capital raised by The Nature Conservancy's NatureVest arm.
The Government now repays those loans to a local trust, the Seychelles Conservation and Climate Adaptation Trust (SeyCCAT), with a portion of repayments funding marine conservation and climate change preparation projects and to implement the marine protection areas.
Designating 30 percent of its marine area as protected means Seychelles has already tripled the UN Convention of Biological Diversity Target 11 for 10 percent marine protection by 2020, and the UN Sustainable Development Goal SDG-14 for 10 percent coastal and marine protection.
The marine protection areas form part of a whole-ocean Marine Spatial Plan that will cover all of Seychelles' ocean, addressing increased management of all marine resources, regulatory attention, and unified government coordination to support the country's blue economy.
The Government of Seychelles led the Marine Spatial Planning initiative with planning, science, and facilitation provided by The Nature Conservancy, with the GOS-UNDP-GEF Program Coordinating Unit.