The firm won for their OsmoBot, which provides 24/7 water quality management and eliminates the need for offline or outdated monitoring systems that many farmers still use today.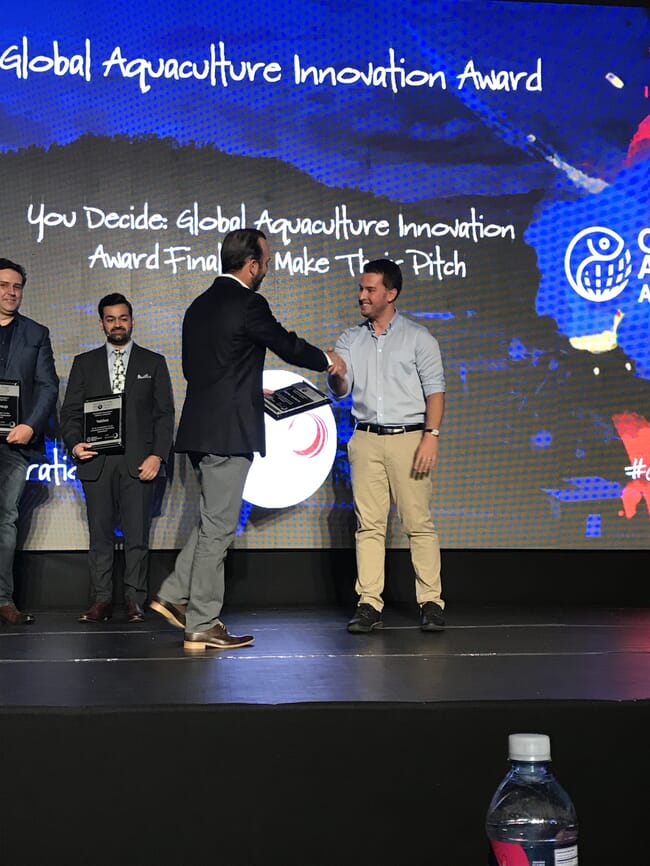 "To achieve predictable yields in aquaculture, farmers need better tools to collect more data," said Zach Stein, CEO and co-founder of the company. Stein argued that a significant portion of the biomass loss in aquaculture are due to unexpected changes in water quality, a problem that can be better managed with the OsmoBot.
When Osmo Systems went out and asked fish and shrimp farmers why they weren't monitoring every pond and tank more consistently, the farmers replied that – quite frankly – it's complicated. Stein and his team saw that one hurdle to effective water quality monitoring is the lack of specialised sensors. The sensors available for purchase were mostly created for waste water companies and scientific laboratories, meaning that they are incredibly precise, complicated to use and not portable.
"[The industry] needs innovation at the sensor level, and we believe that innovation should be 100 percent focused on the needs of aquaculture farmers." Stein says.
The company has worked hard to make their platform user friendly to minimise the knowledge gap that often accompanies the implementation of new technology on farms. The OsmoBot provides 24/7 surveillance, and users get alerts whenever measurements of water quality go awry. The sensors calibrate themselves and farmers are alerted when the cartridge is expired or when it needs to be cleaned.
"We've combined multiple parameters into one sensor," Stein explains. Their first product monitors dissolved oxygen, pH, temperature and ammonia. The company's next step is to release a sensor that also monitors water colour, turbidity and salinity. Osmo Systems only stepped into the aquaculture world in 2017, but Stein and his team are planning to run trials with shrimp farms in Ecuador in 2019.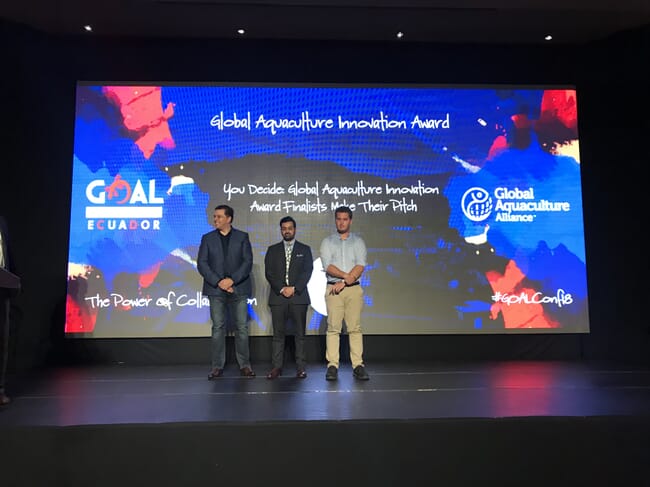 The other two finalists in this year's award ceremony were VakSea and Maqui New Life (MNL), which both focus on novel health products.
VakSea is a Maryland-based startup that is producing oral vaccines for shrimp in pellets made from insects. Using cabbage looper larvae meal and their vaccine formulas, VakSea is creating immune boosting proteins for the aquaculture industry. "Vaccinations are not feasible in shrimp," the company's CEO, Mihir Pershad, explains. Pershad believes that orally delivered vaccinations are the future of shrimp aquaculture, reminding the audience that "by 2050, we'll need to produce as much protein as humanity has produced in the last 8,000 years." He believes that this increase in demand for protein will require a successful increase in sustainable aquaculture efforts such as shrimp farming.
Santiago-based MNL has an impressive track record of using science to provide innovative solutions to health problems. The Chilean company's success with their products for human health led them to develop Futerpanol, an immunostimulant for salmon that is based on botanical biomolecules and marine algae. Their product is an additive formulated for veterinary use in feeds and can be incorporated in salmon diets from the time of first feeding. MNL Group is on track to provide Futerpenol for shrimp feeds as well.