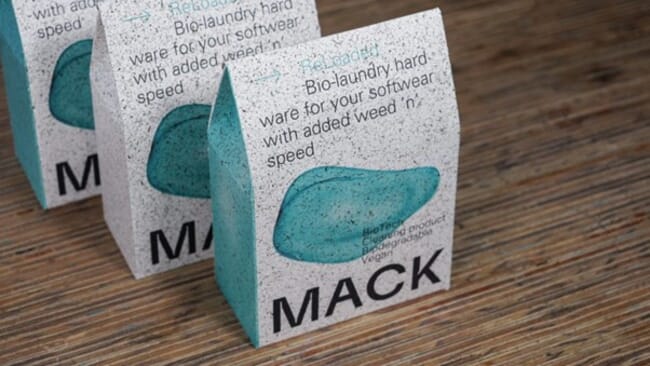 Following years of R&D the startup has announced that it secured a deal with Mack, a sustainable home care and detergent maker.

Notpla, which was one of the winners of the Tom Ford Plastic Innovation Prize earlier this year, will be used for laundry and dishwasher pods, which are usually made with a synthetic plastic called polyvinyl alcohol (PVA). This has been shown to add to plastic pollution and has, according to Notpla, the potential for bioaccumulation in nature.
Meanwhile, the startup asserts: "Our innovative solution, the Notpla Film sachets for homeware and laundry products, shatters the limitations of PLA, dissolving completely in water and naturally biodegrading, leaving no microplastics behind."

Anthony McCourt, co-founder at Mack, said in a press release: "Our partnership with Notpla aligns perfectly with our mission to provide customers with a truly sustainable, eco-friendly cleaning solution that leaves zero legacy on the planet for future generations.. We believe that sustainable packaging is not just an option, but a responsibility that we owe to our planet and communities. Together with Notpla, we are determined to make a significant difference in reducing plastic waste and promoting a circular economy."
Notpla co-founder and co-CEO, Pierre Paslier, added: "We are thrilled to collaborate with Mack, a company that shares our passion for sustainability and environmental responsibility. Our mission is to create innovative, plant-based solutions that challenge the status quo and redefine the future of packaging. Together, we are accelerating the transition to a more sustainable and regenerative packaging ecosystem within the cleaning industry''.