This was one of the key positives to emerge from the Global Salmon Initiative's latest annual Sustainability Report, which was released today and provides six years' of data on the companies who are responsible for over half of the world's farmed salmon.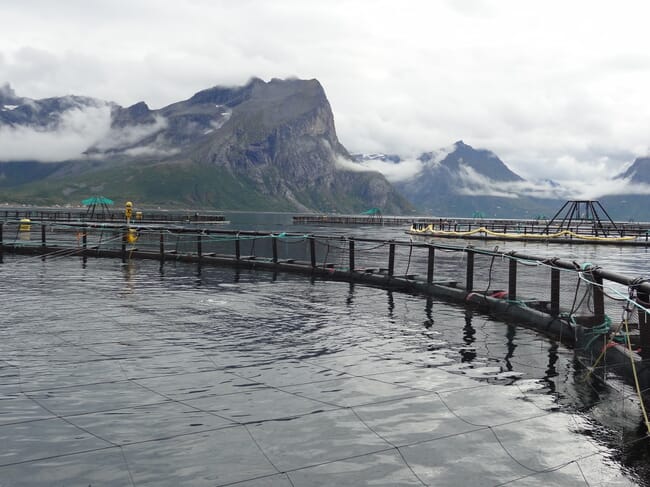 Other positive trends over the six-year period since the launch of GSI include a 120 percent increase in use of non-medicinal sea lice management methods – thanks to technological advancements and best-practice sharing. Moreover, the amount of fishmeal and fish oil in feed reduced by 17 percent and 9 percent, respectively, resulting in an overall 11 percent decrease in the use of marine ingredients in feed – due to innovations in the sourcing of feed ingredients.
Mowi CEO, Alf-Helge Aarskog, who is also GSI co-chair, said: "As we share the sixth year of sustainability data, it is interesting to see that the areas we identified as priority for the GSI to work on (biosecurity, sourcing of sustainable feed and independent certification) and the areas showing greatest progress in the report are the same. Clearly this shows that if we focus and coordinate efforts we can have a significant impact on improving environmental performance."
The report confirms that farmed salmon continues to be one of the most eco-efficient forms of animal protein production – with the lowest carbon footprint, lowest feed conversion ratio, and lowest land use. It also reveals that over 620,000 tonnes of salmon farmed by GSI's members at 185 farms, are now Aquaculture Stewardship Council (ASC) certified, representing almost 60 percent of the GSI members' total production.
"Transparency is a key component in driving change. By being transparent we are saying we are here for the long-term. We acknowledge improvements are still needed, and through transparency we are being open and truthful with ourselves and our stakeholders about our continuous journey in ensuring farmed salmon is a healthy and sustainable protein option for the future," commented Avrim Lazar, GSI Convenor.
The GSI group has also begun to focus on innovation as one of the sector's main drivers for environmental improvement.
"Through the collective power of the group, we have the means to mobilise and initiate the further advancement of novel ideas – something we have observed has real impact when it comes to disease management and improving feed efficiencies, both areas where the report shows significant progress," noted Lazar.