Scallop raft gets its day in the sun
Peru's Nemo Corporation and the Universidad Nacional del Santa (UNS) have unveiled an innovative solar raft for scallop farming.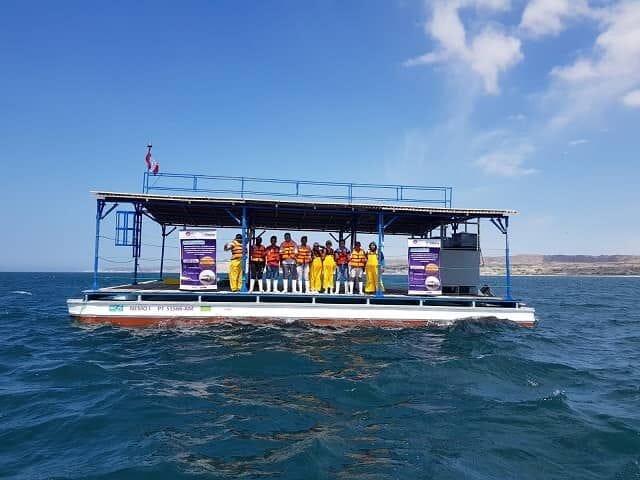 Nemo Corporation and UNS created the first scallop-focused solar raft with financial support from the National Programme for Innovation in Fishing and Aquaculture (PNIPA), part of Peru's Ministry of Production (PRODUCE). The company says that the solar raft is the first of its kind in Peru and Latin America; and represents a significant change in the Peruvian mariculture industry.
The project, "Implementation of a raft with solar energy to reduce greenhouse gas emissions and operating costs in the cultivation of scallops in the company Nemo Corporation in the Piura region," (code ACU-SIA-SP-2022 -00548) came with an investment of more than SOL 426,770 ($106,000) and saw the design and deployment of a solar raft with photovoltaic panels that generate energy to operate a water pump, screening machine and an outboard motor.
The solar raft is currently operational and the project framework workshop, held on 19 December at the company's camp, demonstrated the raft's navigability. The launch event was attended by the technical team, media partners, public representatives and company collaborators.

"The commissioning of the first solar raft for scallop farming marks a milestone in Peruvian mariculture, but above all, it reaffirms our commitment to sustainable aquaculture," said biologist Raúl Valencia Cruz, manager of Nemo Corporation SAC.
According to the project's technical team, the solar raft will allow a substantial reduction in the use of fossil fuels, mainly in the operations of sowing and unfolding in the cultivation of scallops. This reduction can reach up to 52 percent.
"The beneficiaries are first of all the environment, because it will no longer produce greenhouse gases and polluting waste; and the workers, because the noise level (decibels) will be much lower and lastly, the production of scallops itself due to cost reduction," said Professor Francisco Risco, head of the Renewable Energy Laboratory of the National University of Santa, and member of the technical team of the project.

Likewise, the solar raft will allow the cultivation process to change since the raft will be transferred to work areas as required by farm operators, this represents a lower number of trips by the support boats and therefore lower fuel consumption and operating costs.
Nemo Corporation, within the framework of its commitment to sustainable aquaculture and its ASC certification, will use the new technology as part of its new energy use policy. After implementation, the technical team at the Nemo Corporation believes that the solar raft will lead to a reduction of 111 tonnes of CO₂ per year. The solar raft will allow the company to reduce its ecological footprint and contribute to progress on the UN Sustainable Development Goals (SDG).