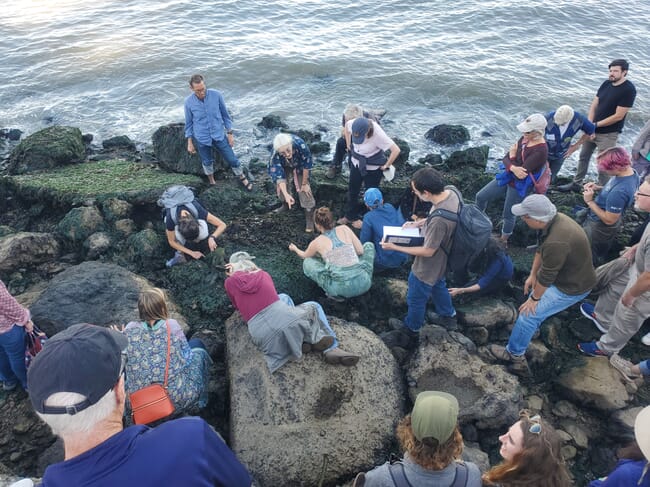 A celebration of all things seaweed, the festival is a non-profit event focused on outreach and education about seaweeds, their uses and the coastal ecosystems they inhabit.

According to the organisers: "This year's edition is set to include a wider variety of activities to engage attendees of all ages. The main event at the Port Pavilion will include talks, chefs' demos, hands-on activities for the whole family, food and drink tasting, local vendors, a fine art exhibition, live music and theater, all focused upon California seaweeds and ocean habitats. There will be an Indigenous Peoples' Forum of tribal views on seaweed use, history and conservation."
"Panel discussions moderated by scholars, artists and entrepreneurs will explore perspectives on seaweed farming, art for conservation, seaweeds under threat, food and health, funding seaweed ventures, and learning about seaweeds in Community Colleges. Short films will be screened and discussed in the all-new film panel. The day-long festival is open to the public and free, with a $15 suggested donation."
The main event is preceded by a Friday night Seaweed Speakeasy, hosted at the Scripps Institution of Oceanography's new Marine Conservation and Technology Facility. This networking soiree will boast a seaweed science showcase, seaweed dishes prepared by some of the best local chefs, seaweed-inspired cocktails and mocktails, and a seaweed-rich silent auction. Local artists will exhibit works and perform a commissioned theatrical piece with the backdrop of the sunset over the Pacific from the venue. Limited admission is available, so the organisers suggest guests get their tickets early.
The festivities wrap up on 5 November, with a first-of-its-kind Baja Seaweed Excursion. This fundraiser event will include a full day of touring the Autonomous University of Baja California, cultivation facilities of Blue Evolution and AlgaMar, followed by a seaweed-centric lunch at Animalón, headed by renowned chef, Javier Plascencia.
"This exclusive, high-end tour serves as an important fundraising event to keep the main festival day free to the general public, while catalysing advancement of the nascent seaweed aquaculture sector in California," the organisers explain.
For more information, check out www.californiaseaweedfestival.org