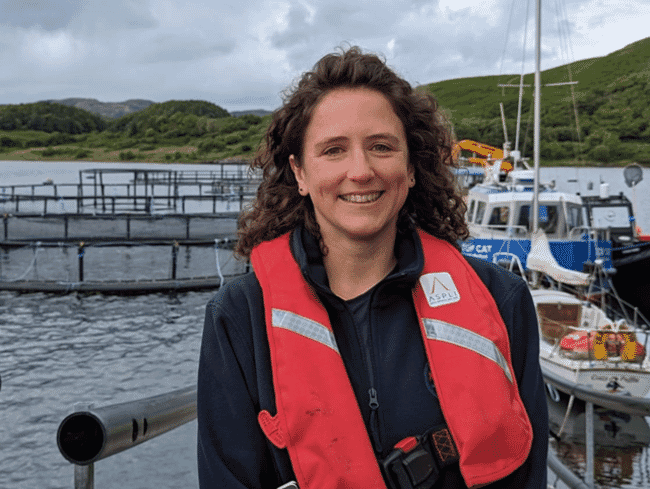 The Vision for Sustainable Aquaculture doesn't set any clear production targets, but describes the Scottish Government's long-term aspirations to 2045 for the finfish, shellfish and seaweed farming sectors, as well as the wider aquaculture supply chain.

It includes measures that aim to safeguard the environment, support innovation, ensure local communities receive lasting benefits from aquaculture and promote new infrastructure and supply chain developments.
The plan is due to be delivered by the Scottish Government in cooperation with businesses and other stakeholders. It will also seek to harness the potential Scotland has as a coastal nation to develop its blue economy and create more sustainable economic and social benefit from fish, seafood and seaweed farming in the future.
The Scottish aquaculture sector and its supply chain is estimated to have supported 11,700 jobs in the Scottish economy and generated £885 million gross value added in 2018.

Rural affairs secretary Mairi Gougeon said: "Scotland's aquaculture sector is a significant contributor to our economy. Farmed salmon continues to be hugely popular in both domestic and foreign markets whilst Scottish businesses are at the very forefront of global innovation within the industry.
"We want the industry to continue to flourish whilst placing a renewed emphasis on environmental protection and community benefits. This is the defining principle of the Vision for Aquaculture and the measures that it contains are designed to achieve this.
"This work is part of our wider efforts to improve and enhance Scotland's blue economy. It will require us to work collectively with producers, supply chain businesses and other stakeholders to respond and adapt to the nature and climate crises - ensuring the continued success of Scottish aquaculture."
In 2021 Scottish producers harvested 205,393 tonnes of salmon, 7,655 tonnes of trout, 9,092 tonnes of mussels, and 4,087,000 oysters. There are currently 351 active finfish farms, 167 producing shellfish farms and 21 active marine licences for seaweed farm development.
Tavish Scott, chief executive of Salmon Scotland, commented: "We welcome this vision which puts salmon farming at the heart of the country's economic growth plans, helping Scotland's journey to net zero and supporting healthy diets.

"Like all sectors, we face challenges from issues – ranging from climate change, to Brexit, to rampant inflation – but by working together with government we can continue to grow a low carbon, highly nutritious food that sustains thousands of jobs and ensures our rural communities can thrive."