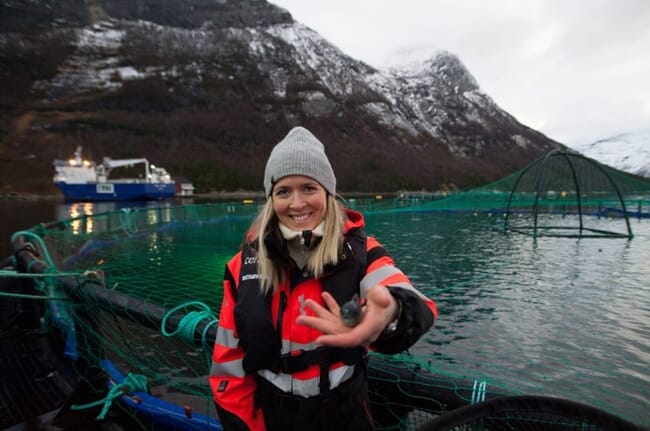 Every year, Global Salmon Initiative (GSI) takes part in the global celebration of International Women's Day (IWD) to promote awareness of the role of women in making the farmed salmon sector more sustainable, responsible and inclusive. This year's IWD theme, #breakthebias, centers on taking action for equality and raising awareness about biases women may experience in and out of the workplace.

As part of our commitment to the communities around our farms, and further afield, there are a number of company initiatives underway to support women in the sector, for example:
Building a more diverse workforce by setting goals for better gender representation at all levels and reporting on their progress.
Rebalancing boards to ensure more women have a seat.
Contributing to professional organizations that support women in the aquaculture field.
Celebrating the contributions of women on their teams.
To highlight just a few of these initiatives, I recently spoke to several women within the GSI network who actively participate in their respective company's efforts to empower women and achieve gender equality. These included:
How is your company helping to break any biases women may experience in the aquaculture sector?
Johansen: At Bakkafrost, we have committed to strengthening our approach to promote diversity in the workplace. When recruiting for our operations, focus is on skills and engagement over physical strength, and in recruitment of managers we aim to have both genders equally represented. Although there is still work to be done in this area, I am happy that Bakkafrost has set out specific gender diversity targets, which are continuously measured and monitored. As they say, "what gets measured gets done."
Appleyard: At Benchmark, we believe that a key to inspiring new ideas and better approaches is fostering a diverse range of experiences, perspectives and views. I genuinely believe that the best companies gain strength from better representation of women – something that we are mindful of at Benchmark. We are committed to nurturing existing talent within the company, supporting women throughout their careers and empowering female leaders to act as role models and mentors. Part of our approach has been welcoming the Hampton-Alexander Review targets, which included a 33% target for female representation on boards and in senior management. As of September 2021, the percentage of female Directors on our Board stood at 29%, and the percentage of females in senior management roles stood at 51%. People can have outdated or inaccurate perception of certain industries. We believe it is important to show that the aquaculture industry – and every role within it – is well suited for anyone.
Dr Rosenlund: Working in science, the goal always is to develop and combine knowledge to increase our understanding on certain topics. In Skretting, results from science are translated into solutions and products that can be applied in the aquaculture production. Men and women often will approach a topic differently, and I believe that team efforts, with both genders represented, will bring the best results.
Why is this effort important to you?
Appleyard: I was fresh out of university when I joined Benchmark in 2012, so I have really built my career here and been fortunate to work with great people determined to make a difference. I have now been with Benchmark for almost 10 years and I am proud to manage a team that includes four incredible women. The team is a tremendous asset to Benchmark, possessing a wealth of industry and on-site experience and acting as the primary points of contact for our customers.

Dr Rosenlund: I think this effort is important because it will help young women to see that this exciting industry provides the possibility for them to develop and make a career. When I started in this sector more than 40 years ago, there were no female role models. In the early days of my career, I was often the only woman in many work settings.
Johansen: This is a very important topic to me, as I am aware of the great potential that is lost due to gender bias. In the Scandinavian countries, the majority of graduates from universities are women. However, this is yet to be reflected in high level positions in companies as well as in society in general. This is such a shame, as studies find proven economic and social benefits of gender diversity in the workplace.
What advice would you give to women considering a career in the aquaculture industry?
Dr Rosenlund: My journey in the aquaculture sector started when as a student. I had to step in for another student to do a sampling in a fish nutrition study and I became fascinated. Before that, I had planned towards a degree in human nutrition, but decided to switch to fish nutrition, a research field that hardly existed at that time. It has been great fun to be a part of the development in this area since then. In particular, I have enjoyed participating in the pioneering work related to new species, such as cod, in aquaculture. It has been very rewarding to see that my work in fish nutrition has contributed to feeds for different species and life stages, which in turn has supported the growth in production of healthy food for human consumption.
My main advice to young women considering a career in the aquaculture industry, is to find out what you really like – what is your passion. The aquaculture industry offers so many disciplines and positions, and I would say that none cannot be taken by women. In any case you will contribute to "Feeding the Future."
A sustainable future for the salmon farming sector and global food systems requires creativity, innovation and inclusive ideals. Women bring all of this and more to the table and we're eager to continue elevating women within the world of aquaculture.