The firm, which is Russia's only producer of vannamei shrimp, recently announced plans to ramp up production from 30 to 200 tonnes a year.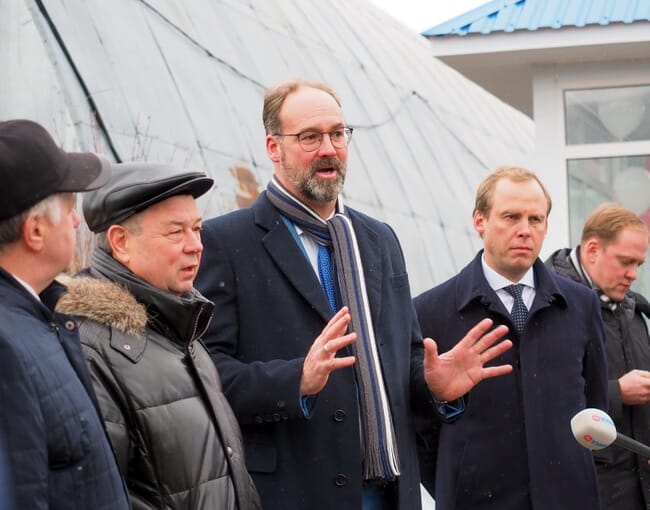 The company, which is located in the Kaluga region and has been operating since 2016, currently has the capacity to produce up to 30 tonnes of Pacific whiteleg shrimp (Litopenaeus vannamei) annually. However, if the vision of its American founder, Robert Harvey Stubblebine, is realised, production will be increased to 200 tonnes over the next few years.

Stubblebine, a native of Boston, has been living in Russia for about 30 years and recently received a Russian passport. He is a long-time partner of Arkady Volozh, a well-known Russian businessman and the co-founder of Yandex, a leading Russian internet company.
Stubblebine's initial plans also include developing the production of other species such as oysters and mussels. The scheme was originally based on an American business model, but the company has decided to revise its initial plans in the light of differences between the US and Russian markets.
According to a statement made by the company: "In the US, customers are willing to pay more for an environmentally friendly product, which is grown without antibiotics and growth hormones. Russian restaurateurs are not ready to buy it in the same volumes, as most of their clients will not feel the difference."
Robert Harvey Stubblebine commented: "We realised that we need a different concept for the Russian market regarding the cost of our production, as well as the price at which the shrimp can be sold. Prior to the establishment of the Kaluga farm we visited Spain and Belgium, where we got some experience of doing business [in those markets]. The Kaluga project is based on the international experience of the implementation of projects like these, taking into account local realities."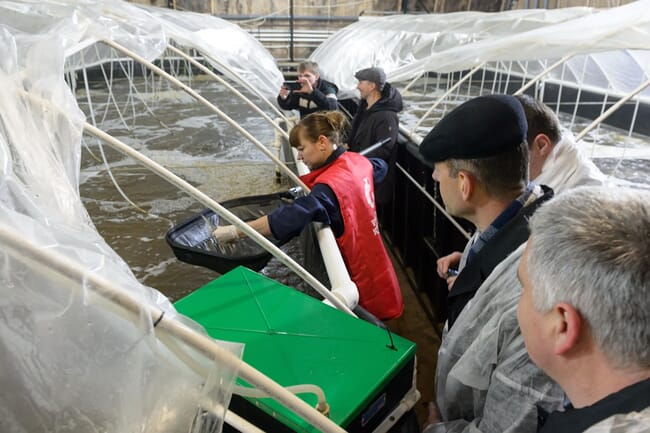 Evgeni Khozikov, executive director of the enterprise, added: "Our goal is to grow an environmentally friendly product for the Russian market without the effects of antibiotics and growth hormones. So far, fresh shrimp has been an exotic for local customers. Most shrimp available in the Russian market is traditionally supplied from Asian-Pacific states, particularly Japan, by air transport. Often it is just a thawed, frozen product, which is positioned as fresh."

Russkaya Krevetka's farm is currently operated on the basis of biofloc technology, which involves the use of special tanks, in which shrimp are grown in conditions that mimic their natural environment. The controlled composition of the water, with regulated amounts of bacteria, makes it possible to process shrimp waste products, which are sorted into different pools depending on age. The average period of growth is five months, at which time the shrimp can reach a length of 230mm.
Most of the farm's post-larvae are imported from the US. Margarita Mamulina, a senior technologist at Russkaya Krevetka, explained: "Before the post-larvae arrive, we need to prepare the tanks. They are filled with water and left to settle to remove chlorine. After this, the salt is added. Water salinity should be 34 ppm. Evaporated oceanic water is not suitable for microbiological indicators, so we order a specially synthesised one. Water temperature should not be lower than 29°C. An important role is played by oxygen. But even this is not enough to release fry. They [need to] get used to the Russian climate, so they are usually released from the containers into the system three to four hours after their delivery."
As weather disasters periodically disrupt the supply of fry from the United States, the company plans to establish its own nursery near Kaluga. According to Stubblebine, the company has recently received a proposal from the government of the Kaluga region to expand its production within a special economic zone, where it would receive various state benefits.
Stubblebine says that he does not plan to transfer production to any other region, due to the Kaluga region's close proximity to Moscow and the presence of an international airport.
According to Khozikov, harvest can be obtained year-round and 100 percent of the company's output is sold in chilled form without freezing.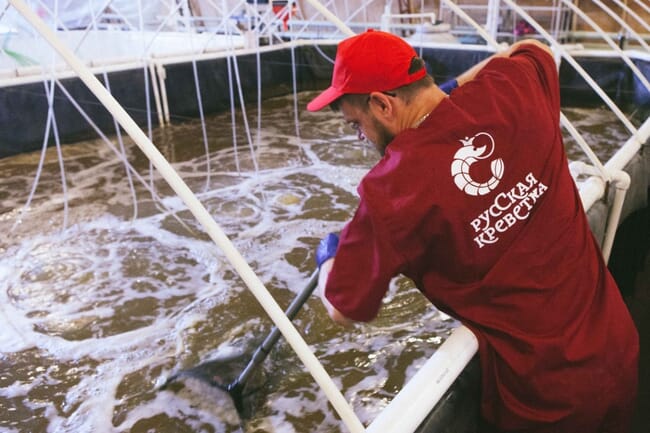 At present Russkaya Krevetka's major customers are leading Russian restaurants, as well as retail chains operating in premium market segments. But in recent months, the company has started to pay more attention to online sales of its products, and has been welcoming visitors to its production site. According to the company, many inhabitants of Moscow and St Petersburg come to visit the farm for a day out, and often buy shrimp at the same time.
In regard to prices, most of the company's range is priced significantly higher than imported, frozen shrimp.
Despite these big expansion plans, many Russian aquaculture analysts believe domestic shrimp producers have little chance of taking a significant market share – largely due to high production costs. The situation is complicated by the low purchasing power of Russian customers following the country's financial crisis, which was sparked in 2014 by the drop in oil prices and the imposition of economic sanctions.
According to the Russian agricultural PR agency Agro & Food Communications, at present shrimp consumption in Russia is estimated at about 45,000 tonnes per year, of which the share of domestic producers is estimated to be less than 50 percent. Most domestic shrimp is produced in the north and far east of Russia.