The ARCH UK Ripple Sessions, organised in association with SAIC, included a talk by Dr Suzannah Lynn from SAMS on social licence and the effect that opinion influencers can have on finfish developments in Scotland. Suzannah's presentation followed a powerful address given by the Cabinet Secretary for the Rural Economy and Connectivity, Fergus Ewing, at the opening of the conference earlier in the day, where he had focused on the negative media coverage and resulting public opinion shifts towards salmon farming in Scotland. Mr Ewing had stressed the importance of trying to change the harmful image of the industry by promoting the positive measures already being taken to improve sustainability and reduce environmental impact.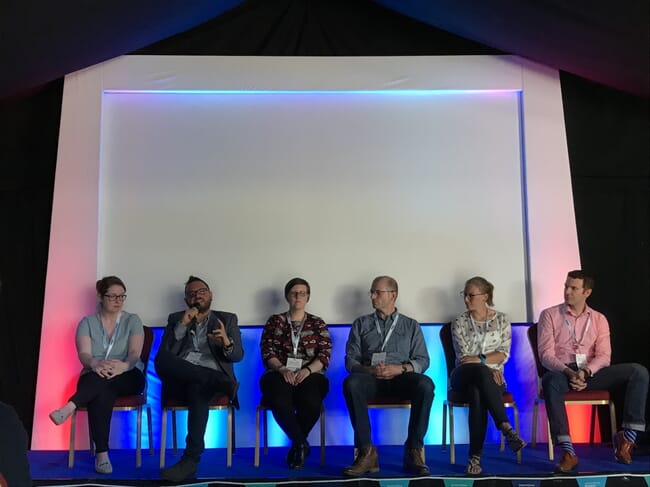 Suzannah's recent research formed part of the AquaSpace project. As part of the project, she analysed over 1,000 public comments on finfish development planning applications between 2012 and 2016. This analysis looked at reasons for differing public opinions and the sources of information that informed and supported these. Her findings showed that visual impact and environmental concern were the two most common reasons for public objections to planning applications, whilst employment opportunities and support to local supply chain businesses were most commonly cited in support. Importantly, Suzannah found that industry bodies such as SSPO, as well as the Scottish Government, were some of the least cited sources in objections due to "lack of trust" by the public. Suzannah noted that the importance of her research was in uncovering why there are social licence issues and lack of public support for the Scottish finfish industry, allowing for specific strategies to be designed and implemented to tackle this stigma. Specifically she noted that "building relationships with local host communities" was one of the most effective approaches to the social licence challenge, and this will continue to be paramount for Scottish salmon producers as they look to the grow the industry in coming years.
Dr Adam Brooker, a research fellow from the Institute of Aquaculture, also presented on one of the current challenges blighting the Scottish salmon industries reputation: sea lice. Using acoustic telemetry to provide 3D positioning data, Adam's work looked at acclimatisation of cleaner fish prior to deployment in salmon net pens and the resulting behavioural effects of this. As a result of Adam's findings, new acclimatisation protocols are now being implemented by industry partners to improve cleaner fish "health and happiness" and thus their delousing efficiency. Adam stressed that cleaner fish are a positive message and image for the Scottish salmon industry as they "work with nature, not against it".
Dr Lynn Chalmers, also from the Institute of Aquaculture, presented on the health robustness of sterile triploid Atlantic salmon. She concluded that her research had found no differences in disease resistance between ploidy, allowing her to refute claims that triploid salmon are more susceptible to disease than traditional diploid.
From the Roslin Institute, Dr Remi Gratacap discussed his research into finding a more accelerated process for genetically selecting disease resistance in Atlantic salmon. The goal of his research is to develop an industry scale tool allowing for individual genetic selection, avoiding the need for traditionally expensive, large scale challenge models that rely on a large number of fish.
Although the session had a strong salmon focus, Alessandro Ladicella, a PhD student from SAMS, presented on lipidomics for mussel hatchery production, and Dr Karen Mooney of Queens' University, Belfast presented her work on seaweed farming in the UK.