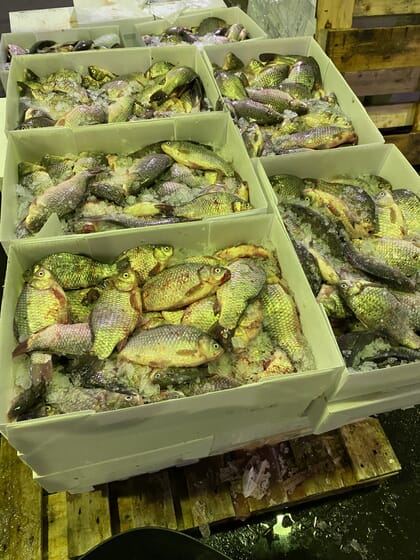 According to the officer in charge of the operation, the fish were being illegally imported from Hungary to be sold at Billingsgate Market.

"We have identified a trade in these live animals post-import – amongst the Asian communities especially – the risk of them being released into the wild is high," Jon Hulland, FHI's operational lead on enforcement, told The Fish Site.
According to FHI, Prussian carp (Carassius gibelio) present a significant risk to aquatic animal health in the UK, because of the unknown disease status of both viruses and novel parasites. Their presence can cause drastic population changes in fisheries and waterways, leading to catastrophic environmental and economic damage, which is the case in other countries where they have become established.
As well as potentially causing ecological issues, the illegal import of live fish cold also damage the UK's aquaculture sector.
"Prussian carp are susceptible to spring vireamia of carp (SVC), a disease is that is exotic to the UK and imports of susceptible species are very strictly controlled. Outbreaks of SVC are very, very rare in the wild and thankfully non-existent in the UK thanks to these controls. Outbreaks can cause huge economic and ecological damage to our native stocks," Hulland explained.


"Also they are hugely invasive and have caused complete collapse of populations of other species in waters where they have become established. They could quickly become established in the UK, as our climate is entirely suitable for them. The loss of our SVC-free status in the UK because of a large-scale outbreak would be catastrophic for the UK carp farming industry – we would no longer be able to regulate imports as strictly as we do, leading to imports of cheaper fish from abroad to satisfy the demand for carp and other susceptible species in the recreational angling sector," he added.
The operation was a result of multi-agency working that provided sufficient evidence on the source and trade routes of these live Prussian carp. The FHI were able to target, stop and search the transport vehicle at the Port of Dover alongside Border force and APHA colleagues. The lorry contained around 1,400kg of Prussian carp, while other invasive non-native species – including Wels catfish (Silurus glanis) and brown bullhead catfish (Ameiurus melas) – were found live alongside the carp. All fish were humanely euthanised.
"This seizure is an excellent example of what multi-agency intelligence-led working can achieve. Not only have we stopped a huge quantity of illegal non-native species entering the UK, we have also put a significant dent in the finances of the company that is undertaking this trade. Further operations are planned in the very near future," said Hulland.
This action forms part of Operation Frederick, which is an ongoing three-month enforcement campaign to target illegally imported live fish.
Anyone with information on illegal imports of fish to the UK are encourage to contact the Fish Health Inspectorate in confidence at fhi@cefas.co.uk