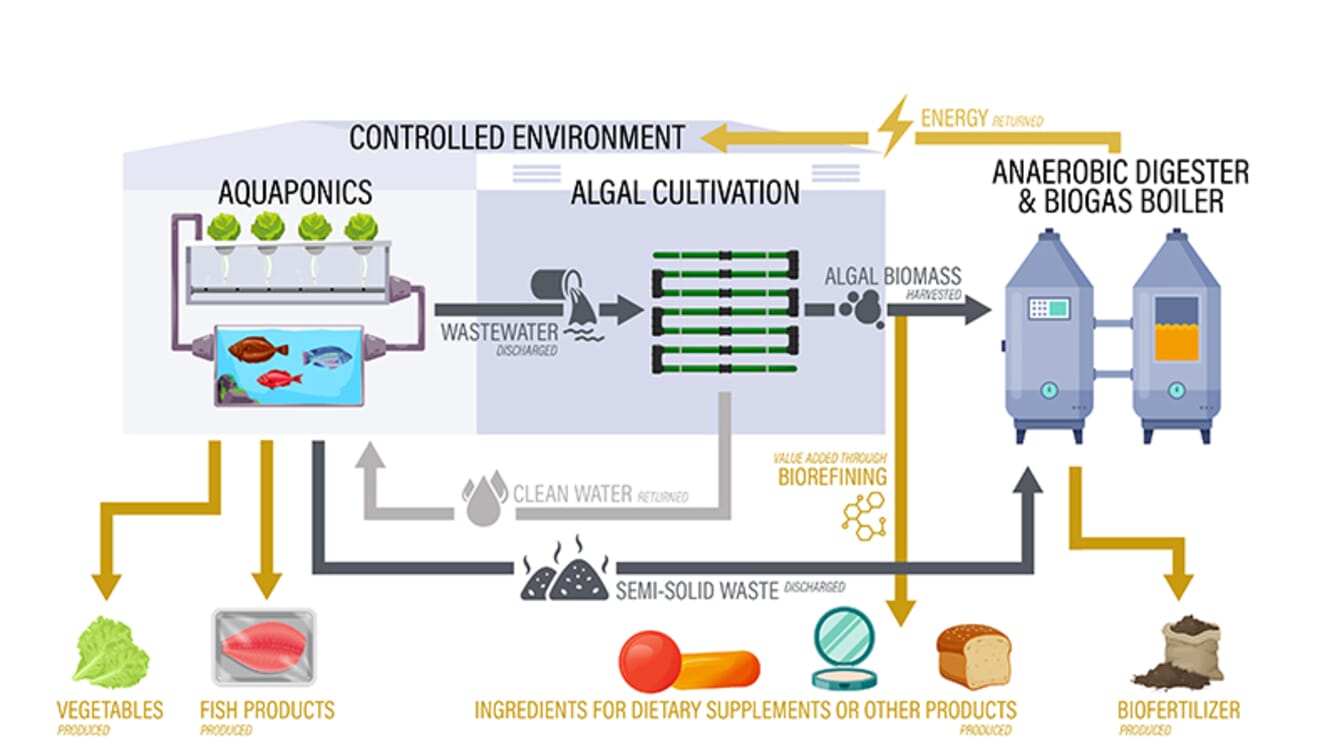 About 90 percent of US seafood comes from abroad, resulting in a $17 billion trade deficit. US fisheries are not sustainable because of overfishing concerns, noted Jen-Yi Huang, project director and associate professor of food science at Purdue. Aquaculture, including aquaponics, offers an alternative, according to Huang.

"It can increase production yields, but aquaponic production hasn't been widely adopted, especially in the Midwest," Huang said in a press release. Energy use in the required greenhouse environment is one key reason.
Aquaponics operations require the daily discharge of up to 20 percent wastewater into the environment. For large farms, that becomes a maintenance cost because they need permits to treat their wastewater before discharge.
"The smaller farms don't need permits," Huang said. "They can discharge whatever they generate, which can cause environmental issues."
With the USDA funding, Purdue researchers will build a pilot-scale integrated aquaponics system on campus, where some lab-scale components already exist, to produce tilapia and lettuce.

"Algae cultivation and anaerobic digestion are two of the most important components in Purdue's integrated aquaponic system," said Jiqin Ni, professor of agricultural and biological engineering. "We use the algae to treat the wastewater and also anaerobic digestion to treat the algal biomass and other waste streams like fish processing wastes."
The Purdue system will direct the aquaponics wastewater discharge into algal bioreactors, where algae can feed on its nutrients. The next step is anaerobic digestion, which generates biogas fuel as one of its products.
"That energy can be sent back to the aquaponics system to offset the energy requirement of the indoor facility operation, at least partially," Huang said. The system is designed to generate zero waste and to operate independently of the power grid.
Biorefinery
The system also includes a biorefinery subsystem to convert algae and fish by-products into high-value nutraceuticals such as bioactive peptide and phenolic compounds. The biorefinery can turn the algae into fish feed for the aquaponics operation as well.
"By integration with the biorefinery, we can have additional revenues for aquaponics farmers so that they can improve their economic viability," Huang said. "We will develop multidimensional sustainability metrics for system assessment and management to make sure that this kind of integration is technically feasible, economically viable and environmentally friendly."
The project will further include stakeholder education and outreach components. The research team will survey farmers and suppliers about the barriers and opportunities for blue foods and aquaponics. The team also will develop workshops to help interested farmers build aquaponics systems or improve their existing operations.
In addition, the grant will foster a workforce that can support blue food production by funding the creation of educational materials for high school, undergraduate and graduate students.
"We also want to educate consumers on the benefit of blue foods so that they can diversify their dietary pattern to include more blue foods and ultimately improve health," Huang said.