Project paves the way for small-scale shrimp farms to gain ASC certification
Twenty-two small-scale shrimp farms in Ecuador are on the cusp of assessment for Aquaculture Stewardship Council (ASC) accreditation.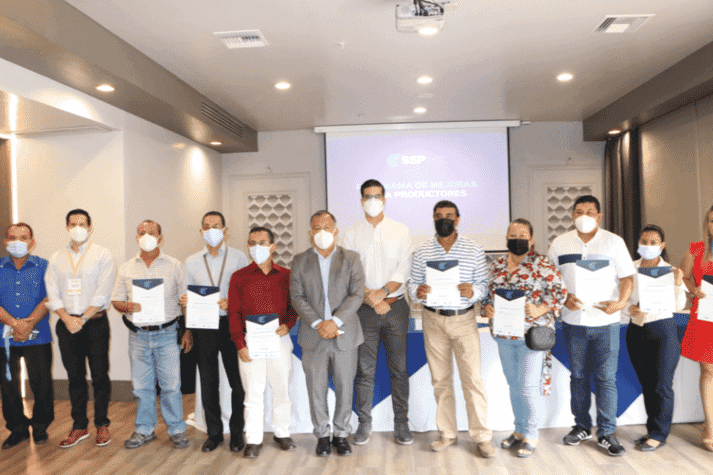 The assessment process is often seen as being beyond the grasp of small-scale farmers, due to the cost of fulfilling the standards and the training required to prepare for the assessment process.
However, at this week's AquaExpo, in Ecuador, the Sustainable Shrimp Partnership (SSP) and the World Wildlife Fund (WWF) presented 22 farms that have participated in the latest SSP improvement programme in order to work towards achieving the ASC standard's environmental and social requirements, in an initiative co-financed by The Sustainable Trade Initiative (IDH) and WWF.
The improvement programme begun by benchmarking farm performance against a number of environmental and social indicators in order to establish their current performance, identifying opportunities for improvements. The farmers were trained in environmental and legal requirements in Ecuador, good aquaculture practices and requirements for ASC certification; and received pre-audits throughout the programme to determine the adoption of improvement recommendations.
As part of the programme, biodiversity and social impact assessments, which are required to obtain ASC standard, were conducted for the 22 farms.
"The objective of this programme was to improve the farms sustainability performance, make them more efficient and more competitive on international markets," said Pamela Nath, SSP director in a press release. "Small farmers do not always have the resources to access training and comply the requirements that can lead them to obtain an international certification, through our programme now they are ready to achieve it".
"WWF Ecuador is very pleased to be part of this project that will promote participation and commitment from small-scale producers, a contribution for 'conversion-free-shrimp production', promoting healthy ecosystems and biodiversity conservation efforts, social development and efficient resources used in an activity that will keep performing and improving, and their achievements could become a reference for other food sectors who are willing to work in conservation goals," commented Arturo González, marine conservation senior officer at WWF Ecuador.

"The National Chamber of Aquaculture congratulates SSP for executing this project successfully, which not only benefits small producers that can be certified with ASC, but also allowed the industry to be the first in the world to implement traceability control through the implementation of blockchain technology," commented José Antonio Camposano, executive president of the National Aquaculture Chamber of Ecuador.