Powerboats, patience and public perception
Clara McGhee has recently started working on a salmon farm off the Isle of Muck. In the second installment of her series for The Fish Site she describes powerboat training, production systems and public perception of the salmon sector.
A cold northerly wind brought the first snow to the Scottish mountains before the end of October and as the clocks fell back and the days grew shorter, it seemed winter had definitely arrived on the west coast. With it came some slight adjustments to the day-to-day running of the fish farm on Muck, including changes to feeding times to coincide with daylight hours.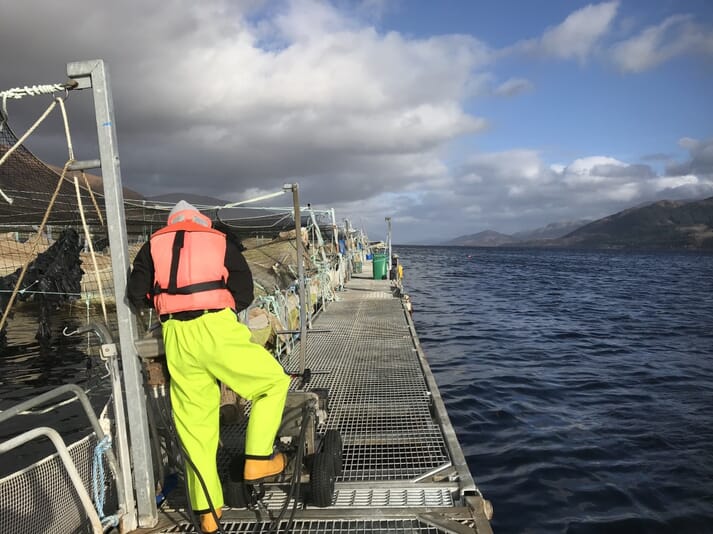 This month's shift has been a bit disjointed for me. A combination of training courses and bad weather meant I only ended up spending one week out of two on Muck. Since starting with Marine Harvest at the end of September, I have completed all of the training courses needed for my Royal Yachting Association Commercial Endorsement. This is a requirement for working on British-flagged vessels and is something that all Marine Harvest farm staff have to fulfil.
All of my training was done with Ryan Tozer and his team at iPowerboat in Ballachulish and included instruction on powerboat handling (level 2), sea survival and first aid, amongst others. Ryan is incredibly knowledgeable and patient and while experience at sea can't be obtained from a few training courses, I definitely now feel more confident on the water.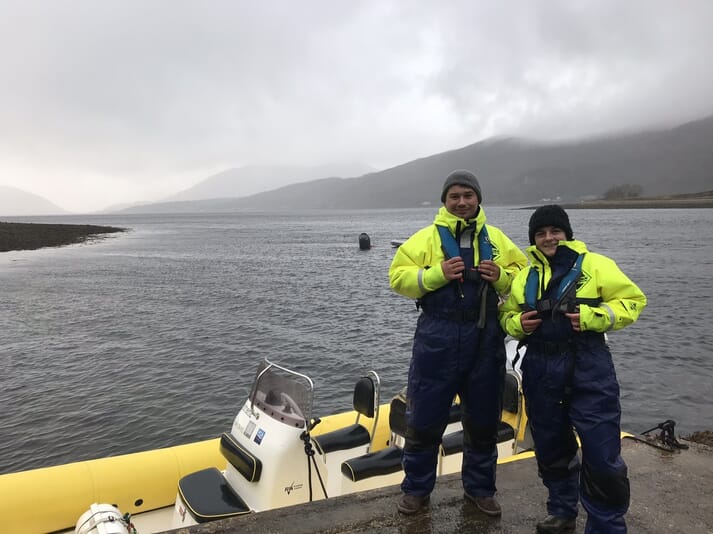 Following the last two courses, high winds meant that my colleague Jacob and I couldn't get back to Muck, so we spent a couple of days at another Marine Harvest site at Loch Linnhe. For me, after only three short weeks spent on Muck, this felt like my first day on the job all over again!
Apart from both growing salmon, this is pretty much where the similarities end between Muck and Linnhe. Muck is in the open sea and exposed to weather from all directions; there are fewer, bigger pens that are circular and made of plastic; we feed from a barge on site; and the pens are largely serviced by our landing craft, the Beinn Airein. Linnhe is located in a sea loch, is relatively sheltered and receives a lot of freshwater run-off from the surrounding hills; there is a larger number of pens, which are smaller, square and made of steel; feeding is done from the shore; and the site is serviced by smaller Arran Workboats.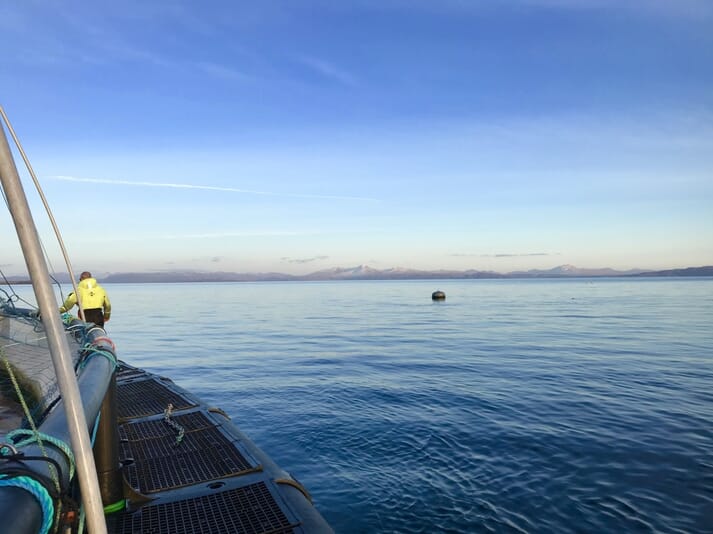 These environmental and system-design differences obviously affect the way in which the two farms are run and organised, and being new to the industry, this was really interesting to see and experience. But something that struck me during our short time at Linnhe was that Jacob and I had little or no idea about how this different farm system worked – so how difficult must it be for a member of the public to understand fish farming in general?
One of the biggest challenges facing fish farms is their lack of visibility to, and thus distance from, the public. Located at sea, largely below the surface and in remote locations, they are far removed from the vast majority of people. Even those who live in proximity to a fish farm are unlikely to have seen pens up close. Understandably, this makes fish farming difficult to comprehend for many people.
You don't have to be actively involved in the Scottish salmon industry to know that it has been at the centre of increased media attention recently, mainly due to the pending outcome of the Rural Economy and Connectivity Committee inquiry into aquaculture in Scotland. Given the negative nature of most news stories, this is resulting in growing public concern and criticism. While I believe that constructive criticism is important in keeping salmon farming accountable to all stakeholders and to promote best practice, I think that the level of condemnation it is currently facing is unjustified and often not based on fact.
One of my best friends, Isla, came to stay with me on Muck this past shift and she was able to visit the site to see the feed barge and pens. Like the majority of people, she had never been on a salmon farm before. After over a year of me wittering on at her about fish farming, it was amazing to be able to explain and show Isla what we do first hand. When we were standing on one of the pens, after asking what she termed "a few stupid questions" she commented, "Wow, it's all really well thought out, isn't it?"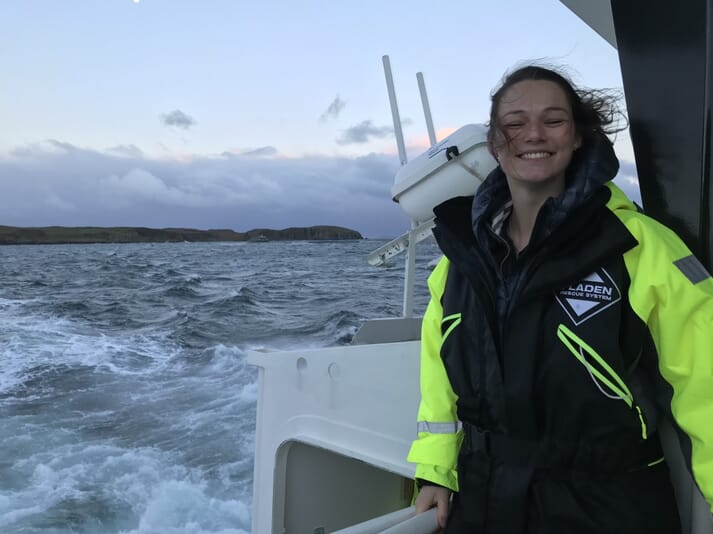 I later asked Isla what she thought of the site, and if her view of fish farming had changed at all. She began by saying that until her visit to Muck, her knowledge and opinion of salmon farming was "very little, other than the headlines you see in the news – which admittedly tend to be quite negative". But now? She reflected that the majority of people – herself included – "are completely ignorant to the amount of work necessary to keep something like the Muck site running on a day-to-day basis and my main takeaway was that the welfare of the fish is undoubtedly the priority of everyone working on site".
I think many people have quite an archaic perception of the industry and still think salmon farms operate as they did back in the 1970s. But a lot has changed since then. Lessons have been learnt and changes have been made to improve the efficiency and sustainability of fish farms across Scotland, and the world. At the heart of all improvements is the welfare of the fish and the environment in which they are farmed. And these improvements are ongoing.
While I wish it was, it isn't feasible to take every member of the Scottish public to visit a salmon farm and show them how they really operate. But we now live in a world where information on almost everything is at our fingertips and I would urge you to always question and challenge what you hear on the news, read in the papers or see on Facebook. I will admit that even I was sceptical of certain aspects of salmon farming before I went to do my MSc, but after a year of studying, and fundamentally questioning what I had heard in the media, I now have a more informed and balanced opinion of the industry. And hopefully now Isla does too.