It has been just over a year since I started work as a farm technician on Mowi's Isle of Muck salmon farm. It's hard to quantify how much I have learnt in that time – but it's a lot.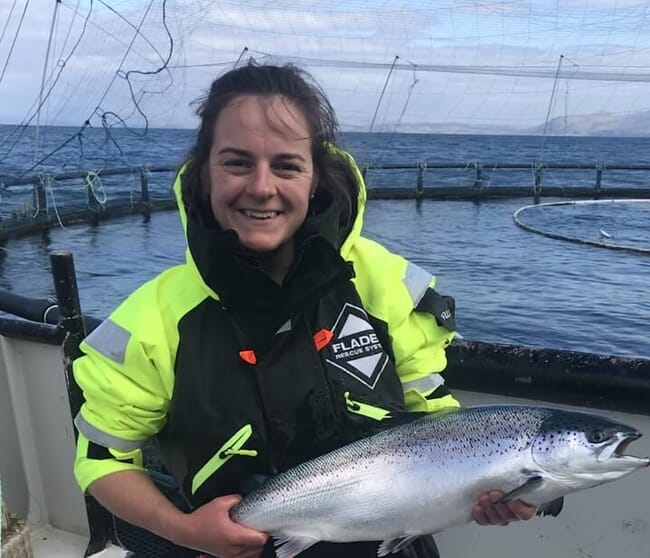 Coming from an academic background, I spent five years of my life at university being continually tested on what I knew and how well I knew it through essays, tests, presentations and exams. So moving to a more practical, hands-on job was definitely a shock to the system. But it is a move I will never regret.

There is only so much you can learn about anything in life through classroom-based learning and whilst it definitely holds great value and worth, when it comes to fish farming, there is nothing better than first-hand experience. The things you learn on the job and the way in which you learn them are different to the classroom, but you can't give a value or grade to the experience.
So what are some of the things I have learnt over this year that I didn't learn in the classroom?
Understanding fish behaviour and health
Only by spending time observing your salmon in the pens, on screen when they are feeding or when handling them during lice counts can you understand and appreciate their normal habits and physical characteristics, and thus when things might be abnormal. All animals are unique and whilst you can learn some of the signs of normal and abnormal fish behaviour and health from a book, there is nothing better than getting to know your own stock.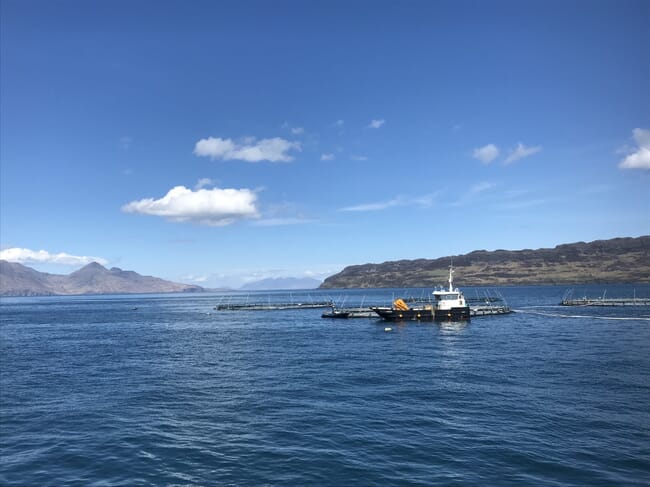 You never know when you might need a knife or electrical tape
Not only are these helpful when dealing with ropes and other things on the pens, but you quickly learn that a plaster is as good as useless when you have a cut on your hand at sea. Nothing has a look-in compared to some electrical tape wrapped around a bit of toilet paper.
How to feed fish
At university we learnt about FCRs, feed ingredients and pellet formation but feeding fish is something you can only learn by doing. Every pen responds differently during feeding and you have to adapt to these varying responses to achieve optimal growth.
A fathom isn't always the width of outstretched arms
A fathom is 6 feet and my outstretched arms are definitely not 6 feet. Whilst the old fisherman's trick of measuring fathoms of rope using your outstretched arms might work for the other guys on site, my ropes come up a little short.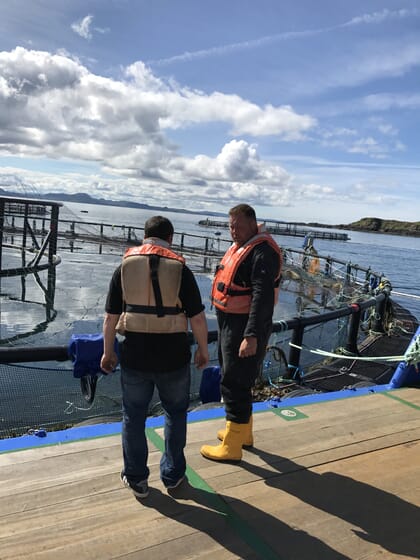 Always ask the question
One of the great things about working on Muck has been the number of people I've met, mainly from work boats who come to help on site. In my experience, everyone has always been happy to help and explain things and over time, as you piece together all the little things you learn, the bigger picture starts to make a lot more sense.
Whilst my colleagues might disagree, I can definitely drive a boat better than I could a year ago
Mowi are great at putting you through training courses and one of the first I did was my level 2 powerboat. In the next few months I will also be doing both my day skipper and yacht master. Whilst boating courses are brilliant at providing you with background theory, you can't beat the day-to-day experience on site, with factors such as changing wind directions and sea states.
There is no such thing as a bad mistake, as long as you learn from it
At school and university I hated getting things wrong or not getting good grades. But this year I have learnt a lot from doing just that – getting things wrong. One day when feeding, I blocked a feed pipe that took most of the afternoon to clear. Whilst I was annoyed at myself for letting it happen, I learnt a lot that day about parts of the feed system because I had to take it apart and put it back together again. A feed pipe getting blocked isn't uncommon and inevitably it will happen again, but at least next time I will know how to sort it.
How to safely use a capstan or crane, how to tie knots or splice ropes
At school, college or university you don't get taught the difference between a bow line and a half hitch, what knot to use when or how best to strap something for lifting on a crane. It's simple stuff but it's important to your day to day job as well as site safety.
The design of the pens and nets and how they work
One of the things we did on my first shift on Muck was put a net on a pen – and I had absolutely no idea what was happening from start to finish. But this past shift we changed two nets and everything made a lot more sense. There are still things that I get confused about but I now have enough of an understanding of the pen design to have a shot at sorting something out or to work with someone else to come up with a solution.
The logistics of running both a single farm site and the industry as a whole
A fish farm does not operate in isolation but is dependent on wellboats at harvest time, work boats to help with treatments or site work, timely feed deliveries and a whole host of other processes, people and equipment to keep things running smoothly. Only by working in the industry do you get a sense of the scale and complexity of this logistical challenge and how your farm site fits into this.
What can be improved
Fish farming is still a relatively new form of food production and because of this it is continually evolving and changing. There are undoubtedly things that can be improved and perfected but you have to see what doesn't work before you can come up with solutions. At a site level, coming up with new ideas that save you five minutes on one pen can save you one hour or more across the whole site in a day, freeing up more time for other jobs.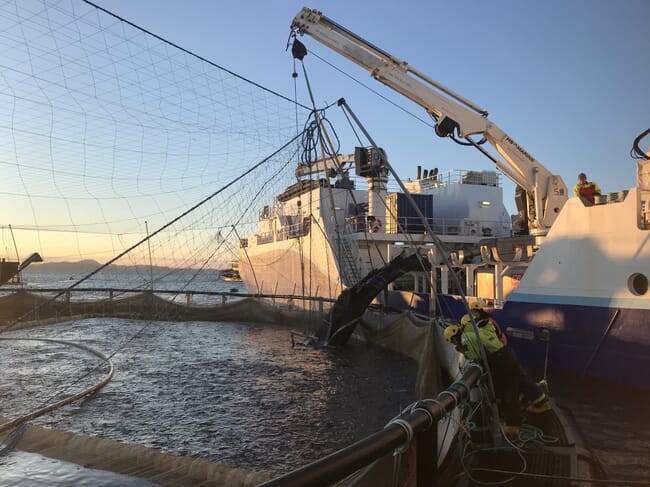 In summary
Not only have I learnt a lot in the past year, I have enjoyed my work too. There have definitely been tough days but getting to be outside, in a beautiful part of the world and doing physical work is a pleasant change from being sat in an office or classroom for eight or more hours a day.
As an industry we need enthusiastic people who want to make a change. So whether you are leaving school with very few qualifications or have a college or university degree, the fish farming sector holds many opportunities both here in Scotland and around the world and I would encourage you to get involved.
My route into fish farming might not have been conventional but I'm happy with how things have worked out so far. And the biggest lesson I've learnt this year? You might not need a degree to be a fish farmer but you definitely need experience and that is something that can't be taught, bought or rushed.