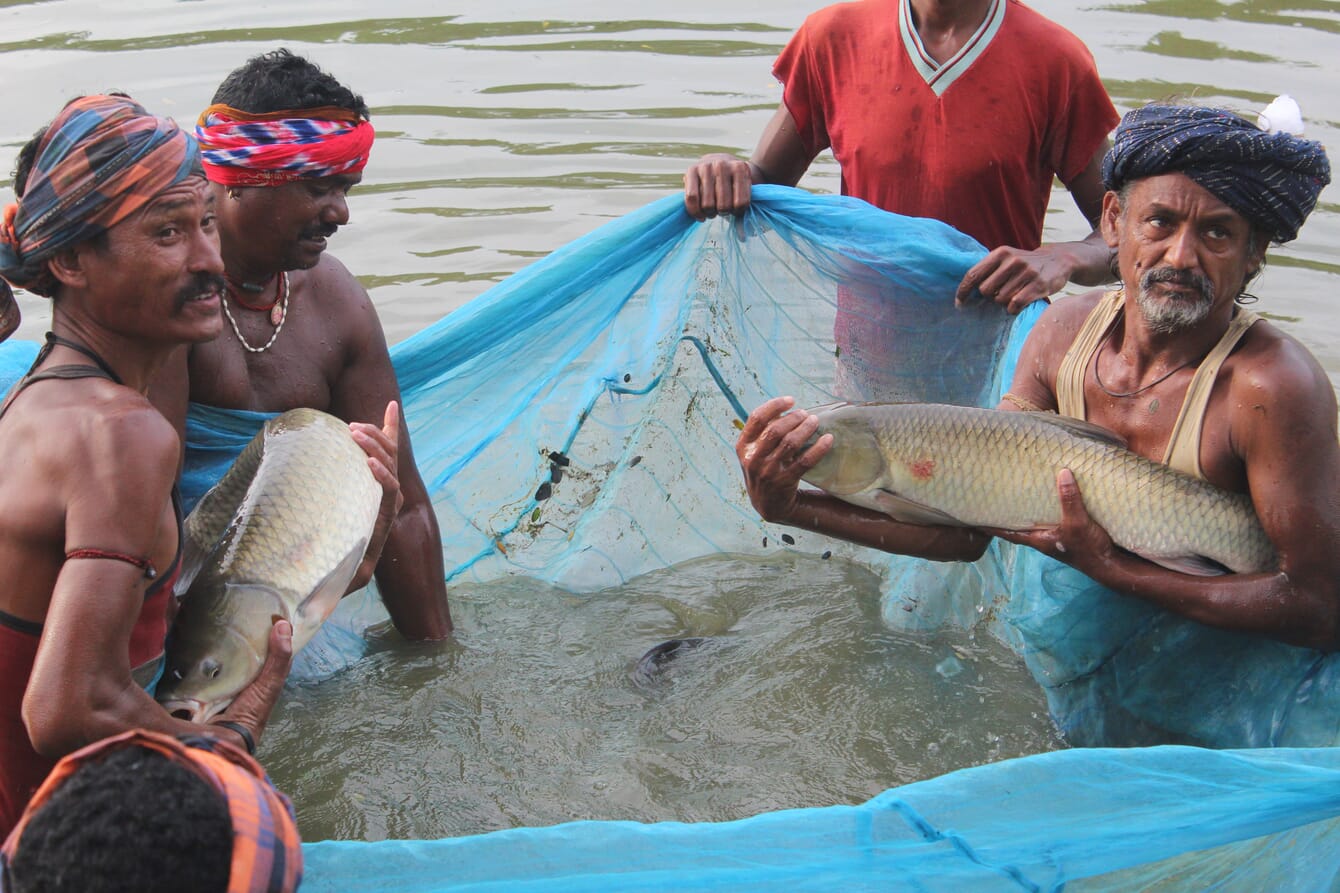 It's high time that technology is used to connect buyers and sellers, and to make the value chain more prosperous and resilient.
While 95 percent of the shrimp produced in the country is consumed outside of India, almost all the farmed fish is sold for domestic consumption. Most shrimp farmers rely on local dealers for price quotes, quality checks and selling their produce, as they don't have direct access to processors. As a rule, the local dealers are dictating the prices, based on the requirements of exporters/processors, and encourage the farmers to harvest at certain times. The final price is at the discretion of the local dealer, which handicaps the farmers' opportunity to negotiate. As a result, they often sell their products for meagre profits, barely breaking even in some situations.
Meanwhile fish farmers often face a tougher situation because their produce mostly goes for domestic consumption, where it relies on chaotic post-harvest value chains between the farm and the local markets, a lack of price transparency and poor access to dealers. Fish farmers regularly trade their fish in local markets and end up with marginal profits.
The blind spot for farmers is their lack of knowledge with respect to pricing, and their poor comprehension of market demands and dynamics. Additionally, the farmers' approach to business makes them more vulnerable to the slightest market fluctuations.
By the same token, processors, exporters and retailers are also defenceless against value chain inefficiency. Their reliance on local buyers to fulfill their procurement needs and to source material puts them in a tricky situation.
The biggest challenge is that neither the producers nor the buyers are directly participating in post-harvest intervention. In other words, there is no process that forecasts demand and supply – it is dictated by the middlemen through a multi-layered distribution network.
It is now appreciated that this challenge relates to the lack of aggregation of pre-harvest data. The need is to build technology-driven solutions that bridge the gap between farmers and buyers, to encourage active participation from both parties. The creation of such platforms will improve market transparency substantially by enumerating the produce availability and market demand in every region for buyers and farmers in real-time.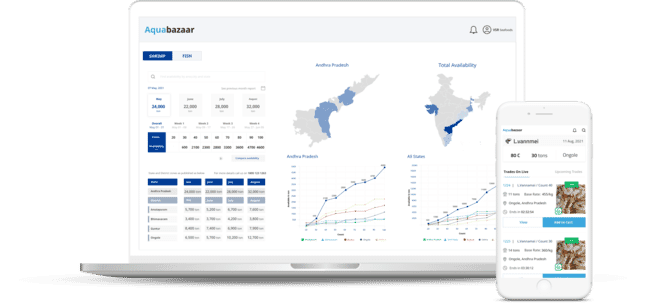 As the Aquaconnect* app captures end-to-end farm production data, we are leveraging this data-intelligence to build our digital post-harvest platform, called AquaBazaar. It brings market transparency and connect farmers directly with seafood buyers with complete traceability.
AquaBazaar enables farmers to punch in the details of their produce – such as species, size, quantity, date of expected harvest – through which they can attract potential buyers in the vicinity. This will not only empower farmers by offering transparent market demand and pricing, but also give them the option to select buyers in their region, plan their harvest, evaluate market conditions, and to realise the best value for their produce, as these platforms provide complete traceability.
This practice can also be a boon to the buyers, in leading them to sustainable sourcing of harvest produce (required size, quantity and quality standards), assessing region-specific supply, logistical panning and procurement planning with complete traceability of harvest produce. This approach should be a game-changer, as it solves the problem of information asymmetry and ineffective distribution channels. Moreover, platform-driven transactions further add credibility and help stakeholders like banks and insurers better evaluate risks and validate farmer profiles, thereby enabling them to extend their services.
Moreover, empowering AquaBazaar with machine learning will catalyse the effectiveness of post-harvest chains. An AI-powered platform can assist prospective buyers in forecasting supplies for the following weeks and months in every region. This will also help the processors and buyers to plan strategically and streamline their business methodically.
Tailoring such a technological process to suit 5 million farmers could be a herculean task, but it is possible through the close collaboration of various potential stakeholders – including farmers, co-operative societies, processors, banks, and governing bodies like MPEDA and SEAI.
Traditional supply chains generally pose resistance to such digital platforms, as they disrupt the existing frameworks However, the adoption of digital platforms requires a great deal of unlearning and mentoring. It will therefore take time to make digital intervention reliable and trustworthy for farmers and buyers, in terms of handling quantity and quality assessment, payments and logistics.
AquaBazaar is now on the verge of completion, and we are currently on-boarding potential partners for a pilot project, while aiming for commercial launch before the end of the year.
*Aquaconnect is part of Hatch's investment portfolio, but The Fish Site retains editorial independence