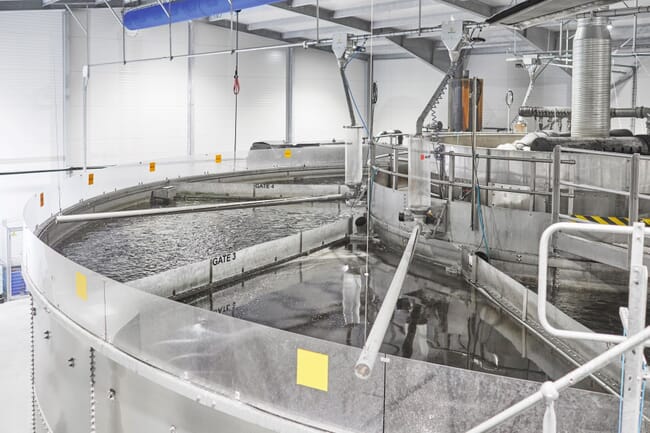 The Singaporean firm has announced a strategic partnership with Bahwan Services and Trading LLC (BSTL), and Muscat Investment House (MIH) that "aims to support the sustainable growth of the aquaculture industry and address food security concerns globally".

The partners' multi-phase aquaculture development project in Oman will include a feed mill with a production capacity upwards of 30,000 tonnes of feed, a trout farm capable of producing 3,000 tonnes and a super-intensive shrimp farm using Blue Aqua's patented "Mixotrophic System" to produce 1,000 tonnes of shrimp annually.

With this partnership, Blue Aqua International, BSTL and MIH aim to support Oman's Vision 2040 and contribute to the economic diversification and growth of Oman, while also addressing the increasing demand for sustainable seafood products globally.

"This partnership is a significant step towards the development of Oman's aquaculture sector and underscores the potential of the country to become a major player in the global seafood market," said Dr Farshad Shishehchian, CEO of Blue Aqua International, in a press release. "With our cutting-edge technology and BSTL's expertise in project management and execution, we are confident that we can create a sustainable and profitable aquaculture project in Oman."

"We are thrilled to announce our new aquaculture project partnership. By combining our expertise and resources, we are poised to make a significant impact in sustainable seafood production. Our shared commitment to responsible aquaculture practices will not only benefit the environment but also provide high-quality, nutritious seafood to consumers in Oman and around the world. We are confident that this partnership will drive innovation and growth, and we look forward to the positive impact we will make together" said Sujit Naha, COO of BSTL.
Singaporean operations
In addition to BSTL's stake in Blue Aqua Singapore, MIH owns a 10 percent stake in the same entity established under Blue Aqua International. Together, these investments will support the development of Singapore's first high-tech trout farm, which is expected to produce upward of 3,000 tonnes annually in a space of 1.6 hectares using super-intensive technology. The project is expected to be completed in 2024 and will contribute to Singapore's '30 by 30' food security initiatives.

Blue Aqua is currently operating a Aquaculture Stewardship Council (ASC) certified super-intensive shrimp farm producing kuruma shrimp (Marsupenaeus japonicus), tiger shrimp (Penaeus monodon) and white shrimp (Litopeneaus vannamei) using Blue Aqua's patented aquaculture method - a multi-species, zero waste, super-intensive culture system.

"We are excited to announce our new partnership in the aquaculture industry. Our mission is to provide sustainable and responsible seafood to meet the growing demand while preserving our oceans' delicate ecosystems. With this partnership, we are committed to leveraging our collective expertise to drive innovation and efficiency in our operations, delivering top-quality products that meet the highest standards. Together, we will create a brighter, more sustainable future for both our business and the environment," said Basem Al Kayyali, CEO of MIH.