This was the central message of a presentation delivered by Brittany Peachey, aquaculture operations manager at Hudson Valley Fisheries, to delegates at Aquaculture 2019 last week. She also revealed two new investments in the plant.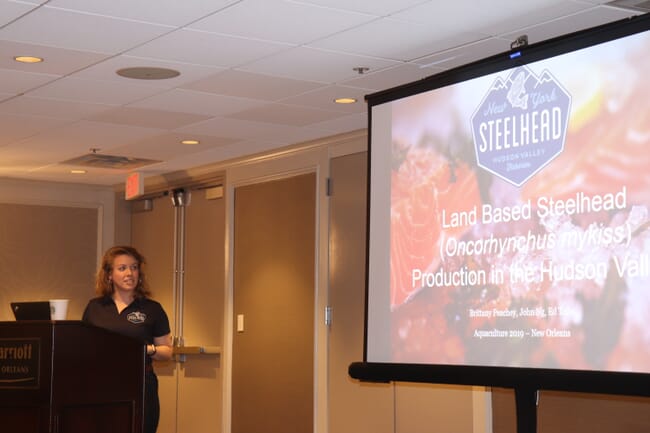 The company, run by the Ng family, took over and renovated an RAS facility that had been producing various species in upstate New York in 2013 and – since stocking with their first cohort of steelhead in July 2015 – have been growing the business to cater for the high-end retail and restaurant sector on the US eastern seaboard.
"In 2019 we changed our name from Hudson Valley Fish Farms to Hudson Valley Fisheries, with our fish being [branded] New York Steelhead," Peachey explained.
The farm has the capacity to produce 1,200 tonnes of steelhead a year, she said, "but right now we're probably at about 500 and we're working up to it".
The facility has five separate growing systems and is still evolving – one was previously used for a shrimp-growing pilot project.
"We learned what we needed to learn form that and now we've transitioned that area into an aquaponics testing facility," Peachey explained.
The company sources all-female diploid steelhead eggs from Troutlodge and Riverence and these are grown from egg to harvest, at around 3 kg each, in 16-18 months, on a customised diet developed in conjunction with Skretting.
A new processing line, added this week, means that the company will be able to start offering value-added products, she revealed.
Challenges and solutions
Some of the challenges she mentioned have included the harness of the water, which has required a pre-treatment plant to be installed to soften it – a development that only came online on 8 March this year.
"Stay tuned on the effects that this has on our systems and also on our fish, as you all know hard water is very difficult to work with in RAS systems because it affects the equipment so heavily," she observed.
She also mentioned the need for education – how to promote the advantages of eating fish – and a programme of internships in order to train up the next generation of fish farmers.
Skeletal malformations, Peachey added, have been another challenge, but "not across the board in all groups of fish that we've seen".
"We have started working with the University of Stirling to try to determine what the majority of malformations are caused by and this is the beginning of trying to pinpoint why this is happening – is it genetics, is it husbandry, is it nutrition, is it simply something in our water? – because it's not across the board in all of our fish, it's certain groups," she explained.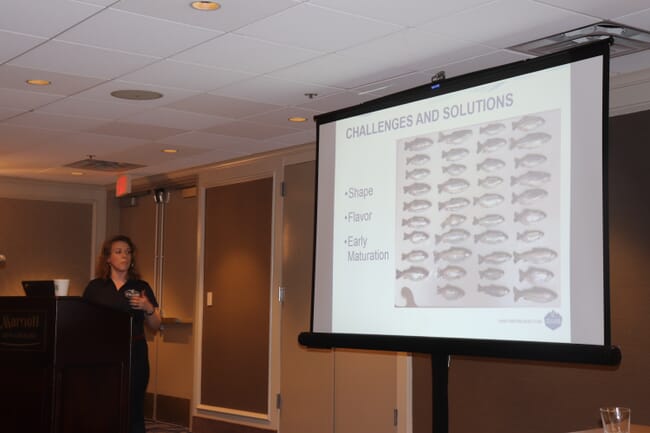 In order to alleviate the problem, in the short term, the company has had to resort to hand-grading fish.
"It's labour-intensive, but it does help," she said.
Off-flavour issues have been another problem encountered by Hudson Valley, in common with other RAS producers, but they are making some progress in this department too.
"We've developed a purging system that works – and we've found it's absolutely essential to disinfect the purge tanks in between uses while there's water still in it. What we had been doing after clearing the fish out was draining the tanks are pressure washing the biofilm but the problem is that doesn't get all the nooks and crannies where you can't pressure wash – so disinfecting [with hydrogen peroxide] while there's still water in the systems that's able to contact all of the surfaces is essential to have those fish be able to purge," she explained.
Early maturation has been another problem in terms of the flesh quality.
"Once the fish begin to expand their ovaries the fillet quality goes down dramatically, so we get texture issues, the colour goes away and the flavour is also changed," she added.
And she believes that understanding the reasoning behind this would "make a great PhD project".
"It's been a learning experience but of course we'll continue to learn," she concluded.