Speaking at the recent Fifth Quarter conference in Kenilworth, the chief executive of the Foodchain and Biomass Renewables Association, Fabra, Stephen Woodgate said that upgrading Category 2 pig animal by-products to Category 3 to be able to use the by-products to produce processed animal protein for use in aquafeeds would produce higher value for porcine animal by-products.

He said using the animal protein is also a sustainable way of producing fish feed.

In all the UK produces about 2.25 million tonnes of animal by-products a year.

Of this protein meals make up about 500,000 tonnes which can be used as a solid fuel, fertiliser, petfoods and potentially animal feed.

Another 300,000 tonnes of the by-products is rendered fat that goes to make liquid fuel, biodiesel, animal feed and soap and chemicals.

Mr Woodgate said that a clear distinction has to be made between animal co-products and animal by-products, since co-products are intended for human consumption and because of this have to be handled hygienically.

As animal by products are not intended for human consumption only their own rules for handling apply, which mean that co-products can only be downgraded animal by-product status, and by-products can only be downgraded from Category 3 to Categories 2 and 1.

However, he said there are ways that animal by-products can be upgraded to achieve higher returns, for example, the pig gut with its contents is now classified as a Category 2 by-product which can be rendered as a category 1 by product or used for anaerobic digestion.

If it is used for anaerobic digestion, the gut has to be pressure processed first.

However, Mr Woodgate said that if the gut is emptied, the digestive tract content can be classified as category 2 by products and the empty gut can be classed as a Category 3 by-product.

This would allow the gut to be rendered and to form processed animal protein for petfood or animal feed and the digestive tract content can be used for anaerobic digestion without any pressure process and the production of biogas for combined heat and power plants.

He said that by forming two products out of the gut, added value could be achieved with the pig gut being used as monoPAP - a Category 3 animal by-product from a monogastric species such as pigs or poultry.

Mr Woodgate said that monoPAP is a smaller carbon footprint and can be considered green, because the key is in the rendering process, by using a carbon neutral fuel - tallow.

He added that it is hoped that monoPAP will be allowed for use in diets of farmed animals that require a high protein, high energy diet and the industry is focusing on its use in fish farming - particularly for the omnivorous species.

This usage will require a change in the EU regulations, which, Mr Woodgate said, he hoped would come about sometime next year.

He said the focus for monoPAP is fish feeds is mainly as a substitute for fishmeals and the argument for it is that the safety of processed animal protein has already been established for farm animals for human food.

He said there are large nutrition, production and health benefits in using processed animal protein and well as making economic sense to use it in the feedstuffs.

He added that there are also sustainability arguments to use processed animal protein in fish feeds as its carbon footprint is lower than using fishmeal.

Mr Woodgate concluded that there are major advantages in encouraging he upgrading of animal by-products and animal co-products and that processed animal by products can add value by being used as biomass for heat power and energy and in the food cha=in as safe and sustainable products.

"Education and Communication are essential to profile this vital link in the meat sector," Mr Woodgate said.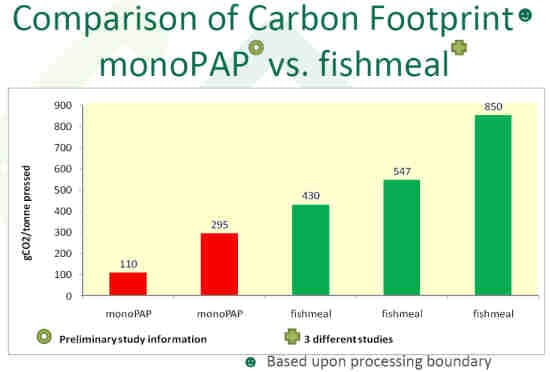 December 2010