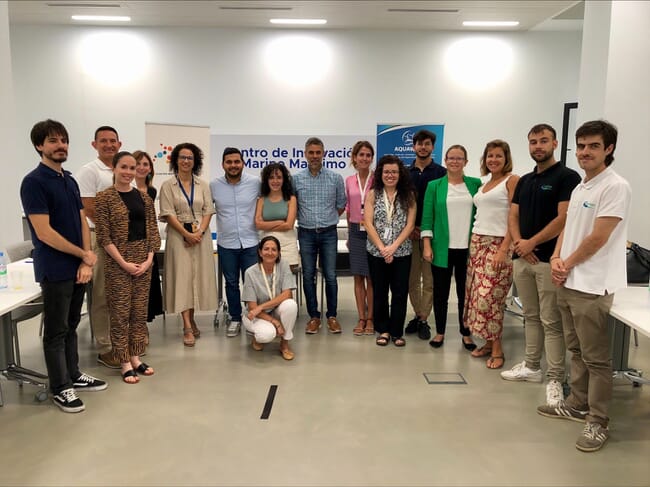 AquaWind's combined prototype incorporates an offshore aquaculture cage, redesigned to fit a wind turbine and including a novel grid material. The prototype - which is due to be stocked with sea bream and greater amberjack (Seriola dumerili) - at an existing wind farm off the Canary Islands, will have a high level of digitalisation, including sensors and systems that mean it can be remotely controlled,

Meanwhile FLORA is a research and innovation project that seeks to optimise and validate a prototype multi-sensor ocean station capable of producing energy to power its oceanographic data services. The system will be tested in the waters off Gran Canaria in real sea conditions for several months.
Both projects are aligned with the objectives of the Atlantic Maritime Strategy to develop marine renewable energies and foster the sustainable expansion of the blue economy in the Atlantic area.
During the event, which took place in the new facilities of the Maritime Marine Innovation Centre in Las Palmas de Gran Canaria, the participants had the opportunity to learn more about the activities of each of the projects and to discuss possible synergies and knowledge exchange.
According to particpants, the "meeting marked the beginning of a promising collaboration between AquaWind and FLORA, laying the foundation for future collaborations in the field of marine energy and sustainable blue economy".
Further information
AquaWind is led by the Canary Islands Agency for Research, Innovation and the Information Society (ACIISI) and has strategic partners in France, Portugal and Spain. In the Canary Islands, the consortium has key entities such as PLOCAN, the ULPGC and the Maritime Cluster of the Canary Islands, as well as companies specialised in aquaculture production and commercialisation such as Canexmar or in the management and communication of European projects such as Consulta Europa Projects & Innovation. Other strategic partners are the Portuguese company WAVEC, experts in marine renewable energy solutions, offshore aquaculture and ocean engineering, or the French company Innosea, specialists in strategic advice and R&D consultancy in marine renewable energies, especially offshore wind energy.