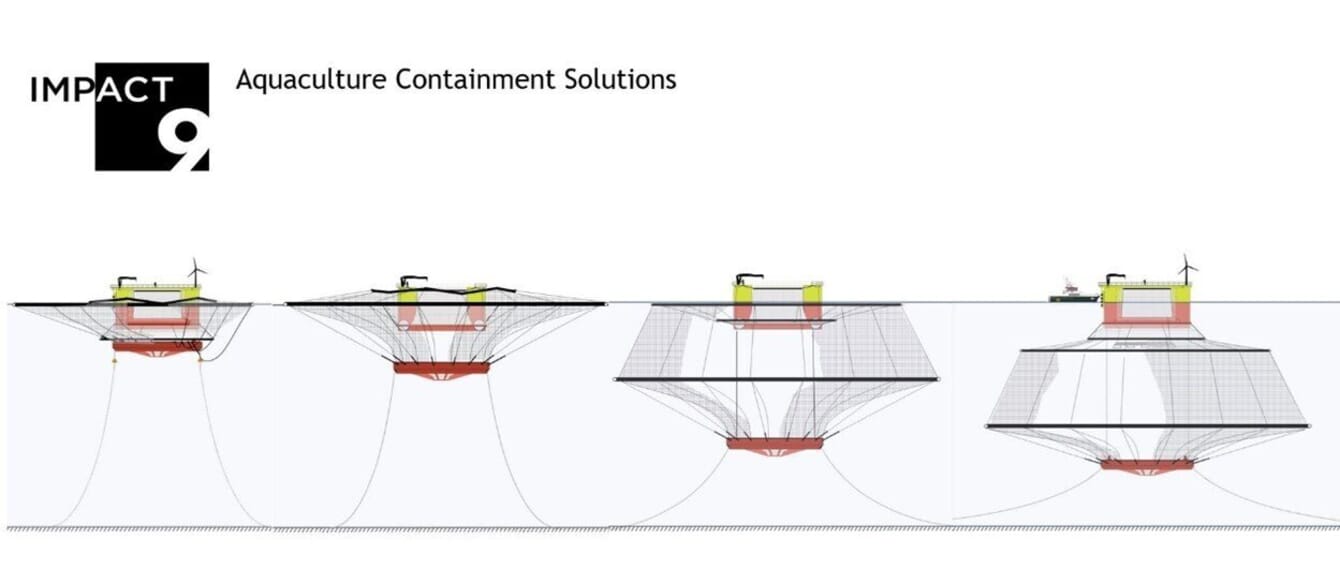 Irish company Impact-9* claims to have designed a fish farm which can survive storms, based on an innovative flexible design that also opens possibilities for shellfish and seaweed production to be located further offshore.
The company has just completed a feasibility study, funded by the UK Seafood Innovation Fund, which is administered by the Centre for Environment, Fisheries and Aquaculture Science (Cefas).
Impact-9's CEO John Fitzgerald told delegates at Aquaculture Europe: "It made everything feel real. We are now looking for a pathway to maximise the benefit to UK salmon production".
The study considers how Impact-9's technology might leverage existing salmon production infrastructure and other blue economy developments in the UK, such as offshore wind.
In his presentation, Fitzgerald painted a picture of a low-impact fish production model, where post-smolt salmon can be stocked in a submerged pen in open ocean conditions.
"My thinking is that, at a certain stage in their life-cycle, it will be far more effective to move larger, more robust farmed salmon to an offshore zone in a submerged open containment [system] below parasite layers and in a turbulent, oxygen-rich environment with ample capacity to disperse and break down organic emissions".
Referring to parallel technology developments in semi-closed and closed containment alternatives, Fitzgerald said that: "These developments are fantastic, especially for younger fish, but it becomes far riskier and more energy intensive to manage as the fish grow larger."

Noting the opportunity to gradually convert Scottish inshore production to semi-closed containment, Impact-9 envisages a combined approach using these facilities to provide post-smolt for open ocean farming. According to Fitzgerald, this offers a pathway to significantly increase production capacity, while greatly decreasing the environmental and wild-stock impacts from the levels seen in current production.
Working with Dublin Offshore Consultants (DOC) and UK-based fibre rope and flexible marine structures specialists Tension Technology International (TTI), Impact-9 has refined its concept specification for a fish pen of 90 m diameter and 125,000 m3 in volume, which is able to produce 3,000 tonnes of salmon in every 12 month grow-out cycle.
The design considers the environmental conditions of Scottish marine sites that are over 60 m deep. The study incorporated feedback from experts at the Scottish Association for Marine Science (SAMS), the European Marine Energy Centre (EMEC) and independent farming advisor Karl Scott, of Maritime Aqua Limited, in order to shape the concept and identify risks to be mitigated en route to commercialisation.
Impact-9 has also just completed the latest in a series of scaled laboratory tests at the Lir National Ocean Test Facility in Cork, Ireland.
"Our aim is to show that the system can operate in fully open ocean conditions and keep operators and fish safe, but also to show that the UK and Ireland enjoy expansive offshore zones of more intermediate exposure," said Fitzgerald.
Noting that the €15 billion global salmon farming industry is highly concentrated in Norway and Chile, where there are sheltered, deep fjords, Fitzgerald says, "the semi-protected sea areas around the UK and Ireland could support an industry with a higher economic output than all of the region's offshore wind ever could, while using only a small fraction of the marine space". He also sees the potential to co-locate offshore infrastructure for wind and aquaculture to make better use of marine space.
According to Fitzgerald, while the potential scale of the opportunity is not in doubt, there is more work to be done to see if the offshore approach can compete with rivals in terms of risk and cost.
"When we look at the economics of offshore aquaculture, we find that the overall profitability can be far higher than conventional farming models. Ultimately, however, we have to prove the biological performance to convince stakeholders. That means testing," he said.
In the meantime, Fitzgerald sees some interesting stepping-stone opportunities.
"Shellfish and seaweed production provides a really interesting application for the very same flexible structures technology we need to validate for finfish production concepts, but at a smaller scale," he noted.
BIM, Ireland's seafood development agency, recently purchased a sample mussel flotation system from Impact-9 and the startup believes that success in this area can put the them on a commercial footing much faster, while underpinning its finfish developments.
Fitzgerald added that the company continues to seek further collaborations, with a view towards delivering sea trials of its technology over the next 24 months.
*Impact-9 is part of Hatch's portfolio, but The Fish Site retains editorial independence.