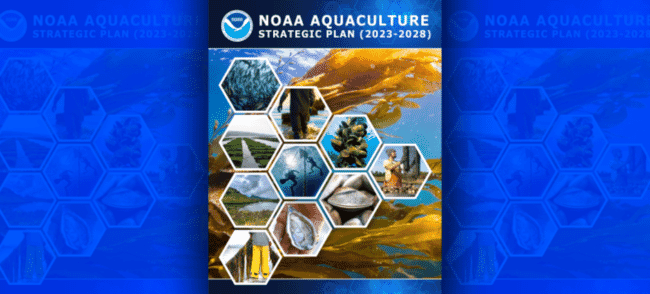 The 5-Year Strategic Plan for Aquaculture, which was developed by the NOAA Aquaculture Program, articulates a vision for an industry that supports jobs, expands access to nutritious domestic seafood and reinforces healthy coastal and ocean ecosystems in a changing environment. This is supported by the program's mission of providing science, services, and policies that create conditions for opportunity and growth of sustainable US aquaculture.

"Through this plan, NOAA will support a thriving, resilient, and inclusive US aquaculture industry as part of a competitive domestic seafood sector," said NOAA Fisheries assistant administrator Janet Coit in a press release. "This plan will act as a framework to guide NOAA's Aquaculture Program, set priorities to achieve our mission, and support NOAA's vision of healthy and resilient ecosystems, communities, and economies."

The plan is designed to support collaboration and align goals and objectives across the NOAA Aquaculture Program and with its partners. It includes four key goals for the next five years:
Goal 1. Manage sustainably and efficiently
Improve the regulatory processes for sustainable coastal and marine aquaculture through collaboration with partners.
Goal 2. Lead science for sustainability
Use world-class science expertise to meet management and industry needs for a thriving seafood production sector and share this knowledge broadly.
Goal 3. Educate and exchange information
Build awareness and support for coastal, marine, and Great Lakes aquaculture through two-way communication with diverse stakeholders and partners.
Goal 4. Support economic growth and viability
Facilitate a robust aquaculture industry that thrives as a key component of a resilient seafood sector.
"Sustainable aquaculture encompasses the "triple bottom line" of economic viability, environmental stewardship, and social responsibility," said David O'Brien, acting director of the Office of Aquaculture. "As the demand for seafood continues to increase, and climate change continues to pose a threat to food security, NOAA will continue supporting efforts to grow seafood on land, in coastal waters, and the open ocean in harmony with a healthy and resilient environment."

"Our aquaculture team strives to advance sustainable aquaculture development in the United States through science, service, and stewardship. We will seek to provide ongoing opportunities for public input to ensure results that are community-driven," he added.