Credit: Fabio Riesemberg
The creators of this product claim that it provides a sustainable source of farmed fish feed and, at the same time, reduces animal dung toxicity, decreases predatory fishery, helps fresh water saving and also carbon gas absorbing.

This product is an oil extracted from seaweed developed by partnership involving Imcopa and Furg (Rio Grande Federal University Foundation).

Imcopa says that oil from microseaweeds is capable of improving salmon, trout, cod and other farmed fish feeding with omega-3 and 6 fatty acids.

The objective is to replace fish oil with a less aggressive and sustainable alternative. According to the European Parliament in 2005 the world's fish oil production, mostly destined for fish food, is near 1.5 million tonnes a year.

"Imcopa intends to contribute in a sustainable way with the seaweed oil production", said Jose Enrique Traver, company manager. There are several other environmental matters involving flour and fish oil production used to enrich farmed fish feeding, but predatory fishery is currently the main source.

Instead of being fed to fish, these low commercial value species (anchovies, sardines) could feed hunger people around the world instead of being withdrawn in large scale from deep ocean to become into animal food.

It is necessary to provide ten pounds of sardine or anchovy to produce just one pound of salmon, says Impoca, adding that this practise is completely unsustainable. With US$ 10 million invested in seaweed studies, including US$ 4 million from brazilian government, Imcopa will take 36 months to conclude the research started in May 2008.

"At this early stage we're learning which is the best manner to feed the seaweed, the ambience and how to handle with it", said Osires de Melo, Imcopa market developing manager and project's coordinator. "When the research is concluded we can extract fatty acids from the seaweeds and mix with soybean flour and soybean oil. Nowadays, 50 per cent of the oil which goes to farmed fish feeding comes from fish. The other half is vegetable oil", informed Melo.
Environmental score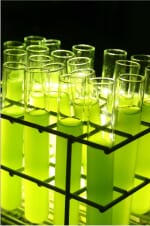 Credit: Fabio Riesemberg
Five different species of seaweed are being studied by Imcopa, in Araucaria. But another part of the project is developed at Furg, in Rio Grande city, under supervision of Dr. Jorge Alberto Costa, a food engineering. According to the researcher, fishes capability on digesting seaweeds is 90 per cent and no other food can reach that percentage.

That means the amount and toxicity of the animal dung released into the environment is reduced. But seaweed provides many other advantages: a soybean acre yields 210 gallons of oil a year, while a seaweed acre can yield more than 42 thousand gallons, depending on the cultivated species.

It means seaweed produces 200 times than soybean in an equal area or the same amount in a 200 times smaller area. A cultivation like that doesn't need any fresh water irrigation, only seawater or brack water containers. Meanwhile these microorganisms make photosynthesis, capturing carbon gas and releasing pure oxygen.

Imcopa also intends to use the carbon released by its chimneys to feed these microorganisms in an auto-sustainable and clean cycle.