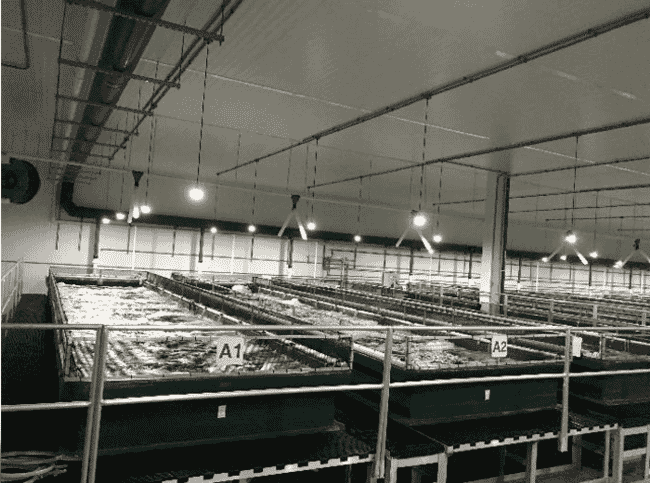 The retrofit has mainly included replacing the previous tank biofiltration with NaturalShrimp technology and upgrading the tank heating system to 40 percent of the facility, according to the company's latest stock exchange announcement.

The retrofit of the remaining 60 percent will continue next, with the aim of increasing weekly production to 8.1 tonnes of shrimp during the second quarter of 2023 along with beginning development of a hatchery at its Blairsburg facility.
The hatchery will allow the company to control the postlarvae (PL) supply while lowering the PL cost for not only the Iowa grow out facilities, but also for the other NaturalShrimp production facilities.
Meanwhile the company says that the production team temporarily cut back feeding the shrimp in its Texas facility after a fire on 3 July damaged the electrocoagulation (EC) equipment and drum filters in that building. This apparently slowed shrimp growth for about two weeks, although production is now back on track. The company expects that production will increase each month, reaching a weekly production of 2.7 tonnes during the first quarter of 2023.
"We continue to focus on the retrofit of our production facility in Webster City and are encouraged by the confirmation of the adaptability of our treatment technology," said Gerald Easterling, CEO of NaturalShrimp. "As we steadily increase stocking in the completed retrofits, we are confident production will rise."
"We are pleased to announce that production has resumed using our emergency mobile treatment system in our Texas production facility with minimal delay, and we are in the final stages of assessing the cause of the fire early last month. Looking ahead, we expect to scale up regular production in the coming months. I look forward to announcing further updates in the months to come as we expect to be back on track and cash flow positive by the company's fourth quarter of 2022," Easterling concluded.